Whatever the weather is doing outside, one of the best ways to spend an afternoon is enjoying a delicious high tea in Cape Town. This culinary tradition gives you the chance to try anything and everything, from savoury tarts all the way through to cakes, scones and other sugary temptations. And, of course, it wouldn't quite be the same without a decent pot of tea to wash it all down.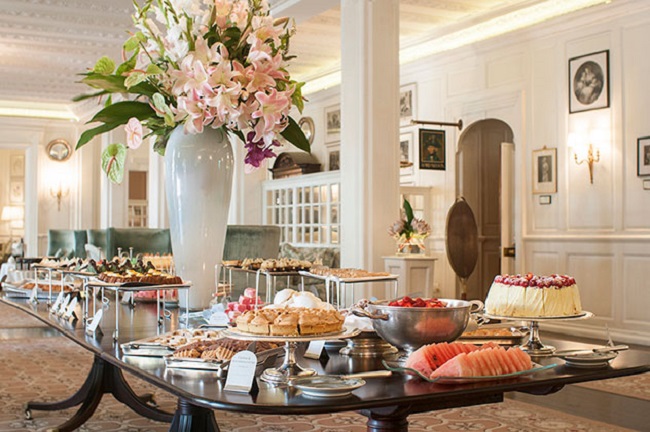 There are a number of different places that offer high tea, and in many cases, you can even eat as much as you want (or at least as much as you can fit into your tummy without bursting at the seams). Whether you are planning a much-needed cheat day or the thoughts of a healthy regime have gone out of the window, there are few better ways to indulge than a delicious array of mouth-watering dishes.
Top Places for High Tea in Cape Town
From the City Centre all the way through to the southern suburbs, there are a number of options you can choose in your quest for a good spread. The following ideas are sure to get your taste buds inspired:
Mount Nelson – the elegant 'pink lady' was one of the first places to offer high tea, and this tradition is still celebrated with great gusto. The tea special is a bit on the pricey side, but it is well worth every cent, especially as you can eat as much as you like. The Mount Nelson is situated on Orange Street in Gardens.
Cape Grace Hotel – in the Waterfront area, the stylish Cape Grace also does a good high tea. This offer is an all-you-can-eat option, at a fairly reasonable cost per person. As an added bonus, you can also enjoy the harbour setting, which is great during those gloomy days before the rain begins to fall in earnest. Another lovely hotel in this area that offers high tea is the Table Bay Hotel.
Vineyard Hotel – this hotel is set in a beautiful garden, with an excellent tea room. Prices per person are affordable, with a buffet that can be topped up at your leisure. Bottomless tea adds the final touch. There are indoor options too if the weather isn't great. The Vineyard Hotel is in Newlands, in the southern suburbs of Cape Town.
Kirstenbosch Gardens – the tea room near the lower entrance of the gardens has a great selection for afternoon tea. While this isn't an all-you-can-eat tea, the servings are generous. Savoury and sweet treats are served in a beautiful layered cake stand, with mini tarts, small cheesecakes and even cucumber sandwiches. Off the tea menu, the apple crumble is also worth considering. Kirstenbosch Botanical Gardens is situated in Newlands, on Rhodes Drive.
12 Apostles Hotel – on the Atlantic Seaboard, the ideally positioned 12 Apostles Hotel overlooks the ocean, making it an excellent setting for afternoon tea. An extensive tea selection is on offer, along with a range of treats such as scones, cupcakes, lemon meringue and savoury options. This hotel is situated in Camps Bay. It's also a magical spot to enjoy sundowners in Cape Town.
___________________________________________
What are your favourite teatime treats, and where is the best place you have had high tea in Cape Town? Share your thoughts below and let us know of any options we've missed!