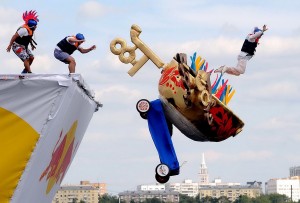 December in Cape Town is here, and for many locals (and visitors) that means an exciting build up to all things festive, along with glorious summer weather and the chance to enjoy a much-needed break. Schools close for the year this month, and a number of busy professionals across the city's industries are also planning their annual leave.
So what does the Mother City have in store for us this month?
If you are visiting Cape Town this December, you are in for a treat. You can expect a number of great events taking place in and around the city, catering to all ages and stages.
Aside from the events listed below, you can also enjoy on-going concerts at Kirstenbosch Gardens (see our Kirstenbosch summer event guide for details), as well as at De Waal Park on Camp Street in the City Bowl. These are both great ways to enjoy good music in the fresh summer air.
Moving on to the events… here are some ideas on what to see and do this month.
Cape Town Events – December 2012
From food to theatre; music to outdoor festivals, it's all happening this December in Cape Town. Here is a list of events taking place over the course of the month…
Vortex: Let There be Light V:4, Riviersonderend – 7 – 10 December
Durbanville Beer Fest, Durbanville – 8 December
Cape Summer Festival, Winelands – 8 December
Summer Elegance at The House of Krone, Franschhoek – 8 December
Wavescape Surf Film Festival, various venues – 8 – 17 December
Red Bull Flugtag, Waterfront – 9 December
Obz Festival, Observatory – 9 – 11 December
The Nutcracker, Artscape – 13 – 23 December
MCQP: Fairytale Fantasy, Foreshore – 15 December
Fynbos and Food Event, Scarborough – 15 December
Cape Bonsai Kai Show 2012, Kirstenbosch – 15 – 17 December
EDM Fest Cape Town, Foreshore – 16 December
Rock the River SA, Philadelphia  – 28 December – 1 January 2013
Festival of Chariots, Green Point – 29 December
RMB WINEX 2012 @ CTICC, Foreshore – 29 December
What About Festive Events this December?
To find out what awesome Christmassy events are happening this month, check out our festive season guide. We will also be releasing a full list of New Year's Eve events soon too, so stay tuned to find out how you can party away the last night of 2012!
Anything else happening this December that you know about? Share your ideas below and let us know what you plan to be doing this month!