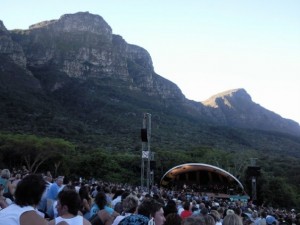 Summer in Cape Town means long, hot days and warm, breezy evenings – what better way to enjoy the festive season than open-air entertainment at Kirstenbosch Botanical Gardens?
This season, there will be even more to look forward to than ever before… from music to cinema, planning a fun evening out has never been easier!
The best part is that you can make a whole day of it too – tickets for concerts and films include entry for the gardens too.
Kirstenbosch Summer Concerts 2012/2013
Kirstenbosch Summer Concerts will be returning to Cape Town, to help you gear into the season with a host of awesome local artists. Whether you are a local or visiting from abroad, make sure that you get to at least one of these events to enjoy great music set against the beautiful backdrop of the flowers, mountain and open skies. Check out the line-up below to see what concerts will be held over the course of the season.
November / December:
25 November – Daniel Bedingfield
2 December – Mango Groove
9 December – Zebra & Giraffe
13 – 16 December – Carols by Candlelight
23 December – Prime Circle
30 December – Yoav & Tailor
31 December – New Year's Eve with Hugh Maeskela & Hot Water
January 2013:
6 January – Aron Carstens
13 January – The Parlotones
20 January – Jimmy Dludlu
27 January – Toya Delazy & Lindiwe Suttle
February 2013:
3 February – Freshlyground
10 February – Cape Town Folk n Acoustic Festival
17 February – Sipho "Hotstix" Mabuse
24 February – The Cape Philharmonic Orchestra
March / April 2013:
3 March – Goldfish
10 March – Jeremy Loops
17 March – Ringo Madlingozi
24 March – Shadowclub & Gangs of Ballet
31 March – Mi Casa & Natasha Meister
7 April – Johnny Clegg
Ticket sales are available through Computicket, or from the visitor's centre at Kirstenbosch by calling +27(0)21 761 2866. Tickets get snapped up super quickly though, so make sure you book as soon as tickets are available!
The Galileo Open Air Cinema Line-Up
To give you even more reason to head out to Kirstenbosch this summer, The Galileo Open Air Cinema also launches this month. Movie fans of all ages will be able to enjoy a diversity of film genres from documentaries to classics, foreign films and sports action films under the stars. Shows will run once a week (usually on a Wednesday evening). Genres are scheduled as follows:
1st  week of the month: Documentaries
2nd week of the month: Best Foreign
3rd  week of the month: Adventure Sports
4th  week of the month: All-Time Classics
Blankets and chairs are available to hire, and there are food stalls offering loads of yummy snacks and popcorn. Bookings can be done via Webticket or The Galileo website at http://www.thegalileo.co.za/.
P.S. What should be included in your open air summer outing picnic basket? Share your picnic must-haves in the comments and let us know!