A frequent site in busy cities all over the world, including Thailand, India, Pakistan and many parts of Africa, tuk-tuks are coming to Cape Town if the City's bid goes to plan. Also known as auto rickshaws, these teeny tiny people carrier vehicles typically have three wheels and a covered seat that holds up to two passengers at the back. They are an excellent way to get from A to B quickly, navigating through traffic as easily as a motorbike and helping to address environmental pollution at the same time.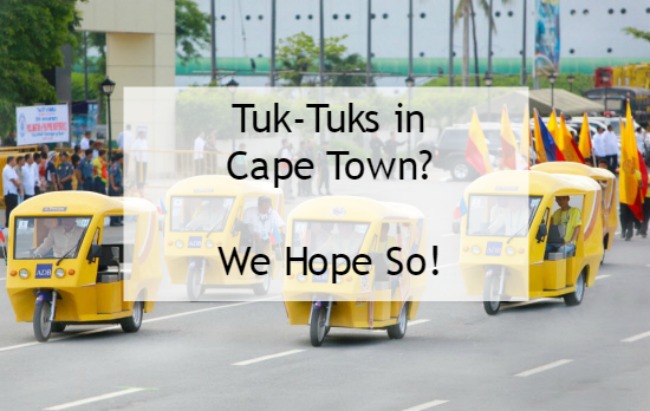 When we heard the news of tuk-tuks in Cape Town becoming a reality, we were instantly holding fingers, thumbs and toes that this happens. After all, Joburg has them, and Durban has variations of them… why shouldn't the Mother City also get tuk-tuks?
Tuk-Tuks in Cape Town? We Hope So!
The City Council opened up a tender process for tuk-tuk operators that will operate across major tourist zones throughout the peninsula. According to Brett Herron, mayoral committee member for transport, a tender for 80 tuk-tuks is in the works. These vehicles are especially designed for short distances, making them ideal as an alternative way to get around the city.
Talking about the move to introduce these vehicles, Brett Herron said, "The tuk-tuk vehicles are intended for those wanting to travel short distances of 3km or less to local destinations. The people who will make use of the tuk-tuk vehicles are those who do not necessarily want to make use of a metered taxi service, but also do not want to walk 2 or 3km to their destination."
There are eight zones marked for tuk-tuk use: Fresnaye and Bantry Bay; Sea Point, Green Point, Bo-Kaap and De Waterkant; Tamboerskloof, Walmer Estate, University Estate, Zonnebloem and District Six; Kalk Bay, St James and Fish Hoek; and Simon's Town.
80 operating licenses would be allocated, but as of yet, the number of tuk-tuks permitted in each area has yet to be determined. Up to eight bidders will be appointed, with preference given to environmentally friendly tuk-tuks, such as electric models. These will receive 'bonus points', says Herron.
Cape Town tuk-tuks would be paid by passengers much like a taxi or cab, without subsidy from the City of Cape Town, and service standards and license conditions would require compliance just like any other transport provider. Conditions include valid public transport driving license, as well as regular safety checks and inspections. Speeds will be limited to 30km.
If all goes to plan, and we really, really hope it does, we could see tuk-tuks on Cape Town streets from as early as 1 September 2016.
____________________________________
Does that sound exciting, or what? Are you looking forward to seeing tuk-tuk vehicles in Cape Town? Let us know!