Calling all thrill seekers and lovers of all things daring, if you're looking for an experience that is every bit as thrilling and exhilarating as it is incredible and memorable, going shark cage diving in Cape Town is DEFINITELY it! The Western Cape is known as the adventure capital of Africa, and going shark cage diving is right at the top of the list as one of the most sought-after adventure experiences, not only in Cape Town, but the world. And we're about to tell you exactly why you shouldn't wait another second to experience it all for yourself and why our Shark Cage Diving Full Day Tour is the perfect opportunity to do just that:
What It's Like to go Shark Cage Diving in Cape Town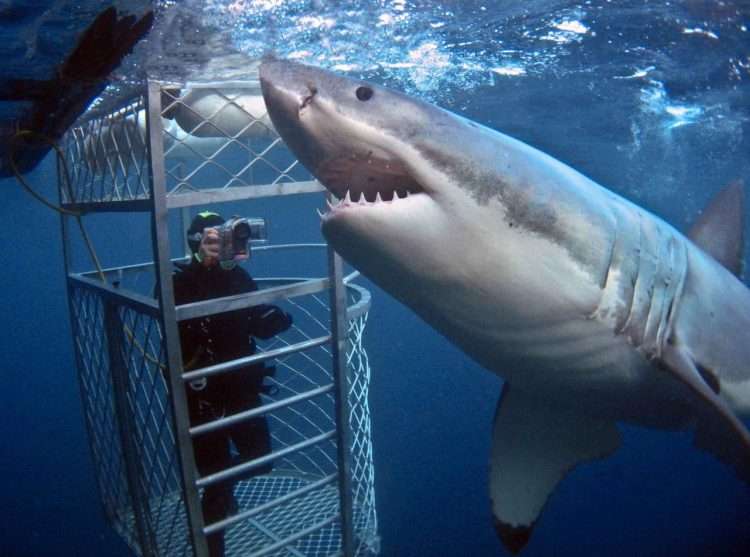 It truly is a BUCKET-LIST WORTHY experience!
View this post on Instagram
Jam-packed with TONS of thrill, and maybe a little chill, going shark cage diving in Cape Town truly is the epitome of a bucket-list-worthy experience. And if it's not at the top of your list, you better make a plan, because it certainly deserves the number one bucket list spot, no doubt about it! There is nothing quite as thrilling as seeing one of the fiercest predators of the deep blue, the all-mighty Great White Shark, up-close-and-personal! And although it might sound exciting, the REAL deal is so much more worth it! And the Shark Cage Diving Tour allows you to experience every adventure-filled, thrill-inducing, heart-racing second of this exclusive and exciting experience in the very best and safest way possible.
---
---
It's exciting & exclusive all at the same time!
View this post on Instagram
Having the opportunity to get up close and personal with these beautiful beasts of the Atlantic Ocean in their natural habitat is something pretty incredible, but getting to do it in one of the few places in the world where you can actually witness these striking predators in full force up close, Gansbaai, is something truly special! Shark Alley in Gansbaai is one of the world's most famous Great White Shark hunting grounds, thereby making shark cage diving in this exclusive Western Cape spot a world-renowned draw card for all adventure enthusiasts and daring thrill seekers around the world. And even if you're not a dare devil deep down, the sheer allure of getting to experience such an incredible adventure in one of the few places in the world where it's actually possible is pretty hard to resist! And once you're there, you certainly won't want to anyway!
You don't need any prior experience & you feel super safe the whole time!
View this post on Instagram
One of the best things about going shark cage diving is that you don't need any prior diving experience to do it, thereby making it open to anyone and everyone keen for something a little exhilarating and daring. Besides being provided with all the necessary diving and safety gear you are also given a full safety briefing, thereby fully preparing you for what's to come and instilling you with all the confidence you need. Once you're geared up and ready to go you will then be able to witness the boldly fierce and beautiful nature of the magnificent Great White Shark from the safety of a cage attached to the boat, thereby ensuring that you're safe and protected the whole way through.
Jam-packed with beauty & adventure!
View this post on Instagram
Besides being able to tick one of the most sought-after thrill-seeking adventures off your bucket list, you get to explore and experience all the sensational scenery and magnificent marine life the Western Cape has to offer too! Besides being one of the Cape's most adventurous hidden gems, Gansbaai also boasts some of the most unique coastlines and marine life sightings in the world. Home to an abundance of marine life, you will be able to enjoy some spectacular sightings of Southern Right Whales, Cape Fur Seals and a varied selection of birdlife, and of course plenty of incredible up-close White Shark sightings, on your epic Cape Town ocean adventure. Plus, the boat trip to and from the Shark Alley diving site is pretty epic too!
---
---
Its worth EVERY single second!
View this post on Instagram
Although coming face-to-face with one of the ocean's greatest predators might seem a little daunting at first, you won't regret a single second of the experience. It's been said that some of our greatest experiences in life come from doing the things that scare us the most, the things that push us outside of our comfort zone, going shark cage diving is that in every way, thereby making it SO worth it! And after just a few minutes in the water your epic adrenalin rush will be the only thing on your mind anyway!
Jam-packed with EVERYTHING you could ever want and need in an epic and truly unforgettable Cape Town adventure experience, going shark cage diving in the iconic Gansbaai Shark Alley is that and a whole lot more! And it's about time you experience it in full force for yourself with our epic Shark Cage Diving Full Day Tour, we can't wait to hear all about your experience too!
---
Interested in going on an epic adventure? Take the plunge with shark diving experiences with us! It is an exhilarating experience, where you're guaranteed an encounter a shark and other amazing marine creatures. Contact us to book our Shark Cage Diving Full Day Tour and learn more on what to expect on this trip.