Getting hit by that dreaded loadshedding blackout is enough to leave even the best of us frustrated. But while loadshedding may well mean no electricity, it certainly doesn't mean you can't still explore and experience all the beauty, fun and scenic sights the Mother City has to offer. And while it may dim your lights, it by no way should dull your sense of adventure, in fact we hope it only sparks it.
With an endless amount of amazing places to explore and adventures to take, the Mother City certainly provides us with some beautiful bright light at the end of the dark laodshedding tunnel. And it's up to us to seize the day and take advantage of it in every way we can. In order for you to make the most of the next loadshedding schedule, here are some of best things to do in Cape Town during loadshedding:
Things to do in Cape Town during Loadshedding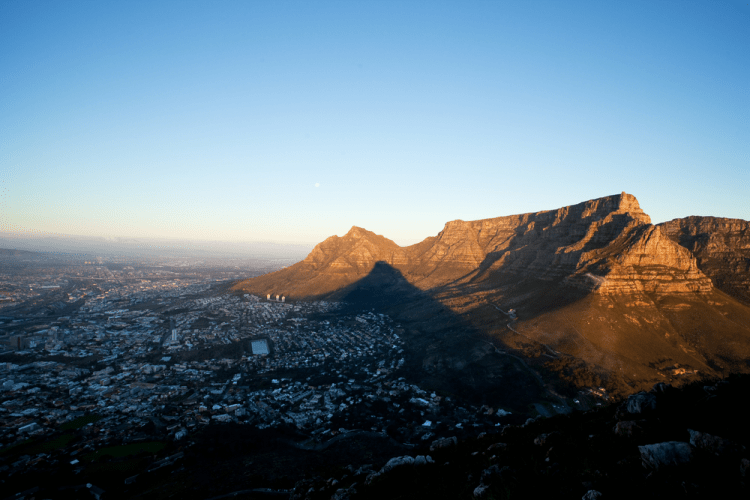 Go to the beach – Because beach time beats loadshedding time any day
View this post on Instagram
The fact that Cape Town is home to some of the most magnificent beaches in the world means you have all the beauty and beach-loving-fun your heart desires right at your finger-tips. And even if you're not a head-over-heels beach lover at heart, there's no better way to discover your new beach love affair than when the dreaded darkness of the Cape Town loadshedding schedule strikes.
Loadshedding gives you the perfect excuse to pack your beach bag, put on some sunblock and shades and enjoy a day of soaking up the last bit of Cape Town summer sunshine. And whether you choose to go sunbathe, sandcastle building, shoreline strolling, sunset watching or take a daring dip in the Atlantic, a Cape Town beach day promises to be worth every second spent. The best thing is, no electricity is needed to have a fun-filled beach day in the Mother City! Camps Bay, Clifton Beach, Muizenberg, Boulders Beach, Bloubergstrand, Llandudno and Long Beach are just a few of Cape Town's beautiful beaches you can enjoy on your loadshedding day out.
Go hiking – Because when the power is out, HIKE it out!
View this post on Instagram
Cape Town has fast become the ultimate mecca for avid adventurers and active nature enthusiasts at heart. With a treasure chest of natural wonders and scenic hidden gems to discover, how can you not want to go out there and explore every single one of them? Well, Cape Town loadshedding has now given you the perfect excuse to do just that, and what better way than to embark on a hiking adventure! Cape Town's hiking scene is booming and showing no signs of slowing down. Boasting an exciting variety of walking routes, hiking trails and nature reserves paths, there is something for every fitness level and sense of adventure. And the truth is you don't even need to be a die-hard hiking fitness fanatic to enjoy one of the Mother City's many hiking trails. She truly welcomes anyone and everyone to join in on all the Cape Town hiking action. But besides a good hiking work-out, prepare yourself for some of the most magnificent panoramic views you have EVER seen. It's therefore no surprise that these spots are also known as some of the Mother City's best sunrise and sunset spots too. And just in case you're not sure exactly which trail to start your Cape Town hiking adventure with, here is our list of the Best Hiking Trails in Cape Town to put you on the right track.
Go explore the beautiful Cape Town outdoors
View this post on Instagram
When loadshedding strikes, allow your sense of adventure to kick into overdrive and take advantage of the opportunity to go out there and explore everything the Mother City has to offer. Cape Town isn't known as one of the most beautiful and vibrant cities in the world for nothing and exploring it promises to be both an adventure and a scenic treat. From the most magnificent natural wonders and hidden gems to the picturesque Cape Winelands and some of the most beautiful beaches and coastline in the world, Cape Town has the perfect destination for everyone. And while our lives may well be busy and filled with tons of daily stressors, laodshedding gives us the perfect excuse to step back, step outside and embark on a Cape Town journey of exploration. Once you step foot outside into the beautiful Cape Town outdoors, you might just be surprised at just how much fun you have doing it. It's been said that outside is the best side of Cape Town, and it's up you to experience it to the fullest.
---
---
Enjoy breakfast, lunch or dinner at one of Cape Town's many power-cut-friendly restaurants
View this post on Instagram
Let's be honest, there's nothing worse than being hit with a hefty dose of loadshedding just around the same time as breakfast, lunch or dinner. You have no electricity and no way of preparing a delicious meal for you and your family, what now? Well, some of Cape Town's restaurants, coffee shops and eateries have taken it upon themselves to ensure that they are by no means affected by the dreaded electricity blackouts of Cape Town loadshedding. Yes, these Mother City dining hotspots have decided to take back the power in order to keep the doors open, kitchen cooking and provide you with a delicious meal to enjoy. La Parada, the Dog's Bollocks at YARD, the Village Idiot, Woodlands Eatery, the Stack, Aubergine, Hudsons on Kloof, Blue Café, Tiger's Milk, La Belle Bistro and Bakery, Cowboys and Cooks, Café Caprice and Sevruga at the V&A Waterfront are merely a few of these loadshedding-proof Cape Town restaurants you'll get to enjoy when the electricity blackout strikes.
Go learn a cool new Cape Town skill – Surf, SUP, snorkel or Kitesurf, the choice is yours!
View this post on Instagram
Learning a cool new skill is definitely a fun thing to do in Cape Town during loadshedding. Not only will it provide you with tons of fun moments and unforgettable memories but allow you to enjoy the beautiful Mother City outdoors too. And in the very best way! While running, cycling and hiking will never lose its charm, especially in a city as beautiful as Cape Town, trying something new and exciting should without a doubt be on everyone's Mother City bucket list! Besides being a hub of adventure sports and cool ocean pursuits, the Mother City encourages you to step outside of your comfort zone and try something you've never done before. And what better time to take charge and step up than during the dark times of loadshedding? Besides taking up some surfing lessons in Muizenberg, one of the best places to learn how to surf in Cape Town, the options truly are endless. Going Stand-Up-Paddle boarding (SUPping), snorkelling, kitesurfing, longboarding and paddle boarding are merely a few of the cool Cape Town skills and adventures to choose from.
Explore the beauty of the Kirstenbosch National Botanical Gardens
View this post on Instagram
Kirstenbosch Botanical Gardens is without a doubt one of Cape Town's most magnificent natural gems. Located at the foot of the iconic Table Mountain, Kirstenbosch Gardens is acclaimed as one of the great botanic gardens of the world. Thereby making it the perfect choice for a no-electricity-needed nature's day out in Cape Town. Not only is Kirstenbosch known as the Cape's floral kingdom and celebrated for its indigenous natural beauty, but it is also one of the best picnic spots in Cape Town. Besides its beautiful mountainous backdrop and stunning surrounding scenery, it also boasts large open lawns and tons of tree shaded spots perfect for a lovely family picnic. But if you're looking for something a little more exciting and adventure-filled, Kirstenbosch has that too. From a variety of scenic routes and thrilling hiking trails, to waterfalls, guided tours and even a tree-top canopy walk, there's something for everyone to enjoy.
Take an afternoon sunset drive along Atlantic Ocean Drive
View this post on Instagram
Ranking high on the list as one of the most incredible things to do in Cape Town during loadshedding is a scenic Atlantic Ocean drive. Home to some of the most picturesque coastlines in the world, the Mother City is any afternoon-sunset-drive dream come true. The beautiful stretch from Cape Point to Kommetjie is one coastal drive absolutely everyone should take on their visit to Cape Town. Boasting untamed and unapologetic natural beauty and hidden gems like Scarborough and Misty Cliffs along the way, this magnificent route is worth every second spent marvelling at its beauty. But if you're looking for something extra special, taking the drive at sunset promises to provide you with some of the most spectacular sunset views you have ever seen.
Swim, sight-see and rock scramble at Silvermine Nature Reserve
View this post on Instagram
The Cape Town loadshedding schedule may have taken your power away, BUT it certainly can't take your sense of adventure too. And the Silvermine Nature Reserve is without a doubt any thrill seeker and adventure lover's dream come true and the perfect destination to enjoy a no-electricity day in Cape Town. In fact, this Western Cape natural wonder promises to make you forget all about it! Silvermine Nature Reserve is located in the middle of the Table Mountain National Park and is widely regarded as one of Cape Town's most beloved natural gems. Besides the most spectacular nature reserve views, you can expect a day filled with cave discoveries, hiking trails, reservoir swimming and waterfall chasing to mention just a few. And yes, it is EVERY bit as incredible and cool as it sounds. A visit to the Silvermine Nature Reserve is something everyone who visits Cape Town should do at least once, and whether you get hit with a dose of loadshedding or not, it's certainly worth the trip.
Go on a New7Wonders of Nature Yellow Frame tour through Cape Town
View this post on Instagram
When you're left without electricity getting creative with your time is no longer a suggestion, it's a necessity. And going on an exciting and adventure-fuelled Yellow Frame tour through Cape Town will not only enable you to bare witness to some of the Mother City's most striking landmarks and renowned attractions but have tons of fun doing it too. What started out as a cool Cape Town quirk fast became one of the Mother City's most sought-after scavenger hunts. Running around the city to find these iconic yellow frames scattered throughout and snapping that all coveted snapshot with it in the background is now considered a super fun must-do activity. And what better time to do it than during a Cape Town loadshedding bout. There are currently 7 of these yellow frame gems scattered around the city for your enjoyment and photo taking pleasure. Just to make it a little bit easier, here is the Yellow Frame roadmap of Cape Town and all the spots you should visit: Signal Hill, the V&A Waterfront, Eden on the Bay at Blouberg, the Cape Town Station, District Six, Silo District and the Lookout Hill in Khayelitsha.
Have the ultimate Cape Town loadshedding picnic
View this post on Instagram
Beach, forest, boulder or mountain top, your Cape Town loadshedding picnic, your decision. Picnics are no longer reserved for romantic dates and family garden days, but for Cape Town loadshedding blackouts too! Having a picnic in Cape Town not only ensures you and your friends and family have something delicious to eat and drink when you're left without electricity, but do it in some of the most magnificent destinations and backdrops too. Being one of the most beautiful cities in the world means Cape Town certainly has no shortage of sensational picnic spots. From beautiful beaches, nature reserves and botanical gardens to Cape Winelands destinations and mountain tops, there is the perfect picnic spot for every occasion. And here are just a few of our Cape Town picnic spot favourites: The beach (Oudekraal beach, Little Bay in Bloubergstrand, and Maiden's Cove are popular picks) but just about any beach will do, the Newlands Forest, Kirstenbosch Botanical Gardens and the Bakoven Boulders.
Watch a Mother City sunset from the Clifton Ridge Rocks
View this post on Instagram
The Mother City is known for her 'sherbet sunsets', lighting up the sky in a glorious celebration of colours, it truly is a sight that renders even the best of us speechless. Watching the Cape Town sun go down will therefore always be one of the Mother City's favourite past times. One of which you should take advantage of when the dreaded loadshedding schedule strikes. It's been said that there is no sunset quite like a Cape Town sunset but watching it from the Clifton beach ridge rocks is pure sunset bliss in every single way. Known as one of Cape Town's most beloved secret sunset spots, the Clifton Ridge Rocks promise to give you a sunset you won't soon forget. But where exactly will you find this hidden sunset spot? At the end of The Ridge Road in Clifton, just before you think you've gone past it, you'll stumble upon a small walkway that opens on a little rock ridge – this is THE magic sunset spot! So, sit back, relax and soak it all in, you don't need any electricity to enjoy every second of this incredible sunset moment.
While loadshedding may well leave us without electricity, the Mother City's beauty and endless array of scenic sights and adventures to take certainly makes it a whole lot better. With so many incredible destinations to visit, amazing attractions and landmarks to explore and fun family activities to enjoy, you'll never run out of things to in Cape Town during loadshedding. So, get creative, get out there and explore and experience everything the beautiful Mother City has to offer. She promises to make you forget all about your loadshedding woes!
---
Looking for more things to do in Cape Town during loadshedding? Get in touch with the our team today to start planning your dream holiday right now. We also offer a wide range of tour activities and affordable accommodation options at the best rates in town. Contact us today with any booking related queries you may have, or to learn more about finding out-of-the-box travel adventures across Western Cape.
How do you deal with load shedding in Cape Town? Share your thoughts and let us know!