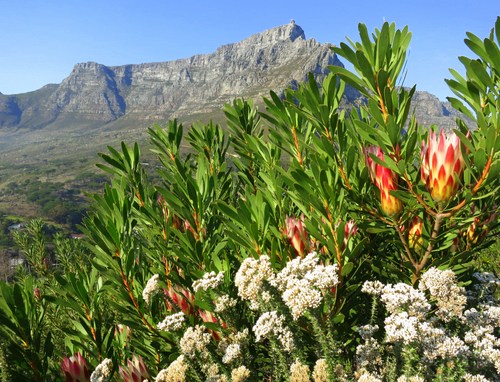 South African National Parks (SANParks) recently released some statistics on occupancy and visits to their various national parks over 2013, and our very own Table Mountain was ranked right at the top of most visited park. 
While this does not come as a huge surprise to locals (after all, we know just how amazing our famous mountain is), it is a huge honour to beat such major landmarks as Kruger National Park. Even more interesting was the fact that our scenic West Coast National Park on the Cape Floral Route received the highest unit occupancies during 2013 – beating not only Kruger, but also many other Big 5 reserves throughout South Africa. 
What other national parks were popular over the past travel year? Keep reading to find out… 
Best South African National Parks 2013
In total, 692 498 people visited South African national parks over the busy festive season last year. The most popular park for visits were as follows: 
Table Mountain – 333 090 visitors
Kruger National Park – 180 328 visitors
Garden Route National Park – 63 414 visitors
West Coast National Park – 35 852 visitors 
Addo Elephant National Park – 26 699 visitors
Augrabies Falls National Park – 12 248 visitors
SANParks General Manager: Sales and Marketing, Bheki Zwane, stated that the past tourist season showed some positive trends in occupancy at various park lodges and camps, in addition to visits. Accommodation occupancy had an average of 77.4% while camping occupancy had an average of 66%. The parks that were most popular for longer holidays were as follows: 
West Coast National Park – 97.8%
Addo Elephant National Park – 93.6%
Karoo National Park – 93.1% 
Camdeboo National Park – 87.0% 
Garden Route  National Park – 86.8% 
Kgalagadi National Park – 85.8%
Kruger National Park – 80.2%
With the Western Cape being home to the most visited national park as well as the park with the highest rate of accommodation bookings, there is no doubt that visitors are embracing the beautiful natural diversity of the Mother City and its surrounds. And as the 2014 Design Capital and the Best City in the World for 2014 according to New York Times and The Guardian, our natural heritage is only the start of the world's love affair with Cape Town. 
Over to you now – what is your favourite South African national park and why? Leave your thoughts in the comments below!