Not too long ago, we did a post on the Shark Spotters mobile app that was in development. This app would allow surfers, swimmers and beach-goers a simple way to track shark activity directly from a mobile phone application. The good news is that this app is about to launch soon… and Shark Spotters has organised a special launch party to celebrate.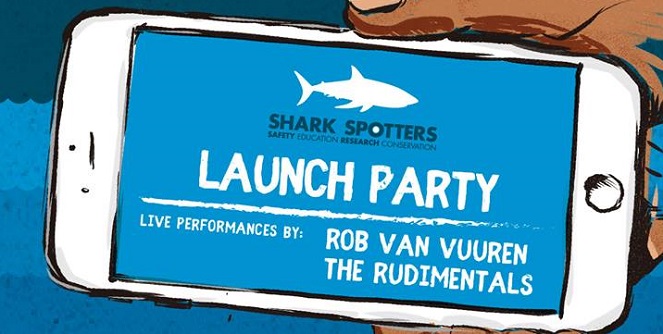 The launch event takes place on 13 October 2016 at the Earth Fair Market in Tokai. On the line-up is local band The Rudimentals as well as comedian Rob van Vuuren who will be MC. There'll be food vendors and a cash bar, along with plenty of other things to look forward to. Best of all, it's for a great cause – all proceeds will go towards Shark Spotters, who work hard to keep our beaches safe.
About the Shark Spotters Mobile App Launch
Before we share the details about the Shark Spotters mobile app launch, let's take a look at what this app will offer. The original system used by Shark Spotters is complicated but effective. Various shark spotters are located at lookout points in False Bay, which is where the majority of shark activity occurs in the Cape. When sharks are spotted, radio contact is made and flags and sirens are used on Cape Town beaches to warn people to stay clear. On days where no sightings have been confirmed, but the weather is poor, different flags are used. Flag colours are used as follows:
Green flag: Spotting conditions good, no sharks seen.
Black flag: Spotting conditions poor, no sharks seen.
Red flag: Shark has been seen in the last two hours, or there is an increased risk of shark presence.
White flag: Shark has been spotted – siren will sound. Leave water immediately.
While this system worked, it requires a great deal of coordination, time and effort. It also means that surfers or swimmers would arrive at the beach, only to see a red or white flag and have to go back home. The mobile shark spotting application will make it easy to see what the current shark risk is, before leaving home.
The launch event will help to raise funds for Shark Spotters, who in turn can continue the work they are doing to help humans and sharks exist peacefully together. Event details include the following…
Venue: Earth Fair Market, South Palms Centre, Main Road, Tokai
Date: Thursday 13 October 2016
Time: 19h30
Tickets: R130 per person, available via Quicket.co.za
Line-Up: Rob Van Vuuren and The Rudimentals will be on stage
Lucky Draw: Your ticket will also get you into the draw, with prizes such as a shark diving experience from Shark Explorers to be won
________________________________________________
For details on the event, visit www.facebook.com/SharkSpotters. You can also contact 0781744244 or info@sharkspotters.org.za to learn more about the Shark Spotters mobile app launch.