A romantic retreat in one of the most beautiful cities in the world promises an unforgettable getaway you won't soon forget. Filled with scenic wonder, exciting adventures and a variety of must-see natural gems and renowned attractions the Mother City is the perfect destination for a special trip for 2. And finding the perfect romantic villa to call your own, promises to make it just that much more memorable.
Whether you're looking for a beachfront, mountain side or winelands villa, here are some of the very best romantic retreats perfect for couples-only getaways in Cape Town.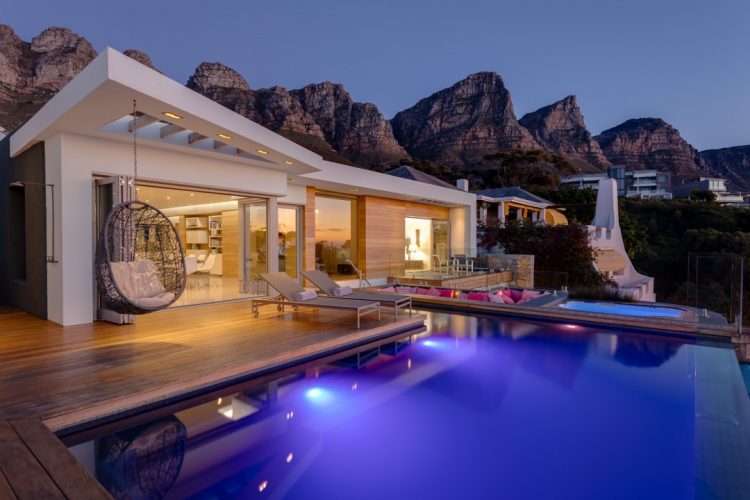 Located in Camps Bay, one of Cape Town's most beautiful and vibrant beachfronts, Element House is a romantic villa dream come true. Set against the backdrop of the renowned Twelve Apostles mountain range, one of the most picturesque coastlines in the word, and looking out over the Atlantic Ocean, Element House promises a romantic Cape Town getaway you won't soon forget.
Not only will this beautiful Cape Town villa provide you with the most spectacular backdrop and sunset watching spot, but all the lavish luxury your heart desires. Custom built to the very latest technical and ecological standards, Element House provides an exclusive and tranquil escape. Privacy, relaxation and scenic wonder is what this stunning villa aims to provide.
Boasting 3 stunning bedrooms and 1 separate apartment, beautiful open plan living areas and floor to ceiling folding doors seamlessly flowing out onto a lovely pool deck and back garden. It also includes a beautiful infinity pool and a jacuzzi. Besides all its stunning features, flawless design, tranquil ambiance and state of the art amenities, this spectacular Cape Town villa is located just a 10 minutes' walk from the beautiful Camps Bay beachfront and vibrant sunset strip.
>> Browse our collection of villas & apartments in Camps Bay. <<
---
---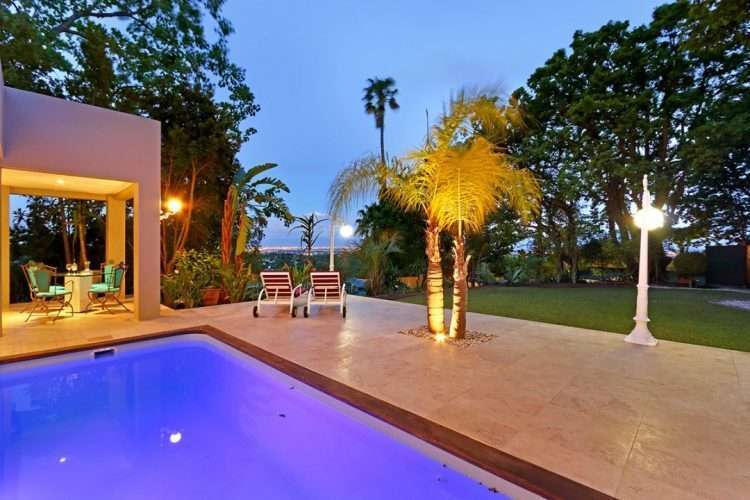 Constantia is known for its spectacular wine route, unrivalled beauty, lush surroundings and natural gems, thereby making it the perfect destination for a romantic retreat in Cape Town. And the beautiful Belair Cottage in the heart of the Constantia Winelands provides you with the perfect couple's getaway destination.
Perfectly striking the delicate balance between modern design and natural greenery, this 2-bedroom romantic escape captures the essence of elegant simplicity. From the skyline and foliage, to the choice of lighting, furniture and interior décor, everything is perfectly thought out and placed to provide its guests with a tranquil haven in the heart of the beautiful Cape Winelands.
With the spectacular picturesque mountains and winelands views you'll get to enjoy, this Constantia gem boasts a range of lavish features and amenities. Boasting flawless architectural design, open plan living spaces, a beautiful patio, private swimming pool, an expansive garden, a stunning terrace with an outdoor dining area and so much more. The Belair Cottage truly offers a one-of-a-kind romantic escape every couple should get to experience on their trip to Cape Town.
>> Browse our collection of villas & wine estates in Constantia. <<
---
---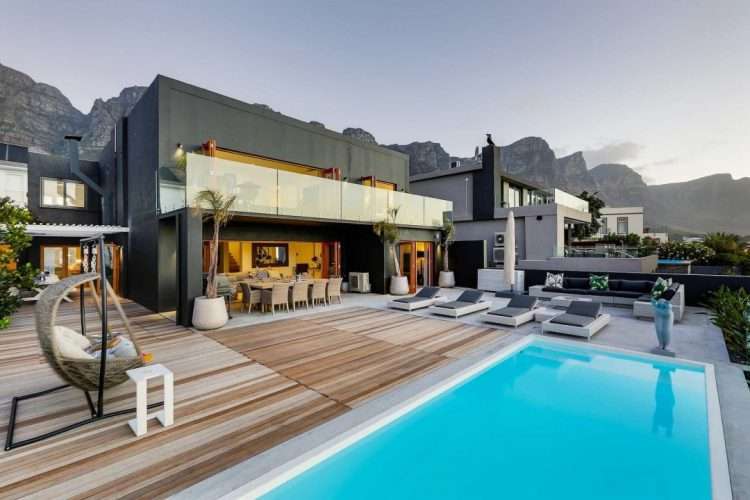 Resting beneath the majestic Twelve Apostles mountain range with breath-taking mountain and ocean views, this beautifully designed villa is split over two levels exuding modern comfort, style and luxury in every way. Thereby offering couples a beautiful and lavish escape filled with beauty, relaxation and magical sunset views. Its private terrace deck boasts sun loungers, a swimming pool and a beautiful outside living and dining area is therefore perfect for soaking up all the Cape Town sunshine or enjoying a sunset cocktail or glass of wine.
This luxury Camps Bay villa has a stunning outdoor area and its interiors is every bit as beautiful as they are chic and stylish. Boasting 4 en-suite bedrooms, stunning open plan living and entertainment areas and a variety of state-of-the-art luxury amenities, Jo Leo has everything you need for a memorable and romantic Cape Town trip for two. Within easy walking distance to one of Cape Town's most beautiful blue flag swimming beaches and vibrant restaurant strip, as well as a variety of other exciting attractions and landmarks, it truly is the ultimate Cape Town romantic retreat destination.
>> Browse our collection of villas & apartments in Camps Bay. <<
---
---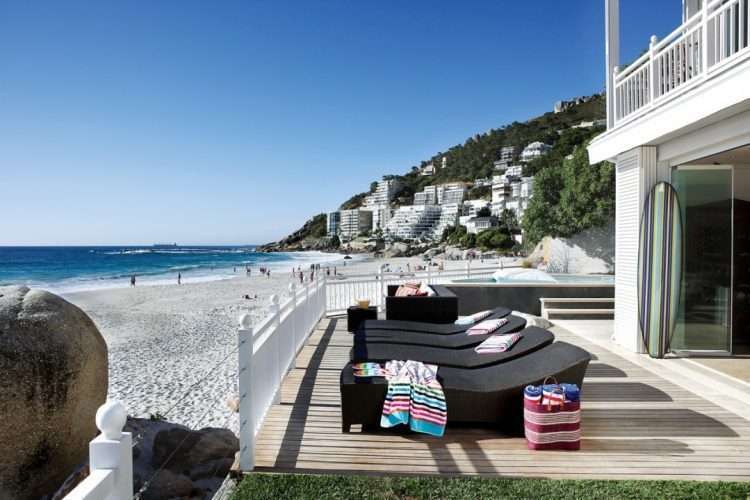 Looking for the perfect romantic Cape Town beachfront escape? The Ivory Sands Villa promises a magical getaway for 2 filled with all the beach bliss, sun-kissed sessions and ocean-front beauty your heart desires. Located right on the sands of Clifton beach, this 2-bedroom Cape Town villa not only provide you with direct access to the beach, but all the surrounding scenic beauty and lavish luxury too.
Showcasing a spectacular Atlantic Ocean view from just about every corner of the villa, you will be able to watch the sun rise and set over the water during every second of your stay. Sounds pretty magical right? Featuring one of the best ocean views in Cape Town, the Ivory Sands villa also offers its guests so much more.
Boasting 2 beautiful bedrooms, spacious living area, fully equipped kitchen and a range of luxury amenities and stacking doors opening out onto a deck with sun loungers, a pool and a stunning outdoor ding area. Whether you're looking to spend your romantic trip for 2 lounging on the beach, enjoying a relaxing afternoon next to the pool or sipping on a cocktail while watching the Cape Town sunset, the Ivory Sands Villa is the perfect property for you.
>> Browse our collection of villas & apartments in Clifton. <<
---
---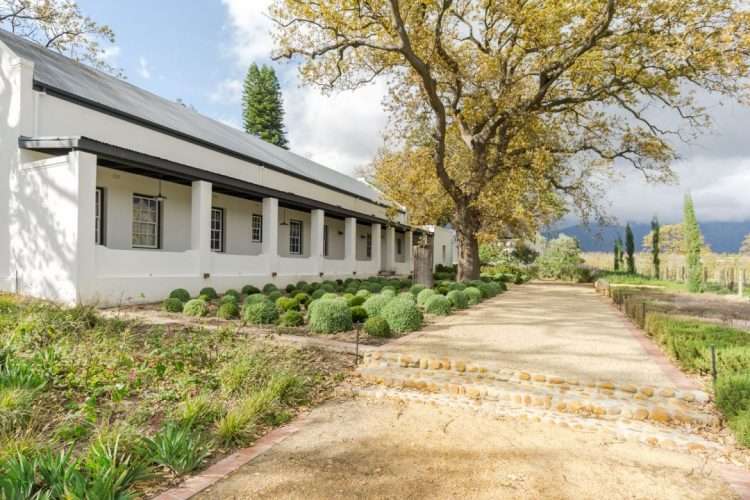 What could be more magical than a romantic trip to one of the most renowned and beautiful wine routes in the Western Cape? Boasting centuries old vineyards, Cape Dutch architecture and beautiful scenic surroundings, a romantic retreat in the ever-charming Franschhoek promises to be an experience you won't soon forget.
The Franschhoek Hideaway is a renovated 2-bedroom traditional farmhouse that offers its guest a magical winelands escape. Boasting the most beautiful old Cape Dutch features, perfectly complemented by chic modern touches and lavish amenities, the Franschhoek Hideaway provides you with the very best combination of both the old world and the new.
Featuring a double height open plan kitchen and living space, a stunning dining area, a cosy seating area in front of a fireplace and an enchanting ambiance it will almost feel like you've escaped to a whole new magical world in the heart of the Franschhoek Winelands. This romantic escape also offers a variety of other features that are available on the farm. Boasting the famous Picasso the Painting Pig, one of Franschhoek's main attractions, a beautiful garden, a long pool and the most magnificent Winelands and Vineyard backdrop, it truly allows you to sit back, relax and soak up every magical second.
>> Browse our collection of villas & wine estates in Franschhoek. <<
---
---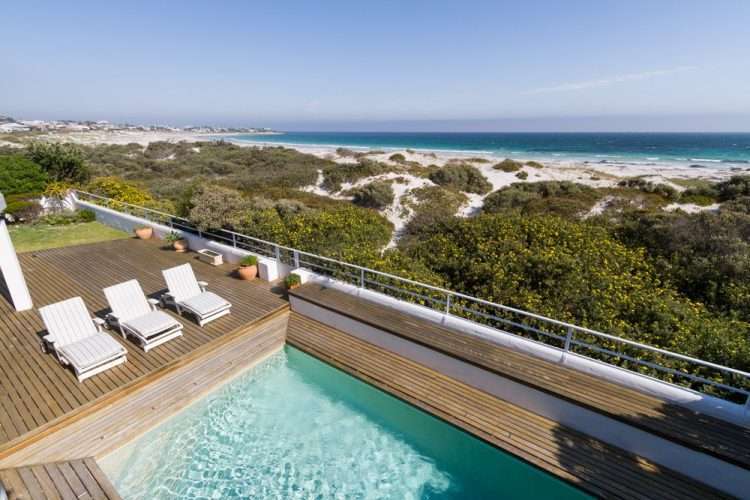 Located along the west coast of the Cape Peninsula, Kommetjie is known as one of most beautiful hidden getaways in Cape Town. Boasting a unique and beautiful blend of beach, mountains, ocean, nature and surfing as well as a variety of incredible attractions such as the famous Slangkop Lighthouse, Imhoff Farm and Long Beach, it offers couples the perfect romantic escape filled with beauty and adventure. The beautiful Beach Haven provides you with the perfect beachfront location to experience it all in the most magical way.
This stunning 4-bedroom, double story thatched villa not only offers you direct access to one of the most beautiful and peaceful beaches in Cape Town, but all the modern luxury that comes with a luxury villa. With all the spectacular scenic views of white sand and crystal-clear turquoise waters Kommetjie is known for, you'll be able to sit back relax and enjoy all the lavish state-of-the-art features and amenities too.
Boasting 4 stunning bedrooms, large open plan living spaces, sliding doors leading out onto a beautiful large deck with sun loungers, outdoor seating, a garden, pool and the most magnificent Atlantic Ocean beachfront view. The covered patio and outdoor dining area provides you with the perfect space to relax and soak up all the beauty Cape Town has to offer anytime of the day. And not to mention its prime beachfront location means you can enjoy romantic shoreline walks every day of your trip.
>> Browse our collection of villas & apartments in Kommetjie. <<
Cape Town truly is the perfect destination for a romantic getaway, honeymoon hideaway or special trip for two. Boasting some of the most beautiful backdrops and scenic escapes in the world, there truly is no better place for a romantic retreat or couples only getaway than Cape Town. And all of these stunning villas, lavish properties and beachfront escapes promises to make your trip to Cape Town that much more memorable.
---
Still looking for more accommodation ideas for Couples-only getaways in Cape Town? We've got you covered! Here at ComeToCapeTown.com, we offer an extensive range of luxury accommodation to suit every preference. From outstanding villas to trendy apartments, exceptional aparthotels and hotels, along with our Curated Collection, we have something for everyone. Get in touch with our team today for assistance in finding the perfect luxury romantic getaways in Cape Town.