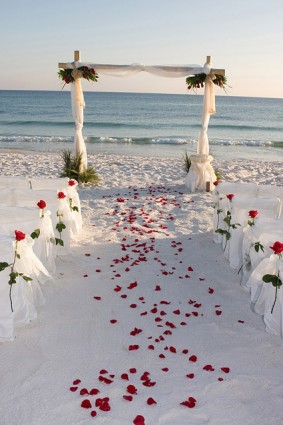 If you have been longing for a beautiful destination wedding in Cape Town, you will have a wealth of amazing ideas to consider. While it is the beaches that have made this city such a breath-taking place to have your big day, there are many other options that are equally spectacular.
Choices for weddings and honeymoons in Cape Town range from intimate vow ceremonies on the beach to garden weddings, Winelands weddings or even bush weddings at elite game reserves.
But as any bride knows, choosing the venue is only part of the challenge – even if it is a rather big part. Planning a destination wedding may be a little more challenging than planning one in your home town, but there are a huge many benefits that make it well worth the effort. Cape Town has one of the best climates in the world for starters – long summers, mild winters and glorious spring and autumns ensure good weather as well as beautiful scenic backdrops to any venue.
Cape Town Wedding Planning Basics
To begin the planning, there are a few things that you should keep in mind when conceptualising your dream Cape Town wedding. These include the following:
The Date – summer in Cape Town runs from November to April, with long hot days, warm nights and minimal rain. This is obviously one of the most popular times for a wedding, but it is by no means the only great time of year to consider. Autumn, which typically runs from around April to the end of May, is also very warm, with beautiful red, brown and orange colours across the countryside. Even in the height of winter between June and August, there are many fine days – a number of venues offer indoor options along with outdoor options too. This makes virtually any time of year beautiful for a wedding in the Cape.
Daytime vs Evening – the fun thing about weddings is that they can be as simple or elaborate; traditional or quirky as you wish. Daytime weddings take advantage of the gorgeous weather and beautiful scenic locations found across the peninsula, while evening weddings are great to create a unique atmosphere. For something truly spectacular, you could even have your ceremony at sunset if you are opting for an outdoor wedding. Few things can be more romantic than a backdrop of starling colours as you exchange your vows!
Accommodation – if your guests are travelling from abroad, you may also need to consider wedding accommodation options for them as well as the bridal party. A number of venues offer an all-inclusive package that includes accommodation, venue, reception and even wedding services, all in one place. Another option to consider is a villa that is situated near to your chosen venue, at least for the bridal party and important guests. You can also look for specials that may be running during the week of your chosen wedding date for other guests that may be seeking places to stay.
Travel Arrangements – it is best to get the travel planning stuff out of the way as early as possible. You can save a great deal on flights by booking ahead, especially if you are planning a wedding during the busy summer months. Organising things such as car hire for you and your bridal party will also help to save time and reduce stress once you arrive. On the day itself, you could hire a luxury car such as classic limo or even something fun like an old fashioned sports car.
Catering – in addition to all-inclusive packages that cover everything from reception to photography, you will find many excellent catering options in Cape Town. You do not have to stick to the traditional format either – beach picnics with delicious canapés and specially prepared baskets for each group are a fun and fairly cost-effective solution to try for outdoor weddings. Many catering companies are able to work onsite at even the most unique of venues, and many also assist with additional services such as serving staff, bars and even music. Most will also be able to assist with wedding cakes, while a growing number of hip bakeries across the city also make divine wedding cakes.
Theme – make the most of Cape Town's diverse scenery and cultures with a themed wedding that goes far beyond the ordinary. Depending on the time of day and the season you have chosen, you could try a beach themed wedding complete with shells, breezy white décor and natural floral arrangements, or even a magical garden theme if you have chosen a lush outdoor venue. Think bold floral arrangements, plenty of greenery and lanterns carefully placed in trees for soft lighting. There are many unique little craft shops, markets and antique stores to be found in the city too, which offer a treasure chest of ideas.
Yet another advantage of planning a destination wedding in Cape Town is that you can enjoy your honeymoon here too. From romantic horse rides on the beach to wine tasting, luxury spas, game drives and plenty of other things to do, a Cape Town honeymoon is every bit as rewarding as the wedding itself.
What would be your idea of a dream wedding in Cape Town? Share your thoughts below and tell us why you think Cape Town is one of the most romantic destinations in the world!