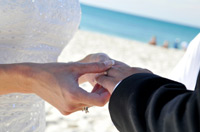 Your wedding is one of the most spectacular events of your life, so why not enjoy it in luxury and style!
South Africa offers some of the best locations for an unforgettable wedding.
Spectacular honeymoon arrangements can also be made in some of the many exotic locations available in Africa. Given the hectic days of planning and arranging, once you've arrived, the only decision you will need to make is whether to visit only one, or many, locations during your stay!
Some suggestions for romantic locations:
In Western Cape, the Wine lands are a perfect destination. Luxury, fine wines, and superb dining options provide a perfect location for your honeymoon or wedding.
Spend a romantic afternoon under an oak tree enjoying a cozy picnic, or on a veranda looking out at the vineyards. Try the wine tasting events and stroll around some of the most famous wine estates of all time.
Some of South Africa's private Game Reserves are another location for a relaxing honeymoon. Book a luxury suite, enjoy your own private butler, and explore the open spaces and magnificent bird and wildlife in the area.
For the adventurous couple try a guided game drive and track exotic and wild animal life. After returning to your room, order a candle light dinner and enjoy your meal under the African stars. Then, curl up in your room near the fireplace and enjoy the rest of the evening indoors.
South Africa's cities are also a popular honeymoon destination. In the city you'll find hotels that cater to celebrities, dignitaries and other VIPs. Staff members will go out of their way to provide you with an unforgettable experience. Try a hot air balloon tour of the city, or stay in and enjoy the in-room amenities including champagne toasts and luxurious accommodations. You'll leave feeling completely spoiled and pampered, which is what a honeymoon is all about!
Did you have your wedding, or honeymoon in Cape Town? Tell us about your experience below