What better time of year than to be thinking of a wedding than the run up to Christmas, especially in the Southern Hemisphere. South Africa, particularly at this time of year, is one of the top picks for a glorious getaway from it all Cape Town honeymoon.
With all the organizing, nerves and last-minute panics out of the way, all you want to do is to be able to relax and spend precious time with your beau in beautiful surroundings.
Cape Town offers an extraordinary choice of places to see, things to do that are unique and special to compliment your memorable occasion.
Imagine staying at one of the exclusive hotels in the Waterfront, sharing much needed relaxation, recharging your batteries for seeing everything the Western Cape has to offer.  A luxurious start to the rest of your lives together that will have you remembering fondly the fantastic honeymoon you enjoyed many years from now.
Or perhaps an exclusive villa overlooking some of the world's most celebrated beaches in Clifton or Camps Bay might be more what you are looking for?  The spectacular sunsets put the icing on the cake of romance in a way that is hard to replicate – they have to be seen to be believed!
Apart from the cosmopolitan Waterfront and city, Cape Town offers amazing opportunities to safari with Africa's Big Five, swim with penguins, watch the meeting of two oceans, shop in internationally acclaimed stores, travel to the top of one of the World's most iconic mountains and get a taste of life behind bars as it was for Nelson Mandela.
What about a romantic horseback ride across the soft white sands of Noordhoek beach, where part of the Hollywood movie, Ryan's Daughter, was filmed?  The endless stretch of beach disappears into the distance and it is as if you are the only people in the world, along with the birds, the sea, the wide blue sky.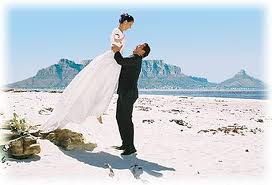 No more than an hour's drive away are the acclaimed wine estates of Stellenbosch and Paarl; an experience you will not want to miss even if you are not a wine buff!  The peace and tranquility you will find in these beautifully landscaped gardens and vineyards, along with majestic homesteads, will have you longing to return long after your tan has faded.
With a multitude of wonderful things to do here in Cape Town, you will never be stuck for ideas, be they romantic or adventurous, restful or energetic.
From luxury hotels to relaxing spa visits, we take the worry out of organizing your special holiday to make certain everything goes smoothly from the moment you land at Cape Town airport until you depart South Africa.
Here at Come To Cape Town we are experienced in planning honeymoons and trips that reflect your interests, ensuring that your Cape Town honeymoon leaves you with the happiest memories.