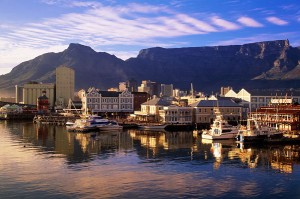 Dear Jennifer,
Your 24 Hours in Cape Town report has been read by a huge number of people across our city, reminding us just how lucky we are to be living in Cape Town. While the majority of visitors to the 'Mother City' notice the obvious things (Table Mountain, our beaches and of course, the vibe), not everyone takes a deeper look to appreciate the many other facets to the city.
Even a born-and-bred Capetonian such as me sometimes misses the things that a new visitor with a broad outlook notices. You gave me plenty of new-found respect for the sustainability of the city – it is always awesome to look at your home city and feel that new wave of respect.
Sadly, you also made clear one of the less-glamorous aspects of Cape Town – the much-discussed service levels. While we know that every city has its issues, we hope that this one will be given the attention it needs over the course of the year.
With the upcoming SEOmoz visit to Cape Town this year, and your short visit too, the city is making its own mark on the world – exciting times indeed.
This visit may have been short, but should you decide to come back for a longer visit, we wanted to share some of our favourite gems that will give you an even broader picture of Cape Town.
Cape Town Local Attractions We Know You Will Love
You may need a bit longer than 24 hours (a week would do the trick), but we can assure you that every hour is worth spending on these gems.
Robben Island – take a boat trip from the Waterfront to see where our beloved former president Nelson Mandela was kept in prison during the Apartheid Era.
Bo Kaap – tucked away between the City Centre and Waterfront, this Cape Malay community is home to brightly hued cottages, a spice market, art galleries and craft centres. There are also no less than seven mosques here – many of which date back hundreds of years.
VOC Company Gardens – just off Long Street (more on that later), these gardens have winding paths, old statues, an aviary, green lawns and friendly squirrels.
Long Street – ideal for a fun romantic date with your hubby, a raucous night out, a lazy afternoon cocktail or even some mid-morning shopping, Long Street is well worth a stroll. Visit The Dubliner, Neighbourhood or Zula Bar, and you will meet loads of fellow US travellers, along with people from all over the world.
Kloof Street – nearby Kloof Street is also filled with interesting places, people and things. So many in fact that we had to put them all into a guide.
Constantia Wine Route – heading out towards the other side of the mountain, Constantia is home to many beautiful, old estates. To wind off a day of wine tasting, a lunch at La Colombe is also a must.
Kirstenbosch Gardens – close by is Kirstenbosch – the best place to watch sunset concerts during the summer, take a walk through many different sections or perhaps try an afternoon high tea at Moyo (their apple crumble is especially good).
Hout Bay Harbour & Boat Tours – from Kirstenbosch, it's a breezy drive down one of those nerve-wracking drives, only this time, with forest and trees flanking every direction. Hout Bay has a harbour market, fresh catch of the day, fish and chips done Cape style, a glorious beach and boat trips out to Seal Island and other coastal hotspots.
Chapman's Peak – a highlight in itself, Chappies (as we like to call it) runs around the mountain from Hout Bay to Noordhoek and the False Bay coast. The views from up here are simply staggering.
Noordhoek – in Noordhoek, you will find Long Beach (you can even ride horses on this beach), the Farm Village (try the scones at Café Roux) and many eco-friendly shops, guest houses and nature reserves.
Boulders Beach – close to the Cape Point turnoff near Simons Town, Boulders is a beach… but it is also a penguin colony. If you have ever wanted to swim with African penguins (or at least see them in their natural environment), this is a great place to do so, at a small cover charge to enter the reserve.
Kalk Bay – getting onto the Main Road again from the beach, you will find yourself passing through a number of seaside suburbs. Kalk Bay is the most vibrant of them all, with restaurants, antique shops, amazing art galleries and a pretty harbour. You can also sit right by the ocean at Harbour House or Brass Bell, with waves crashing below.
Muizenberg Beach – if you still have time to get a closer look at the False Bay beaches, or you want to do some surfing (or learn how to surf), Muizenberg is worth a stop. It's also off the Main Road, and has a distinctive retro vibe along with adorable wooden changing rooms in bright colours.
From the Main Road, you will find yourself heading back into the southern suburbs (Constantia et al), with easy access to De Waal Drive that takes you back into the City Bowl and Camps Bay area. You will drive past Newlands Forest on the way too – not too long ago, you would have seen antelope grazing on the slopes, but the trees are rather impressive too.
So there you have it Jennifer. You could probably have just opened up LonelyPlanet or read a brochure to see these ideas. But the great thing about Cape Town is that these places are loved by locals too.
If you ever want some willing guides who will point out even more cool places, give us a shout. We love HuffPost long time, and would be honoured to show you around.
From the team here at ComeToCapeTown.com, thanks for showing the world our little slice of paradise.
Rox