1D fans in South Africa will soon have the chance to see the legendary lads on the stage to see One Direction in Cape Town on 1 April 2015. Brought to SA shores by Big Concerts, this event is sure to be huge for teens, tweens, ladies, parents and everyone else who can't get enough of this popular UK boy band.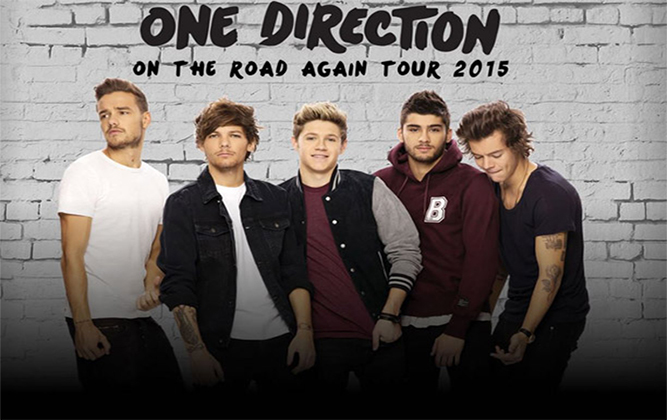 Niall Horan, Zayn Malik, Liam Payne, Harry Styles and Louis Tomlinson will be making their first appearance in Cape Town for their 'On The Road Again' tour, which includes two shows in Johannesburg, Gauteng on 28 & 29 March 2015, plus a show in Cape Town on 1 April 2015 at the Cape Town Stadium in Green Point.
Credited with bringing boy bands back to the scene, One Direction has Simon Cowell to thank for their success (at least as far as getting them together, at any rate!). They first wowed audiences when appearing on the 7th season of The X Factor, and despite not winning the show, Simon Cowell realised that he had a potentially massive talent in the works. In 2010, they were signed to his record label, and since then, they have shown no sign of slowing down any time soon.
To date, the band has release three albums: Up All Night (2011), Take Me Home (2012) and Midnight Memories (2013). Some of their top songs have included 'What Makes You Beautiful', 'Live While We're Young', 'Story of My Life' and the 'Best Song Ever'. Accomplishments have included being the first group since The Beatles to have two number one albums selling in the United States in the same year, a Billboard top artist of the year trophy in 2014 and chart topping all over the globe.
Fans can hopefully look forward to some of their favourite songs, but no matter what they will be bringing to the concert, we are sure that they will soon have the screaming crowds at their mercy once they take to the stage. Supporting One Direction for their concert in Cape Town is South African artist Johnny Apple – winner of the 2013 SA's Got Talent show and a major talent here on home soil. All in all, this is sure to be a night of big entertainment, big hits and big excitement!
If you are a big fan of this British boy band par excellence, keep reading to get the details on times, dates, venue and tickets.
Get Ready for the 1D Concert in Cape Town, South Africa
– Date: 1 Apr 2015
– Time: 18h30 – 22h00
– Venue: Cape Town Stadium, Vlei Road, Green Point
– Website: onedirectionmusic.com
– Tickets: These are available online through viagogo.co.za, Computicket and BigConcerts.co.za. Costs per person vary from R850 to R395, with the following ticket options available:
Golden Circle: (east and west side) & Lower Level Seated (east and west side) – R850
Middle Level Seated (east side) – R680
Field Standing – R565
Lower Level Seating – R510
Middle Level Seating (rear) – R455
Upper Level Seating – R395
For safety reasons, kids younger than 13 years of age or shorter than 1.2m tall will not be allowed in the Golden Circle or Field Standing areas. All children younger than 14 years of age must also be accompanied by an adult in order to be admitted into the concert venue.
Will you or your kids be going to see One Direction in Cape Town this year? Share your thoughts below and let us know!