Nightlife in Cape Town – Where to Go and What to Do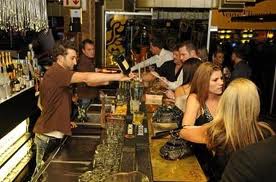 The pulsing nightlife in Cape Town shows yet another side to the diverse Mother City, with a huge range of things to do once the sun has set. The city caters to all tastes, from laid-back lounges offering chilled beats, to raucous bars with balconies overlooking Long Street in the Cape Town City Centre, comedy venues, upmarket nightclubs that are open to the early hours and just about anything and everything in between. This means that you will nearly always find things to do in the city after dark, whether it's the middle of the week or a Friday night.
Spoiled for choice? We help you sift through the massive range of options with a handy guide to Cape Town's nightlife.
Your  Guide to Nightlife in Cape Town
The first step to deciding what your evening will entail is determining what you are in the mood for trying. Cocktails, food, dancing, relaxing, live music or perhaps karaoke? Once you have an idea of what you feel like doing, you will be able to choose your destination. The following guide will help you make your final decision on where to go.
Cocktails – the best places for good cocktails include Wakame in Moulle Point, Café Caprice in Camps Bay, Asoka on Kloof Street, Orphanage on Bree Street, Bascule at the Cape Grace in the Waterfront, Beluga in Green Point (where you can also enjoy sushi specials and fresh oysters) and La Vie in Sea Point, which is ideal as a sundowner spot too.
Live Music – The Dubliner on Long Street often has live bands, while The Assembly in the East City District caters to a wide range of live music events. Mercury Live in District also often has bands performing, as does Zula Bar on Long Street. The V&A Waterfront Ampitheatre often features concerts and other live events too.
Entertainment – Zula Bar and Ragazzi on Long Street both host comedy evenings during the week. If you can find it, there is also a tiny karaoke bar off Long Street that provides plenty of fun. Neighbourhood on Long often has pub quiz nights and regular screening of sporting events, plus a decent food menu. Fireman's Arms near Buitengraght Street also has quiz nights, with an outdoor beer garden and cosy pub inside.
Bars – for those nights when you simply feel like chilling with a few friends over a beer and snacks, there are many great bars to be found in Cape Town. Chukkachurri in Green Point has an Argentinian polo theme, while El Burro in Green Point has a wide range of tequilas and excellent Mexican food. Rafikis on Kloof Nek is one of the city's most laid-back bars, with a spacious balcony, good food and good vibes.
Clubs – if you're in the mood to shake some tail feather on the dancefloor at the hottest nightclubs in Cape Town, you could try Fiction or Waiting Room on Long for Dub Step, Drum 'n Bass and a relaxed atmosphere. Trinity Super Club in Green Point has a number of dancefloors, bars and chill areas. The newly opened Loop nightclub on Loop Street provides an upmarket club with diverse music styles. Deco Dance in Sea Point is where you can dance the night away to old skool 80s and 90s tunes.
To stay safe on your nocturnal adventures, be sure to take advantage of the many cabs found throughout the city's hotspots. These cabs will take you back to your hotel, guest house or chosen accommodation at a reasonably cheap rate. Also, even if you are letting your hair loose and having a blast, party smart and keep your belongings safe and with you at all times.
Get more ideas on what to do in the city, as well as our current accommodation specials, tours, activities and everything else you need to plan your perfect holiday in Cape Town with the help of ComeToCapeTown.com.