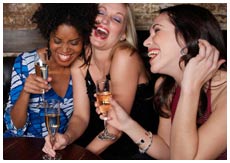 For a spectacular nightlife, Cape Town is the place to be. Bars, clubs and restaurants offer a variety of options for every taste.
Bars stay open until late, with clubs starting up about 10:00 pm. Many restaurants are open until midnight. The V&A Waterfront offers even more choices, as well as the city center, and along the Atlantic Seaboard, including Clifton and Camps Bay
.
Also visit Grand West Casino, for a night of gambling and dining fun. The casino also offers restaurants and bars, cinemas, and other night entertainments.
For the bar scene, stroll along trendy Camps Bay strip, where you will find sundowners, cocktails and delightful and exotic drinks. Locations to try include Caprice, Sandbar, Ignite or Baraza. For a beachfront location try La Med beach bar in Clifton.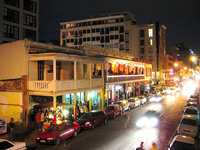 Long Street provides easy access to nightly entertainment with plenty of bars & nightclubs close to several back packer lodges in the area. Within the city try one of the bars off of Heritage Square.
If you are looking for something more laid back, visit Kennedy's Cigar Bar. This bar offers live music with plush interiors, bourbon and fine cigars.
For a more contemporary, upbeat destination try Planet Bar at Mount Nelson Hotel, offering champagne, caviar, oysters and exotic cocktails.
For something a bit more upscale and trendy, try Kloof Street. Asoka Son of Dharma offers a sophisticated lounge and bar that is comfortable and perfect for the suburbanite. Asoka also offers delicious food, with tapas being the order of the day.
For a variety of Jazz and lively atmosphere, visit the V&A Waterfront, catering to a variety of tastes. Visit Green Dolphin Restaurant for a lively pub.
Green Point is home to clubs such as Bambu, as well as The Cubana which also has branches in Claremont & Table View. On Southern Suburs side, Forrester's Arms Pub and De Wijnhuis Wine Bar in Newlands are also worth a visit.
For more student oriented bars, try Stones Pool Hall, or Obz cafe in Observatory, or the Brass Bell in Kalk Bay.
Night Clubs
Although there are few, the clubs offered in Cape Town certainly do not lack variety. Most party revelers will find something for their enjoyment.
Some of the most popular clubs can be found in Greenpoint, where both gay & straight crowds are catered for.
The city is also a hub of entertainment, with venues ranging from the trendy, to the more casual. Bang Bang, Fiction & Bambu are a few of the trendier options in the area playing music from House to Drum & Bass. In the District Six area, Mercury Live and the shack attracts more of a modern-day casual, relaxed crowd with a variety of bands and other live music offerings.
Have you had a good night out in Cape Town? Why not share your experiences below