If you're thinking about coming to South Africa's glorious Mother City, you very likely have a lot of questions about Cape Town. One of the most commonly asked questions is, "How safe is Cape Town?" but there are also often questions about safaris, what to see and do, how the Rand works, how long you need to get your money's worth on holiday, where to stay and even what the weather is like.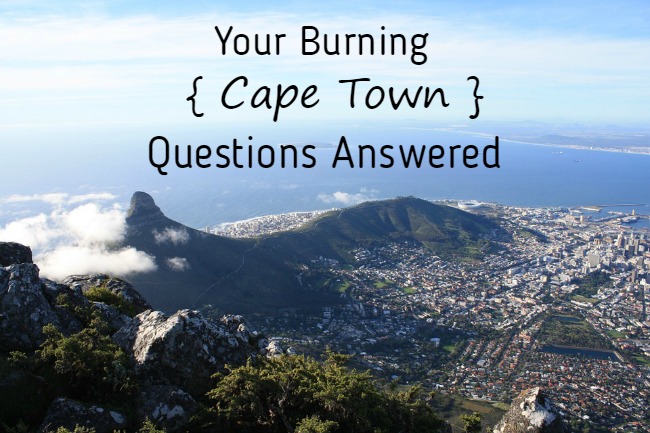 To help make your travel planning easier, we have put together a list of some of these most frequently asked questions relating to Cape Town and answered them as simply as possible. Sit back, have a read, and if you have any further questions, please don't hesitate to contact the team.
The Most Commonly Asked Questions About Cape Town
Without further ado, here are some of the most pressing Cape Town questions that you may have been asking…
How safe is Cape Town?
Just like every city in the world, Cape Town has areas that are absolutely safe for visitors and some that are not so safe. Don't be put off by news reports or second hand gossip from previous visitors however – for the most part, the city is safe for all tourists. The same rules apply to this city as they would in any other.
Keep valuables out of sight when walking around (that means keeping cameras in bags instead of hanging around your neck), stay in groups instead of wandering off alone (especially at night in remote areas), be careful not to touch any wild animals, and trust your general instincts. In the City Centre, visible patrols are done by the City Improvement team (CCID), who are always helpful and friendly.
Can you go on safari in Cape Town?
Yes, you can. Just outside of the city, there are some incredible game and nature reserves. Our Local Safari Tour is a fantastic way to see lion, rhino and other large game species just a few hours outside of the city. Best of all, as the Western Cape is a malaria free zone, you will never have to worry about taking anti-malaria medication before going on safari.
Be sure to take a camera (fully charged, of course), binoculars, sun hat and, if possible, a bird book if you're also hoping to take in some bird spotting during your safari.
What are the best things to do in Cape Town?
There are so many things to see and do in Cape Town that narrowing it down to just a few is no small feat. With that said, you will most likely want to include a trip up the cable car to see Table Mountain in your must-do list in the CBD area, along with a boat ride at the Waterfront, a delicious Cape cuisine meal enjoyed at an authentic local dining spot, a walk down trendy Long Street, a Cape Township Tour, a walk through the Cape Malay Quarter, aka Bo Kaap and perhaps a bit of shopping at the open-air Greenmarket Square.
That is just the tip of the ice berg however! We also advise a visit to one of the famous wine routes – Constantia or the Cape Winelands, a shark cage diving experience, a drive to Cape Point and many, many other unforgettable highlights. Looking for inspiration? Check out our activities page or follow our blog!
What languages are spoken in Cape Town?
English is one of South Africa's official languages and is spoken by almost everyone, but many others are spoken here, too. Afrikaans is spoken by white and coloured groups. This language is very close to Dutch so native Hollanders will have no trouble understanding local terms. Xhosa is also widely spoken in the Cape.
Some key phrases to try in Xhosa include Molo (hello), Enkosi (thank you) and Unjani? (how are you), to which you would reply Ndiyaphila, enkosi (I am fine, thank you). In Afrikaans, you can try saying Dankie (thank you), Aseblief (please) and Gooie dag (good day).
How does the South African Rand work?
Currencies are confusing enough to calculate, without dealing with market changes. Where the Rand is concerned, many visitors from the United States, UK and Europe will likely be very happy to have a weakened Rand, as this means more spending money. It is a good idea to check the current exchange for your currency shortly before you leave to get the most recent status.
Currency comes in Rands and cents. Notes range from R10 to R200, while coins range from 10c to R5. Five cent coins have been discontinued (along with one and two cent coins some time previously) but are still considered legal tender. The vast majority of malls, restaurants, bars and shops offer credit and debit card payment options and even virtual currency is slowly becoming an option in some of the larger centres. For smaller towns and stores, it is best to withdraw a bit of cash from an ATM (these are found everywhere).
Where is the best place to stay in Cape Town?
This will almost totally come down to your personal preferences, budget and travel goals. Popular areas for accommodation include Camps Bay, which lies on the beautiful Atlantic Seaboard; the City Centre, which includes city suburbs such as Gardens as well as the CBD itself and the Waterfront, which is close to beaches and city attractions.
Other areas are found across the city's southern and northern suburbs, as well as the areas closer to the Cape Winelands. Southern suburbs areas include Constantia, Claremont and Newlands, and are close to attractions such as the Constantia Wine Route, Kirstenbosch Botanical Gardens and Newlands Forest. The northern suburbs includes quiet seaside areas such as Blouberg and Milnerton, with attractions such as Canal Walk Shopping Centre and Rantanga Junction Theme Park. Beaches can be found across the peninsula, on the False Bay and Atlantic coasts. We suggest having a look at our Cape Town maps page to get a full idea of where everything can be found. This will help you decide where you want to be based.
What's the weather like in the Cape?
A simple answer would be, "unexpected!" But, actually, while it is true that the Cape often has four seasons in one day, the weather in Cape Town is quite lovely most of the time. Summers are hot and dry, running from November to March, with autumn following from April to May. Winter arrives in June, bringing its share of chilly days, rain and storms. But there are also many hot, clear days even in the middle of it all. After winter comes spring, running from August to September and bringing a riot of wild flowers, whales and greenery.
On any given day, you may wake up to a sizzling summer day (whether you are in summer or not), or it could be overcast in the morning only to clear up magically by lunchtime. To be sure, it's best to wear layers that can be removed or added as the day unfolds. Keep a warm thing handy, don't forget your sun glasses and sunscreen, and enjoy the mostly mild Mediterranean climate of Cape Town.
How long do you need for a Cape Town visit?
How long is the ideal visit, you may be wondering? That would depend on what you plan to be doing, of course. To truly immerse yourself in all that the city has to offer however, you will need at least a few days, if not a week. This will allow you to explore your surrounds without missing anything, for a full, fun-packed visit that you will not forget in a hurry. Rushing it by trying to fit everything into a single weekend might not be the same.
Of course, if you only have a weekend, or shorter, you could also try our ideas on spending 12 hours in Cape Town.
_______________________________
P.S. Got any other questions about Cape Town? Let us know and we will answer as best we can!