Taking place at the start of June, the Cape Town leg of the Good Food & Wine Show 2017 is sure to be a fun event for foodies, wine lovers, families and anyone else with a love for food and wine. The event is by far the largest culinary show in South Africa, attracting thousands of visitors each year. With nine exhibition areas ranging from street food to gourmet, baked goods, wellness, lifestyle, kids and others, the result is an incredible experience for all.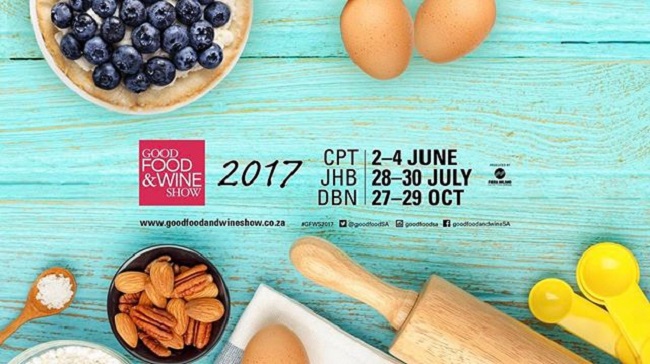 Highlights for this year's event include an elephant cake, celebrity guests such as Jenny Morris, J'Something, Sarah Graham and many others. There will also be kids' play areas, plenty of demonstrations and tastings, and much, much more on offer.
What to Expect at Good Food & Wine Show 2017
First, let's get some details on where, when and how much the Good Food & Wine Show 2017 will be…
Venue: Cape Town International Convention Centre (CTICC), Foreshore
Dates: 2 – 4 June 2017
Times: Various times
Cost: R160 for adults; kids under 12 get in for free
Wondering what to see and do during the event? Here are a few highlights…
Exhibitions
There are nine exhibition areas, ranging from food, wine and lifestyle. These include market, street food, gourmet, baking, kids, wellness, lifestyle, wine, and beer & alcohol. The aim is to provide a more focused, interactive experience for guests. A new look for 2017 will further make it easy to enjoy and explore the show.
Theatres
A feature exclusive to GF&WS, these theatres will showcase various headline chefs and guests. From cooking to master classes and an assortment of other programmes, this is one of the biggest attractions to be found at the event. Look out for featured theatres such as:
Chefs Open Theatre
Cooking with chefs
Baking Theatre
Cake Deco Lab
Kids Deco Lab
Eat Well Live Well
Wine Theatre
Chefs Table
Installations
In addition to theatres and exhibitions, there will also be a huge variety of one-of-a-kind exhibitions. These offer a way for guests to have a full experience, using all senses. For example, there will be a wine wall in the Wine Zone that enables visitors to smell the various wines. Key installations include the elephant cake, cake display and the wine smelling wall.
Headline Chefs
A number of talented chefs will be showcasing their skills at the event. Chefs from South Africa and further afield will be on hand to offer demonstrations, workshops and talks. This year, international chefs include Marco Pierre White and Jan Hendrik van der Westhuizen, both Michelin star chefs.
Headline Sommeliers and Guests
In addition to food experts, there will also be wine and spirit pairing experts. Last year launched the new Wine Theatre, which seeks to educate and entertain visitors about various drinks from wineries, top hotels and leading South African sommeliers along the likes of Lloyd Jusa, Gregory Mutambe and Tinashe Nyamudoka.
Kids' Area and Programmes
Kids will have lots to enjoy at Good Food & Wine Show 2017 in Cape Town as well. There is a special theatre just for pint sized guests, along with a kid's corner and a dedicated exhibition. These features will educate and entertain children and families. Various products and gadgets as well as foods and other trends will be explored.
_____________________________________________
Planning on coming to Cape Town this June? Contact us if you need help finding accommodation for events such as the Good Food & Wine Show 2017 in Cape Town!