There are many events in Cape Town to look forward to this October. Whether you wish to listen to live music, attend a cool festival, or enjoy outdoor activities, our list of the best things to do in Cape Town in October has got you covered.
1 Open Garden Fundraising Event (October 5)
Visit the Water Oak Farm to attend the aid of SA Riding for the Disabled event. With meadows, natural water features, and a range of succulents, it's easy to see why Water Oak Farm is one of the most picturesque gardens in the area. All proceeds from the event will go to SA Riding for the Disabled (SARDA)
Venue: Water Oak Farm, at the end of Klein Constantia Road,
2 Jazz Jam Sessions with Alvin Dyers Trio (October 8)
The Cape Town Comedy Club is hosting the Jazz Jam Sessions with Alvin Dyers trio from the 8th of October. The performance will be held every next Tuesday with the trio that consists of Alvin Dyers (guitar), Roy Davids (drums) and Valentino Europa (bass). Everyone is invited to bring their instruments and join these open jam sessions. Tickets for these events will be available for R60 per person.
Venue: The Pumphouse, Dock Rd, Victoria & Alfred Waterfront, Cape Town, 8001, South Africa
3 Stan Mars @ the Africa Wrestling Alliance (October 30)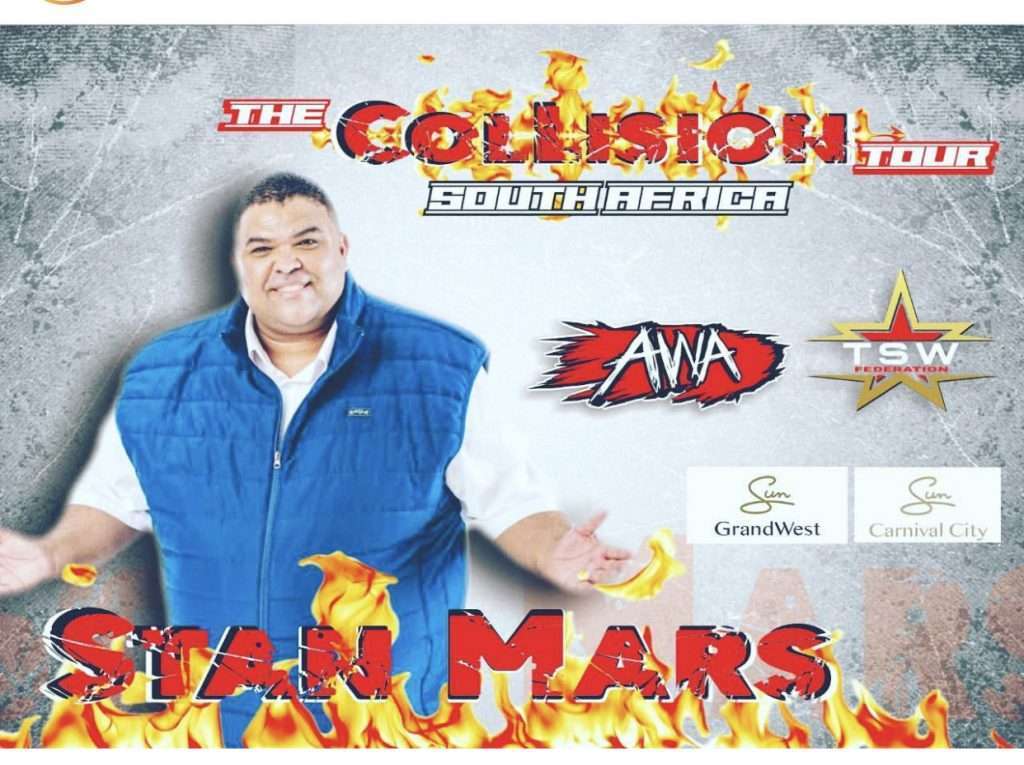 No list of October events in Cape Town would be complete without mentioning the massive Africa Wrestling Alliance event at the Grand Arena, GrandWest Casino. The popular Cape Town radio star, Stan Mars is going to host this wrestling spectacle that features famous wrestlers from all around the world including names such as Johnny Palazzio, "Mad" Jack-Maverick, Freakshow, Little Hillbilly and Mike Xander, and many others.
Venue: 1 Jakes Gerwel Dr, Acacia Park, Cape Town, 7460, South
4 The Mindful Drinking Festival (October 20)
First of its kind in Africa, the Mindful Drinking Festival is taking place at the Kirstenbosch Stone Cottages on the 20th of October. So, what's it all about? Instead of alcohol, guests will have an opportunity to sample some of the finest alcohol-free beers, wines, bubbly, botanicals kombuchas and health drinks. There will also be an array of healthy food stalls, as well as live music including Zolani Mahola of Freshlyground fame and a workshop program about Mindful Drinking.
Venue: Kirstenbosch Dr, Bishopscourt, Cape Town, 7708, South Africa
---
---
5 Live Music @ Bay Harbour Market (October 4-6)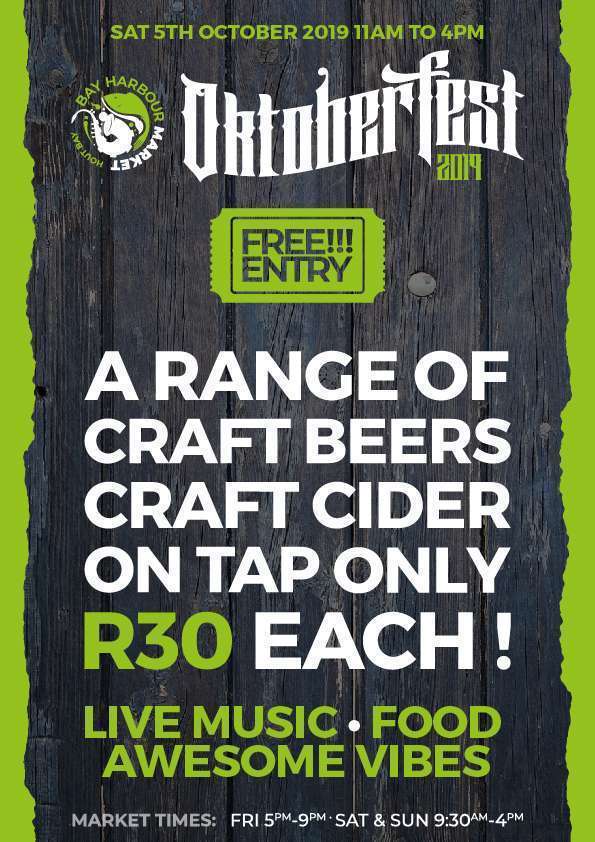 The 3rd installment of Oktoberfest focuses on local craft beers and ciders at the Hout Bay's Bay Harbour Market. The event is taking place at the Secret Garden Lounge with live music performances by Mark Haze, Matt Carstens, and Keanu Harker and Eon Le Roux at the KWV Sound Stage.
Venue: 31 Harbour Rd, Hout Bay, Cape Town, 7872, South Africa
6 The Protea Party Franschhoek (October 26)
Head out to Franschhoek this October and check out one of the most anticipated food and wine events, the popular The Protea Party Franschhoek. From the beloved Protea wine range and delicious seasonal cuisine to live music, there is a lot to keep you entertained throughout the day. The theme for this year is Bright and Light and all elements are celebrating this event including the cool twinkling fairy light displays on the tables. Tickets cost R795 per person and include all food, wine, and entertainment. Make sure to book your ticket well in advance, as the festival is likely to be sold out.
Venue: Anthonij Rupert Wyne, R45 Wine Route, Franschhoek Valley, Franschhoek
7 Elgin Chardonnay Colloquium (October 12)
The fourth annual Elgin Chardonnay Colloquium is happening at the South Hill Vineyards in Elgin Valley on the 12th of October. There will be 4 highly revered wine experts including Cathy Marston, Richard Kershaw, Dan Nicholl, Joe Wadsack attending the event. Besides tasting world-class Chardonnays and enjoying a glass of sparkling wine upon arrival, guests will have an opportunity to enjoy a variety of gourmet snacks. Tickets for this event will set you back R1250 per person.
Venue: South Hill Vineyards, Elgin Valley Rd 113, Elgin Valley, Grabouw
8 Cape Town International Boat Show (October 18-20)
Celebrating its 18th birthday, the Cape Town International Boat Show is one of Africa's most popular annual boating and luxury lifestyle shows that showcase services and products from various industry suppliers. Expect to see many buyers of luxury boats and manufactures at the show, as we as plenty of marine equipment and accessories on display at the V&A Waterfront. Guests will also have a chance to see some of the finest exotic boats, yachts, and catamarans in the world.
Venue: V&A Waterfront, CBD, Cape Town
---
---
9 Wade Bales Cap Classique & Gin Affair (October 26-27)
Interested in unlimited tastings of craft and international gins? Visit the Wade Bales Cap Classique & Gin Affair at the Grand Africa Café & Beach Bar to try more than fifty Cap Classiques. The range of bubbly will include everything from Boschendal, Krone, Pongracz, and Plaisir de Merle to Silverthorn, Steenberg, and Villiera. Early bird tickets cost R190, while the full ticket price is R380 and includes a Champagne glass and unlimited tastings for the day and six oysters.
Venue: Grand Africa Café & Beach Bar, Haul Road, V&A Waterfront Cape Town
10 Two Oceans Aquarium Shark Night (October 8)
The Two Oceans Aquarium Shark Night is one of our favorite events in Cape Town this October. Visitors will have a chance to learn about rays and sharks from some of the best researches and scientists in the world such as Michael Scholl, Simon Elwen, Monwabisi Sikweyiya, and Jannes Landschoff. If you are an aquarium member you will receive 20% off ticket prices.
Venue: Two Oceans Aquarium, Dock Road, V&A Waterfront, Foreshore, Cape Town
---
Looking for more things to do in Cape Town in August? You can check out a range of tours packages you can enjoy. Be sure to follow us on Facebook or check out our blog, which has a huge range of ideas on what to see and do, where to stay and how to put every moment of your weekend to good use. If you're planning a longer stay, be sure to get in touch. We will help you find the perfect place to stay in Cape Town this month or any other month you plan to visit.