Africa affects people and has spawned a breed of artists as fascinating as their subjects – the professional wildlife photographer.
Currently on display (from 9 December 2010 until 13 March 2011) at the Iziko South African Museum is the Wildlife Photographer of the Year 2010 exhibition. Admission to the competition, driven by the UK's BBC Wildlife Magazine and Natural History Museum, is an illustrious achievement for professionals and amateurs the world over and every year an expert panel of judges scrutinize thousands of entries to select only the best work for the exhibition which depicts the extraordinary beauty, drama and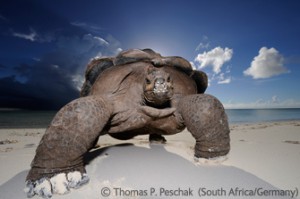 depth of the natural world.
Pictured right:
Giant Beachcomber by Thomas P Peschak (Highly commended in the Animal Portraits category)
In addition to this exhibition, the work of Marina Cano (Spanish-born wildlife photographer) is on display at the Raw Vision Gallery in Woodstock. Her spectacular work is evocative and inspiring – a must-see for anyone with an eye to appreciate top-class photographic art and nature in action.
For more information visit: