Bicycling in Cape Town offers a really fun, rewarding way to see the city. A lot more scenic than driving, yet covering more ground than walking, it's the perfect in between option for those who want to take in the sights in a relatively short time frame. And, with a number of bike paths, some fantastic routes, plenty of bike hire and bike tour options and, of course, that legendary Cape scenery to enjoy, cycling is not only a fun way to get around; it's also surprisingly easy.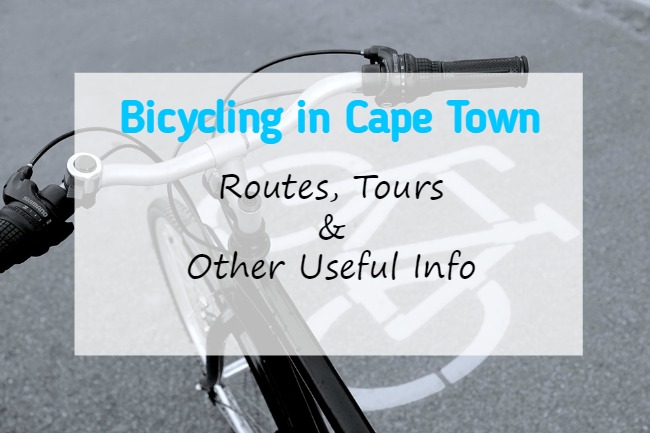 Today, we take a look at some of the best cycling routes in Cape Town, along with some pointers on how and where to hire a bicycle, take a tour and get started on your Cape Town cycling journey.
Cycling in Cape Town: Where, What, Why & How
First things first, it is probably a good idea to have some understanding on how roads work in this part of the world. Traffic can get somewhat hectic, especially in the City Centre and surrounding areas that have a high volume of cars on the roads. There are bike lanes on most major roads, but that does not mean that you have the all-clear to take chances. Cars drive on the left side of the road in South Africa, and cyclists need to follow the rules of the road much like a motorcar would to stay safe. That means stopping at red lights, keeping a close eye out for cars, pedestrians, trucks and motorbikes just like a car would do.
Now that we've got that out the way, let's get a look at what your best options are as far as cycling routes go. Depending on what sort of scenery you'd like to take in (coastal, vineyards, urban or otherwise), you have a diversity of choices available. Some of the best routes to consider include:
* Camps Bay to Hout Bay (roughly 22km)
The breath-taking beaches of Camps Bay are ideal for those wanting some ocean views on their ride. This route starts on the beachfront, continuing through Suikerbossie and into Hout Bay. Along the way, you will see views of the Atlantic Ocean and Lion's Head. Once you arrive at the first set of traffic lights in the village of Hout Bay, you can return back up a small hill, and then coast downhill back to Camps Bay. You could also choose to continue through Hout Bay and into Noordhoek via Chapman's Peak.
* Tafelberg Road (roughly 10km)
A fairly simple route that is free of cars takes you onto Tafelberg Road, which lies along the base of Table Mountain near the Block House. A winding gravel path spans across the mountain, giving views of the city below as far as the ocean. It is truly magical up here… be sure to take a camera with you to capture the moment!
* Tokai Forest (roughly 25km)
Somewhat more challenging is an off-road route that mountain-bikers will enjoy. A gentle path goes through the lower pine forest, taking you up towards Elephant's Eye Cave. Set at 928m, the views of mountain and ocean from here are unbeatable. The downhill journey back down is sure to get your heart rate pumping as well!
A great way to explore by bike is to take a tour. One of our favourites is the 3 hour ocean cycle tour from Bike and Saddle, which takes place around Camps Bay. But there are many companies that also offer tours by bicycle in Cape Town. Do a bit of research to find an operator close to your hotel or apartment, or ask concierge to help you make a booking.
Hiring a bike and cycling at your own pace is ideal for those who want to explore at leisure. Prices vary according to the type of bike, the rental shop and the duration of the hire, but you could expect to pay a few hundred Rand for a day of cycling. Remember that safety should always come first. Make sure that you have all the right gear that you will need – helmet, protective clothing and appropriate shoes. If you don't have these with you, buy or hire what you need before you get onto your bicycle. Shops such as Makro, Game, Mr Price Sports and Sportsman Warehouse all sell cycling equipment, but you could also look for a dedicated bike shop.
__________________________
Would you consider bicycling in Cape Town as a way to get around and see the sights? Let us know what you think!