In today's post, our lovely marketing whizzkid Dom shares her thoughts on the ultimate pampering experience of Thai style massage in Cape Town. Here's what Dom had to say after trying this luxurious encounter for herself recently…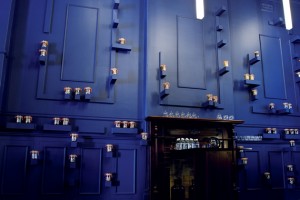 The iconic Thai massage is believed to be a way to open the flow of energy in the body and to restore balance to the mind. In the East, it is a regular and simple exercise, and not a luxury, as the Western culture has made massages to be.
Having recently been to Thailand, I experienced a Thai massage in its original form: you walk into a bamboo hut on the side of the road at any time of day or night and ask for an hour massage.
You change into a cotton suit, or just stay as you are, and then you are kneaded and pulled and stretched and walked on until you are well-aligned and relaxed. Afterwards you're given a cup of herbal tea to finish the detox before you're sent on your way.
This is the concept that enmasse, a trendy but unassuming massage house in Gardens, has modelled itself on. Although the experience is nothing but luxurious, a Thai massage is not meant to be something planned far in advance, or saved for a special occasion. You get the feeling that you could quite easily walk into enmasse and decide to have a massage right there and then, just like you could in Thailand.
However, I booked my massage over the phone a week before, and put it out of my mind. The morning of, I received a simple personalised message to remind me to start winding down and get ready for my massage. Quite a nice touch, I would say.
Walking into enmasse, I was met with a quiet, stylish waiting area (the feature wall with its moveable partitions is shown above) and welcomed by a friendly and efficient receptionist who explained the steps in the enmasse experience. I was given a suit bag, a cotton shirt, Thai pants and a pair of Havaiana flip-flops and shown to a change room. So I changed into my cotton suit (and if I didn't know how to secure my unusually shaped pants, there was a nifty little how-to guide on the wall.)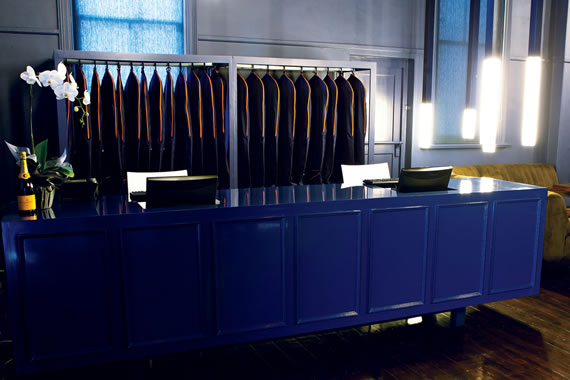 Once I had changed, my clothes neatly hanging in a custom-made suit bag, I handed the bag and my valuables over to be locked away and I was given the key to hang on to.
Next, I was shown to large blue room, partitioned into smaller massage areas with white half-walls. The room has beautiful high ceilings and inspiring old-world charm. Each area is perfectly fitted with a thin mattress and crisp white sheets. As a luxurious touch, the clothes and sheets are infused with an aromatic blend of Cedarwood, French Tarragon, Carrot Seed and Jasmine to enhance the massage experience, the studio's signature aroma called N. 3.
My masseuse, a friendly lady named Sam, asks me if there are any problem areas or if I'd like to focus on any areas specifically. While it is quiet, I don't feel like I need to whisper and if I wanted to continue to chat, I could do so. The music is a mixture of current Indie hits and old school alternative songs. I'm actually inclined to ask for the playlist, it's much better than the pipes and flute music you hear in most establishments, but still not intrusive in any way.
The massage is fully clothed and oil-free, although if you wonder why your masseuse's hands are so soft, it's because they apply anti-bacterial lotion before each massage begins.
My journey to de-stress was just like a real Thai massage; every part of my body was released from the tension of a busy life. I felt myself easing into the pain and the sensation of doing something that's really good for my body was extremely satisfying.
After an hour, that only felt like a few minutes, while drifting out of a daze of relaxation, I notice Sam has vanished and left a bottle of filtered water for me. I get the feeling that I could stay here all day if I liked. Once I've floated back into the real world, I pad downstairs to the "tea-tree" area where I was offered one of the 47 different blends of tea, with every kind of therapeutic benefit I could ever need. The tea room experience is available both before and after the massage; however, it closes at 8pm. The massage parlour itself though, only closes up when the last customer has left.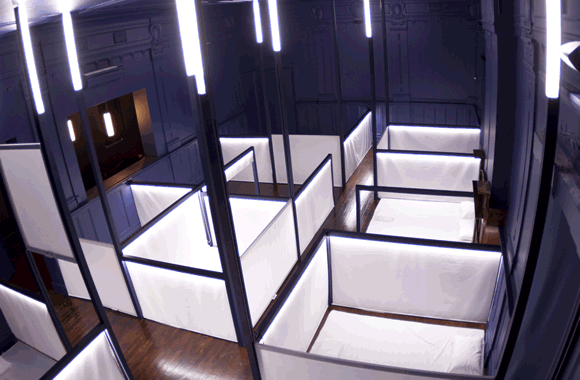 Although the treatments are more expensive than most, the experience that you get is more than worth it, so much so that even I am considering a membership; which includes 2 massages per month for a reduced fee, or 4 for those massage-enthusiasts. And the best part is that the massages are transferrable, never expire, roll over to the following month and can be shared or gifted!
That's a kind of value you don't get anywhere else I know. The enmasse experience was efficient and professional, without being too clinical. The spirit of relaxation and luxury and is felt right from the moment you arrive and lingers long after you have left. I thoroughly enjoyed it and would definitely recommend it to anyone looking for a quick break.
To book a massage, or to find out more information, you can email enmasse on massage@enmasse.co.za or phone +27 (0)21 461 5650 (after hours 082 907 6267). They are open 7 days per week, including public holidays and the hours are roughly between 8am-10pm. Visit their website on www.enmasse.co.za to read more about the concept.