The holiday season is just around the corner and there is plenty of going on here in South Africa's Mother City. Whether you wish to visit a Christmas market, attend a cool film festival, or listen to live music, this list of fabulous things to do in Cape Town this December has got you covered!
1 Stellenbosch Slow Christmas Market (December 6-7)
Visit the Oude Libertas Estate on the first weekend of December to enjoy the Stellenbosch Slow Christmas Market. With trimming decorations, a range of original gifts, and plenty of delicious food, this festive event promises to be the talk of the town. Some of the items available at the festival include everything from leather bags and jewelry to German Christmas biscuits and Cape Malay curries.
Venue: Oude Libertas Estate, Oude Libertas Rd, Stellenbosch
2 Live Music @ Bay Harbour Market (December 6-8)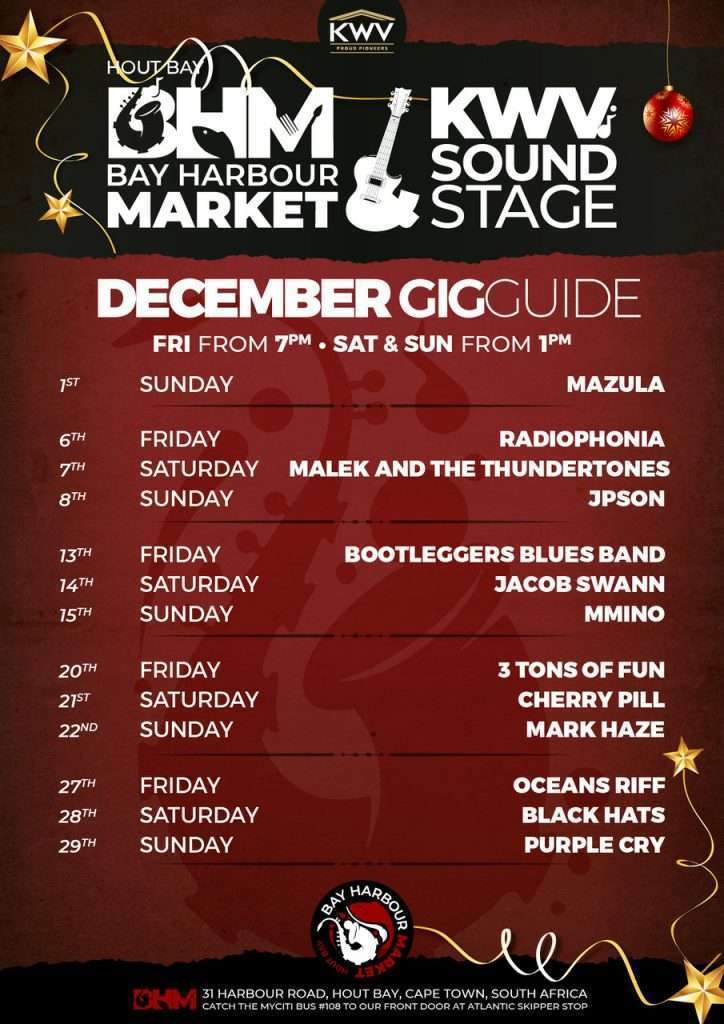 Bay Harbour Market has a stellar music program prepared for us this weekend. On Friday, you can listen to the performance by the awesome Radiophonia, while Saturday is reserved for the one and only Malek and the Thundertones. On Sunday, the Hout Bay Ingoma Choir and JPSon are taking the stage. If you are looking for things to do in Cape Town on the weekends, a visit to the Bay Harbour market is a must.
Venue: 31 Harbour Rd, Hout Bay, Cape Town, 7872, South Africa
3 Gabriëlskloof Favourite Things Market (December 13-15)
Looking for authentic craft, delicious food, and tasty wines? Visit the Gabriëlskloof Favourite Things Market this December and check out more than 30 stalls selling artisanal bakes, ceramics, leather goods, fresh plants, and much more. In case you get hungry, there will be fresh oysters available to purchase. Visitors with pets will be happy to hear that this is a pet-friendly event.
Venue: Gabrielskloof Wine Estate, Swartriver Rd, Off the N2
---
---
4 The Wavescape Film Festival (December 5-9)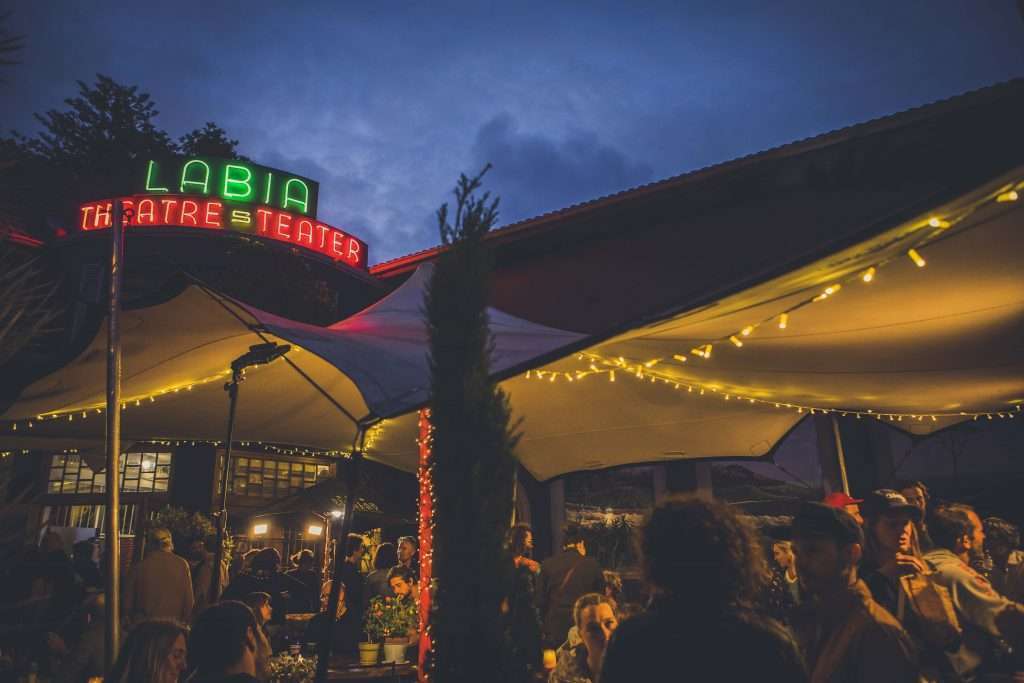 If you are looking for unique things to do in Cape Town, I recommend getting a ticket for the Wavescape Film Festival which is taking place at the Labia Theatre. The festival has announced the screening and premiere of several blockbuster surfing documentaries including Trouble: The Lisa Andersen Story, Unstoppable by Bethany Hamilton, How to Learn How to Surf, the Australian movie Thank You Mother, Sentinel Ocean Alliance, and many other excellent movies.
The line-up is as follows: Thu 5 Dec – Vans Night, 20:3
Fri 6 Dec – "Plastic China" screening with The Beach Co-op, 18:15
Fri 6 Dec – York Night, 20.30
Sat 7 Dec – All Africa Night, 20:30
Sun 8 Dec – Gone Night, 20:30
Venue: 68 Orange St, Gardens, Cape Town, 8000, South Africa
5 Seven Sisters Wine & Crayfish Festival (December 14)
Make your way to Stellenbosch and enjoy family entertainment, local market vendors, tasty foods, and exquisite wines at the Seven Sisters Wine & Crayfish Festival. From local wines that are available both to sample and purchase to a variety of foods like smoked fish, oysters, and crayfish, there is plenty to look forward to at this amazing festival. The tickets for the festival range from R100 to R200 and include a wine glass and several tasting coupons.
Venue: Seven Sisters Vineyards, Welmoed Road, off Annandale, Stellenbosch
6 Tom Misch Live @ Cape Town (December 16)
The award-winning musician and producer, Tom Misch is returning to Cape Town this December. His performance at the Paarden Eiland Park is definitely one of the most anticipated music events in the city this holiday season. For those who don't know, Tom is from London and his hit song "Beautiful Escape" has been streamed nearly 50 million times on various music platforms. Local artists such as Sio, DWSN, MUZI and Kid Fonque are also scheduled to perform at the event. Tickets for the concert will set you back R350 per person.
Venue: The Park, Cnr Transvaal and Bloemfontein Rd, Paarden Eiland
7 Franschhoek Village Christmas Market (December 21-23)
Franschhoek Village Christmas Market invites visitors to join a 3-day event full of arts and crafts, fresh produce, artisan foods, tasty foods, and craft beers. To keep you entertained throughout the event, Newton & Co, Guy Veltman and Peter Wyness are scheduled to perform. The market is pet-friendly, features around 100 vendors, and has a play area for the little ones. The entrance to the market is free of charge.
Venue: Franschhoek Village Market, 29 Huguenot Road, Franschhoek
---
Recommended Accommodation
---
8 Sizzled Summer Music & Food Fest (December 29)
Hosting live music acts together with gourmet food trucks, Sizzled Summer Music & Food Fest is an outdoor event that mostly focuses on non-mainstream music. Whether you wish to listen to live bands or dance to electronica beats, there are a variety of music acts to keep you entertained at the fest. The event is taking place at the Green Point's Fort Wynyard and tickets cost R250 at the door.
9 Vegan Xmas Lunch @ Radisson Red (December 25)
There are many interesting things to do around Christmas in Cape Town and one of my favorite events is the Vegan Xmas Lunch at Radisson Red. The event celebrates locally-produced foods including fresh herbs and veggies. This unique dining experience is taking place on the roof of the famous hotel includes everything from Christmas surprises and Santa hats to family-style table service. Keep in mind that limited tickets are available and all bookings for the event need to be dealt with in advance.
Venue: Radisson Red, No. 6 Silo, Silo Square, V&A Waterfront, Cape Town
10 Cape Town Comedy Club's Annual NYE Party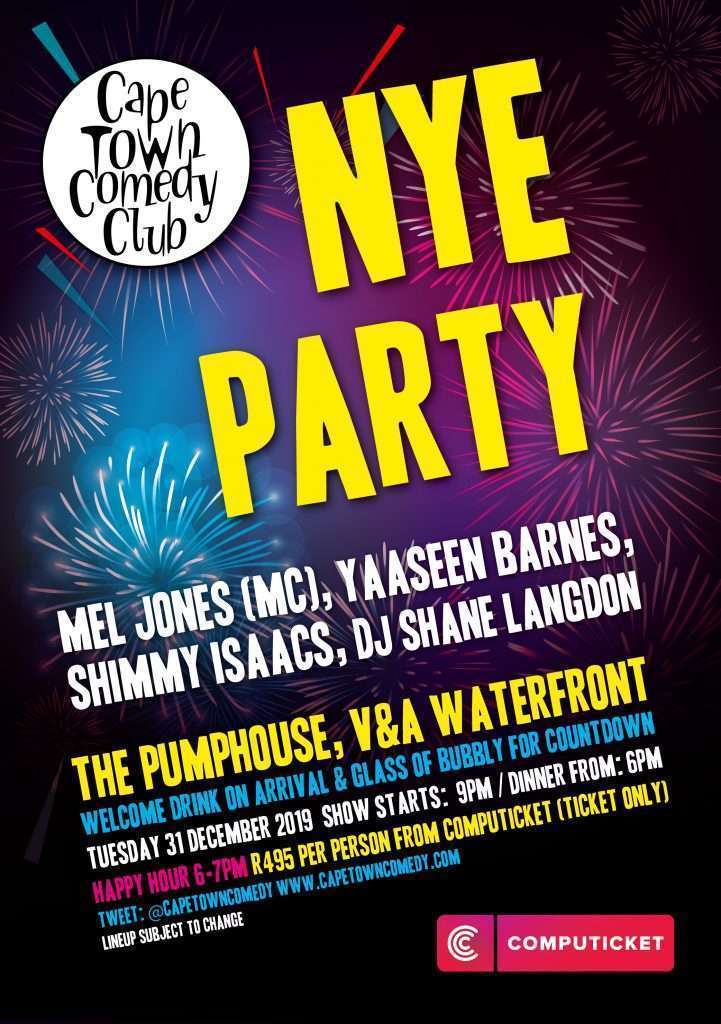 Join the Cape Town Comedy Club is hosting their annual NYE party which includes a 90-minute comedy show with 3 of South African's funniest comedians including Mel Jones (MC), Yaaseen Barnes & Shimmy Isaacs. DJ Shane Langdon is in charge of the music, while a welcome drink and a glass of bubbly for the countdown is included in the price. As for the food, guests can choose something from the a la carte menu.
Venue: The Pumphouse, Dock Rd, Victoria & Alfred Waterfront, Cape Town, 8001, South Africa
---
Who else is ready to see what December in Cape Town 2019 has to offer?! We can't wait to get into this festive season! If you are dreaming about coming to Cape Town this month, we can also help you plan your holiday! We offer a wide range of tour activities and luxury accommodation. We'll help you find the ideal base from which to enjoy the many events happening in Cape Town this December. Get in touch if you'd like to find the perfect place to stay during your holiday.