The Community Chest Carnival 2015 is an event that promises good old-fashioned fun, fairground rides and all the goodness that you'd expect from an end-of-summer carnival in Cape Town. Taking place from Wednesday 25 February to Saturday 28 February, the event is held at Maynardville Park in the southern suburbs hamlet of Wynberg. Take some friends, bring the kids and enjoy a fun day (or night) out at this entertaining local carnival.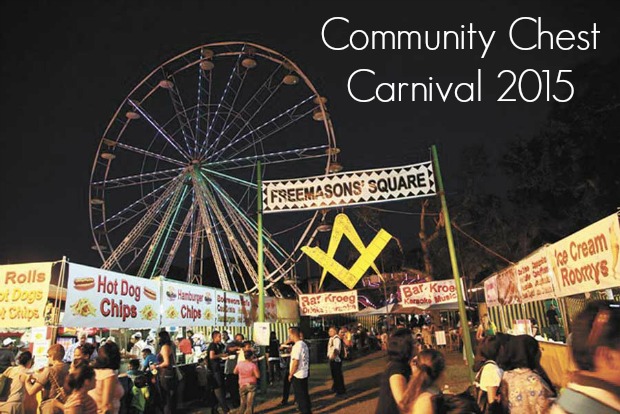 I can still remember the first time my folks took me to this carnival. The smell of smoky barbeque and straw, the excited shrieks of joy from the rides such as the big wheel and the octopus arm contraption… the taste of cotton candy and the toffee apple that came on a ribbon that you could wear around your neck while you weren't breaking your teeth on the hard sugary goodness. Even though I was too small to go on any rides more challenging than the floating tea cups, the sense of wonder never left me. As a (rather wild) teenager, I loved the big wheel, the 'around the world' theme of the stalls, the beer garden that was far too easy to sneak into and all of the lights and action.
It's safe to say that this carnival left a lasting impression on me. One that even today makes me get a little twinge of excitement when it comes around again. While I may have grown up enough to realise that the beer garden is one of the least entertaining parts, my love for the big wheel remains. And as for cotton candy – I don't think it is possible to grow out of that wonderful fluffy goodness.
Why should you think about heading out to the Community Chest Carnival this year? Other than the fact that carnivals are super amazing and fun and full of happy things and happy people, we've put together some more reasons to get your carnival on…
2015 Community Chest Carnival in Wynberg
First things first though, here are the details for the 2015 Community Chest Carnival at Maynardville:
Dates: 25 – 28 February 2015
Times: 25 & 26 February: 18h00 – 23h00; 27 February: 17h00 – 00h00; 28 February: 12h00 – 00h00.
Venue: Maynardville Park, Wynberg (near the court, just off the Main Road)
Tickets: FREE to R30 (available at the gate – cash only)
Parking: It is best to arrive earlier in the afternoon as evenings are the busiest (especially over the weekend when schools are out).
Rides, Food & Drinks: Some vendors may have debit/credit card facilities but cash is easier. Costs range but are generally cheap.
Rules: No booze is allowed into the park. No guns, drugs or other illegal stuff is allowed either. There will be police and paramedics at the venue to ensure the safety of carnival goers. Drink responsibly and remember that there are children present at this event.
More Info: visit the official website at www.comchest.org.za.
What else should you know about the carnival?
The event is organised and run by a group of volunteers, with proceeds going towards the worthy cause of Community Chest – an organisation that aims to give help to various charities in South Africa. Held each year towards the end of summer, this event has become something of an institution in Cape Town. This year, along with all the usual food stalls, games, rides, music and typical carnival type stalls, some more modern stalls and entertainment will be introduced. This includes vintage clothing stalls, organic food stalls and gourmet food trucks.
Community Chest CEO Lorenzo Davids says of the updated carnival offering, "We have been influenced by the people of Cape Town and have taken into account the suggestions over the past year. By combining new local lifestyle options with carnival classics we have raised the platform and created a fresh dynamic, ensuring we cater for all carnival-goers."
The event first began as a garden party event that was held in 1951 to raise funds for local charities. Today, it has become Cape Town's largest annual carnival. As a child-friendly event that is great fun for the whole family, it offers locals as well as visitors the chance to enjoy the true spirit of community… through fund-raising as well as the enjoyment of a good old outdoor event.
If you're looking for something different to do this weekend in Cape Town, I highly recommend going to the Wynberg Carnival and letting loose for a while. Go on the rides, scream your lungs out on that thing is that tilts you around in a circular cage, try food from all over the world in one single place, listen to music and sit on hay bales, and enjoy the last hot summer nights before autumn arrives.
I promise, you will enjoy every moment!
Have you been to the Community Chest Carnival in Cape Town? What are your best memories? Share them below and let me know what you loved best!