New Year's eve is around the corner and if you are still looking for a great place to party the night away, here are two events that are sure not to disappoint!
On the 15th of December, a brand new club opened in Cape Town – Trinity. To call it simply a club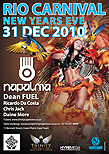 is a gross misnomer, as this venue was designed in the style of the UK's "super clubs" – a veritable multi-level mansion oozing great design, opulent luxury and an atmosphere and decadent menus that will impress even the most discerning guest. The multi-level restaurant, food and drinks bars caters to every taste, any time of the day, and the state of the art sound systems and stage hosts comedians, jazz artists and popular djs will keep you entertained. For New Year's eve, Trinity is building up to their Rio Carnival event featuring Naplama, Dean Fuel, Ricardo da Costa, Chris Jack and Daine More, which promises to be a party to end all parties.
For more information or to book, visit: www.trinitycapetown.co.za.
Another Rio-themed event is being hosted by Little Brazil, a community encouraging social activities for Brazilians in Cape Town and lovers of Brazil – the only place in Cape Town where New Year is celebrated twice, South African and Brazilian time! The dress code is white with a meaningful splash of colour in true Brazilian tradition and will take place from 19:00 on New Year's eve at Cape to Cuba in Long Street, Cape Town.
For more information, visit: www.littlebrazil.co.za.