Taking place on 29 October 2016, this year's Cape Town Zombie Walk is not to be missed. Every year, the Cape Town CBD is transformed into a horror fest like no other, as thousands of zombies take to the streets in the name of charity. The Zombie Fest is guaranteed fun for all ages, and best of all, it's free to join!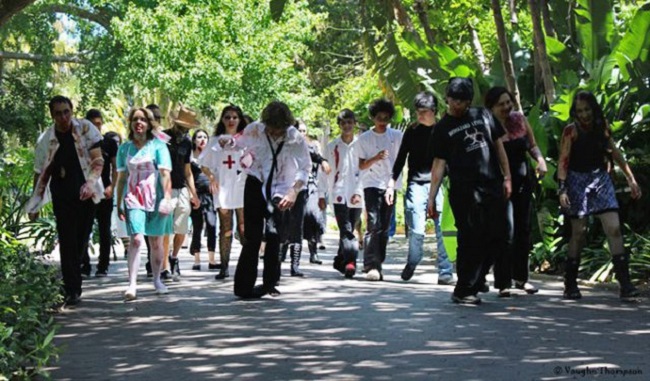 Wondering what the creepy good fun is all about? Let's take a look at this year's Zombie Fest to see why this event has become such a legendary pre-Halloween celebration…
Cape Town Zombie Walk
The Cape Town Zombie Walk is not only family friendly – it is also pet friendly. While it's certainly plenty of fun for all 'walkers', this event is a charity initiative that helps to raise funds for organisations such as Lucky Lucy, which help abused and neglected animals. 9500 zombies are needed to set a Guinness World Record. This year, event organisers have managed to apply for this mile-stone… hopefully, with enough people getting on board, Cape Town can make history by hosting the largest gathering of zombies in the world!
Some info for this event includes the following details:
Where: Company Gardens, Queen Victoria Street, City Centre
When: Saturday 29 October 2016 at 17h00
Price: FREE
For more information, contact +27 (0)60 1477 or zombiewalk.capetown@gmail.com.
Cape Town Zombie Fest / Walk FAQ
How old do you need to be to attend this event?
This is a family friendly event that can be attended by anyone who wants to dress up and take over the city. Last year's event had walkers as young as three months and as old as 85 years.
Are dogs allowed to join the fun?
Yes – dogs are welcome. They will need to be kept on leashes, and owners will need to bring along bags to dispose of dog poop (it's only fair). But otherwise, canines are welcome at this charity event.
Will we get to do the Thriller dance? 
Well, that is up to you and your friends. There are no rules specifically set out about breaking out your rusty dance moves, but we are sure that if enough people learn the moves, it could go down quite well with this crowd.
How much does it cost?
It's free to join! With that said, as this is a charity event, donations are very much appreciated. There will be various collection points on the day of the event, or you can email the organiser (see contact details above) to learn more.
Where is the best place to get makeup and costumes?
There are a number of excellent party and costume shops in Cape Town that should have what you need. You could hire something, or get creative and make your own costume from old clothes. For even more fun, get a group of friends and get ready for the fun together.
___________________________________
For more information on the 2016 Zombie Walk in Cape Town and other parts of the country, visit ZombieWalkSouthAfrica.co.za.