In our Cape Town Winter Restaurant Specials 2016 Part 1 guide, we kicked off with a selection of dining deals in and around the city. Today, we're back with even more deals that give you a good excuse to eat out this winter. In Part 2, we have a good variety of eateries to suit just about every budget, mood and preference.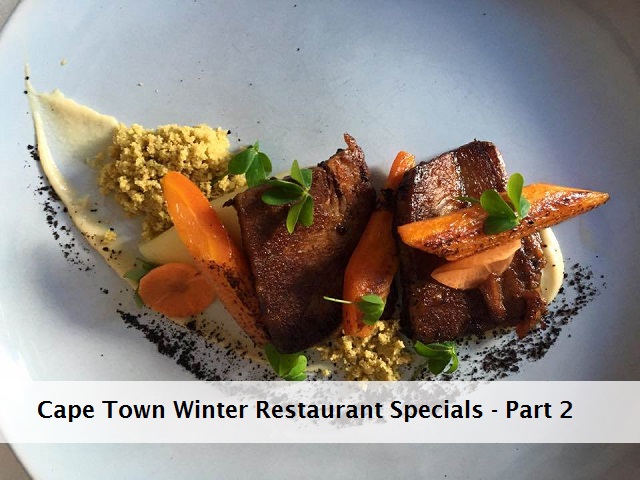 From elaborate six or seven-course tasting menus, to cheap and cheerful potjies, two-for-one deals and breakfast specials, this selection is sure to offer just what you need this winter.
More Fantastic Restaurant Specials in Cape Town for Winter 2016
Some of the best restaurant specials in Cape Town for winter 2016 include the following:
Lanzerac Hotel, Stellenbosch
Soul Food Sundays @ R270-R300 – two-three course meal
Until 30 September 2016, Sundays at Lanzerac are all about hearty, wholesome soul food. Set in the beautiful Winelands town of Stellenbosch, this hotel has a stately ambience that is perfect for chilly winter afternoons. The menu includes two or three course options, with a range of delicious, healthy lunch options available. It's best to book as the restaurant can get busy – for more information call +27 (0)21 887 1132 or email [email protected]
5 Rooms at Alphen Boutique Hotel, Constantia
Winter Specials @ various prices
Highlights include the two-course meal at R185, three-course meal at R225, beer-battered fish and fries at R105, rump steak and fries at R115, and prawn platter with fries at R145. The winter set menu includes tasty treats such as beef tartare and melba toast, clam and shrimp risotto, Cape Malay chicken curry, linefish with garlic baby potatoes and Dutch pancakes along with other scrumptious items. This special is only valid until 31 July 2016, so get there now while you can. Contact +27 (0)21 795 6313 for details.
Cin Cin Restaurant at Colosseum Hotel, Century City
Winter Specials @ various prices from R85-R150
In the northern suburbs, until 30 September 2016,  you can enjoy some really well-priced deals that range from R150 combo specials (500g ribs, 500g chicken and two SAB beers) to seafood platter specials at R149 (includes a glass of wine), and the weekend winter potjiekos deal at just R85 (meat, vegetable and seafood potjies, served with jasmine rice, sambals and a complimentary glass of wine). For details, contact +27 (0)21 526 4000.
Con Brio Bistro, Vredehoek
Winter Specials @ various prices
In the CBD suburb of Vredehoek, the cosy Con Brio Bistro is running a few specials over winter. These include any two items on menu for R150, starter, main and dessert for R180, and two-for-one burgers on Tuesdays. This little eatery is great for kids, vegetarians, meat eaters and foodies, and is ideal for a relaxed winter dinner. For more info, you can call +27 (0)21 461 9957.
BREAD Cafe, Woodstock
Weekday Winter Breakfasts @ various prices – free coffee with every breakfast
Head on down to BREAD Cafe at 250 Albert Road in Woodstock until the end of September 2016, and you will get a free coffee on the house with every breakfast enjoyed during the week. This cafe has a great bakery, along with hot breakfasts that will fill you up on weekday mornings. For more info, contact the cafe on +27 (0)21 447 4730.
Mondiall, V&A Waterfront
Winter Set Menus @ R195-R250 – two-three course meal
Overlooking the harbour and Table Mountain, Mondiall is conveniently located at the V&A Waterfront. Until the end of winter, you will be able to enjoy a two-course meal at R195 and a three-course meal at R250. The set menu for winter 2016 looks amazing, with highlights such as slow roasted lamb shank, homemade pasta, and decadent desserts on offer. For full details and bookings, contact +27 (0)21 418 3003.
La Mouette, Sea Point
Winter Tasting Menu @ R395-R745 – six-seven course tasting menu, with or without wine pairing
A favourite among local and international foodies alike, the La Mouette tasting menu gives you an unbelievable six or seven-course meal, with or without wine pairings. While this is one you may need to budget for, it will be worth every cent! This year's menu is inspired by the flavours of Bali. Highlights include beef san choy bow, peanuts and coconut, mushrooms with black truffle croquette, salt and pepper chestnut, delicately seared tuna, cheeses and dreamy desserts. Vegetarian menus are also offered on request (advance warning required). Bookings are essential – contact +27 (0)21 433 0856.
________________________________________
As you can see by these Cape Town winter restaurant deals for 2016, comfort food is definitely getting more luxurious as we get into the swing of winter. Give your taste buds a treat and head on over to one of these great restaurants to enjoy the best 2016 winter dining deals in Cape Town and surrounds.