As the hot weather begins to reach its peak, the chance to enjoy Cape Town summer concerts is nearly at an end, too. This got me thinking that it was a good time to round up some of the best open-air concerts in Cape Town, so that you can see who is playing where (and make a plan to enjoy some fresh air and good tunes).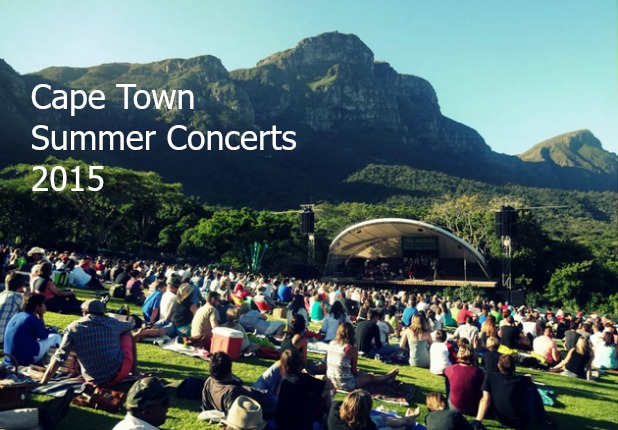 But, before we get started, I have a quick announcement about an upcoming concert that was due to take place at Kirstenbosch in March…
If you have not heard the latest buzz regarding the Ben Howard concert in Cape Town, you may be sad to know that his show has been postponed to July, and will now take place at Grand West instead of Kirstenbosch. Instead of Ben Howard, Scottish singer songwriter Paolo Nutini will be performing two shows at Kirstenbosch Botanical Gardens on 18 and 19 March 2015 however. For more information on the Ben Howard canceled Cape Town show, visit the Seeds Experience Facebook page (click here). It is best to direct any questions you have to Seeds Experience, as they are the organisers of the concert.
Now that we've got that out of the way, how about we get back to the topic of Cape Town summer concerts? I know I'm certainly feeling ready for a relaxed evening outdoors, with some music, good friends, perhaps a picnic…
Kirstenbosch Summer Concerts 2015
Remaining concerts taking place at Kirstenbosch this summer include the following:
22 February – Cape Town Folk n Acoustic Music Festival [starts @ 17h30, tickets cost R75-R100 per person]
1 March – Goldfish [starts @17h30, tickets cost R100-R130 per person]
8 March – Mi Casa [starts @ 17h30, tickets cost R100-R135 per person]
15 March – Al Bairre & Shortstraw [starts @ 17h30, tickets cost R75-R100 per person]
18 & 19 March – Paolo Nutini [starts @ 19h00, tickets cost R465]
22 March – Beatenberg & Gangs of Ballet [starts @ 17h30, tickets cost R75-R100 per person]
29 March – Johnny Clegg [starts @ 17h30, tickets cost R130-R160 per person]
5 April – Jeremy Loops [starts @ 17h30, tickets cost R100-R135 per person]
For information and bookings, visit the Kirstenbosch Summer Concerts page.
Music on the Vine Concerts 2015
Taking place at Spier estate in the Cape Winelands, the Music on the Vine series has just two final shows before summer ends:
28 February  – Jazz On The Vine
28 March – Die Heuwel Fantasties, Fanny and the Chickpeas, Barrecode
Tickets range in price from R170 to R450, and gates open at 15h00 (concerts start at 18h00). Visit the Music on the Vine page for more details on booking.
—
If you have not ever been to one of these fantastic summer concerts in Cape Town, do yourself a favour and make sure you try at least one before the summer comes to a close. You will not regret it and wish so much talent to be found in South Africa (and further afield), the good music is just the start of the experience. Pack a picnic, get some friends together and enjoy the last of these balmy, clear summer nights!
When was the last time you went to a summer concert? Share your thoughts and let us know why you love outdoor concerts!