Not too long ago being a vegetarian and/or being pedantic about the origins of the food and produce you consume would have been something that would label you eccentric. Nowadays though (thank goodness!), the health benefits of a vegetarian lifestyle and the growing awareness of the harmfulness of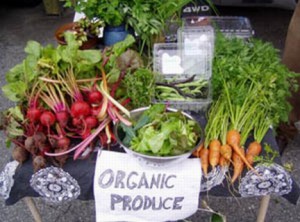 pesticides and growth hormones for us and for the environment is becoming more and more widely accepted and often those who cannot bring themselves to take their commitment to their health and the environment to the next level, at least admire those who do (rather than mock them behind their backs).
Restaurants now take pride in catering for vegetarians rather than simply indulging them as an afterthought and organic markets are becoming increasingly popular. Cape Town and its citizens have always been considered more liberal and enlightened in their lifestyle choices and so, in addition to being the most beautiful city in the world, the top travel destination (read our article on TripAdvisor's prestigious announcement) and a place where you can work, relax and enjoy eco-, adventure-, historical or cultural tourism, Cape Town is also known for the quality of its fresh produce and its restaurants.
—
We all know that being a vegetarian is a personal choice and not always one that is shared by one's family or friends, so here is a list of our favourite vegetarian-friendly restaurants in Cape Town (with menus that include delectable vegetarian dishes alongside their more standard fare):
1. Signal Restaurant at the Cape Grace Hotel in the V&A Waterfront – Drawing inspiration from Cape Town's diverse cultural history and the freshest ingredients from local farms, the Signal Restaurant is one of the best luxury restaurants in Cape Town with a number of exquisite vegetarian dishes on its very creative menu.
2. The Meeting Place, St Georges Street, Simon's Town – If you are heading out for a coastal drive, make this a pit-stop for breakfast, lunch or supper. With a menu ranging from build-your-own salads to more traditional meals (like a well-made beef burger for our non-vegetarian friends), The Meeting Place is a popular choice for vegetarians looking for a comfortable spot to relax and enjoy a meal.
3. Kauai (franchises in various locations and shopping centres around Cape Town) – Specialising in super-healthy and delicious meals and smoothies, the Kauai franchise has made healthy "fast food" fashionable. Their delightful and ever-changing menu with sometimes curious but divine combinations are a joy for any palate and may even inspire you with ideas for making quick and healthy meals at home.
4. Quench Organic Deli in Lower Main Road, Observatory – Visit Quench for a creative vegetarian breakfast or lunch in a relaxed and rustic deli atmosphere.
5. Protea Hotel Victoria Junction on the corner of Somerset & Ebenezer Road, De Waterkant – This romantic restaurant takes vegetarian creativity to the next level and includes Cape Malay, Asian and traditional South African influences on its delectable menu. It has grown quite popular for promoting "Meatless Mondays" and has a special three-course vegetarian set menu on Monday nights that promises to make even the most committed meat-eater excited about vegetables again.
—
For those who love to cook there can be nothing better than to work with the freshest and the best organic produce, which can be found at the following markets in Cape Town:
1. Hout Bay Organic Market – Thursday mornings, 41 Victoria Avenue, Hout Bay (across from the medical centre) – This organic market is perfect for anyone looking to stock up on organic foodstuffs for the weekend.
2. Willowbridge Slow Market – Saturdays from 9am – 3pm at the Willowbridge Lifestyle Centre in Bellville – speciality producers, food artisans and local and regional farmers and natural and organic merchants congregate here weekly. Called a "slow market" for a reason, visitors and shoppers are invited to take their time and make a healthy shopping trip a therapeutic experience for the whole family.
3. Mielie Market – Friday mornings  at the Montebello Design Centre, Claremont – raising money for a good cause, here you can buy fresh organic produce picked that very morning from a community food garden in Khayelitsha. The Montebello Design Centre also hosts various art studios, craft shops and a beautiful boutique nursery.
4. Constantia Waldorf Organic Market – Fridays from 11am – 3pm at the Constantia Waldorf School – A wide-variety of vegetables, flowers, biodynamic juice and Camphill products are on sale at this market as well as eggs, dairy products, jams, honey and preserves.
5. The Triangle Square Market – Saturdays 9am – 2pm in Main Road, Fish Hoek – This under-cover market boasts fresh produce and gourmet foods, including seasonal and luxury organic goods, organic vegetables, home-made treats and hand-crafted goods.
—

While hotels and bed-and-breakfasts that cater for vegetarians are still in short supply, you may wish to stay in a self-catering villa of your own, free to make your own meals (with produce from Cape Town's markets), set your own schedule and come and go freely without being disturbed by the guests in the next room. Take in the sights or relax on a balcony overlooking the tranquil Atlantic ocean and pristine beaches. It couldn't be easier to make Cape Town your home away from home. If you are visiting Cape Town and you are in need of accommodation, assistance with flight bookings, car rental or tours, contact us today. For a taste of the lifestyle envied around the world, you have an open invitation… ComeToCapeTown.com – be our guest!