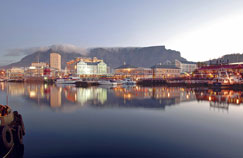 TripAdvisor has recently announced that Cape Town is NUMBER 1 on its list of "Top 25 Destinations in the World". With its tagline "World's most trusted travel advice", Tripadvisor.com is widely recognized as one of the most authoritative online travel review and advice sites. The result of a vote of millions of TripAdvisor travellers around the world, Cape Town left the world's biggest cities, party destinations, tourist and religious sites in the dust. With wildlife, natural splendour from the mountains down to the ocean, amazing weather, a cosmopolitan attitude and first class Cape  Town accommodation, facilities and attractions, it really isn't surprising! A self-contained mecca of variety for any traveller, Cape Town has delighted millions of travellers from all walks of life and Africa's top destination is now officially also the top destination in the world! The runners up in TripAdvisor's massive campaign were as follows:
2.            Sydney, Australia
3.            Machu Picchu, Peru
4.            Paris, France
5.            Rio de Janeiro, Brazil
6.            New York City, New York
7.            Rome, Italy
8.            London, UK
9.            Barcelona, Spain
10.            Hong Kong, China
11.            Kyoto, Japan
12.            Queensland, New Zealand
13.            Jerusalem, Israel
14.            Siem Reap, Cambodia
15.            Prague, Czech Republic
16.            Venice, Italy
17.            Buenos Aires, Argentina
18.            Ko Phi Phi Don, Thailand
19.            Honolulu, Hawaii
20.            St Petersburg, Russia
21.            Florence, Italy
22.            Grand Cayman
23.            San Francisco, California
24.            Petra/Wadi Musa, Jordan
25.            Las Vegas, Nevada
—
Cape Town tourism includes everything from adventure experiences, wildlife encounters, cultural experiences, food and wine to sun and surf and there is no more perfect way to experience the hospitality and joy of a true Cape Town lifestyle than to stay in fully furnished, serviced, luxury Cape Town apartments. Cape Town apartments give you the freedom to enjoy your holiday without being bound to hotel schedules or noisy neighbours. Experience the freedom of lounging on your own balcony overlooking the spectacular coastline or sip a cocktail as you watch the sunset while at the same time you have the space to entertain and every creature comfort you can imagine… We are at your service to set the wheels in motion for your trip to Cape Town. For flights, car rentals, airport transfers, cape town accommodation, tours and more – cometocapetown.com – be our guest.