If you had not already seen or heard about the latest Cape Town fire that started on Sunday 1 March, you will soon enough. Currently still burning over Muizenberg and parts of False Bay, fire fighters and rescue workers have been tirelessly working to keep the fire under control before it spreads to nearby homes and residential areas.
Table Mountain National Park Integrated Fire Manager Phillip Prins has stated that the fire could last as long as a week, if the current heatwave continues. "It's a big fire. It's been aided by 70-80km/h winds. In some places it was 100km/h," Prins stated during a press conference held on Monday. He went on to add, "This fire is likely to keep us busy for the rest of the week, depending on the weather conditions. It's burning very old vegetation over such a big area."
The fire allegedly began early on Sunday morning, before spreading over the mountains of the False Bay and quickly gaining speed. Experts have weighed in, noting that the fire is one of the worst in recent years. SANParks meanwhile has given praise to Cape Town residents, who have worked together to aid firefighters with food and water.
On Monday afternoon, reports were coming in about the potential spread of the fire to Hout Bay, where residents and homeowners were advise to be prepared in case evacuation measures were needed.
Cape Town Fire – Photos, Updates and More
While the fire in Cape Town rages through the False Bay peninsula, there have been some incredible photos that capture the devastation and beauty of nature's fiery passage. One of the best captures of the fires is a time lapse video that shows how quickly fires can get out of control as they start to spread. The footage below was uploaded by YouTube user Jason Kamera and, according to the video's description, shows the fire between the hours of 19h39 and 21h32 on Sunday night.
Photographer Greg Hillyard has taken some breath-taking fire pictures that show how much the flames have already started to ravish the landscape. More can be seen on his Facebook page.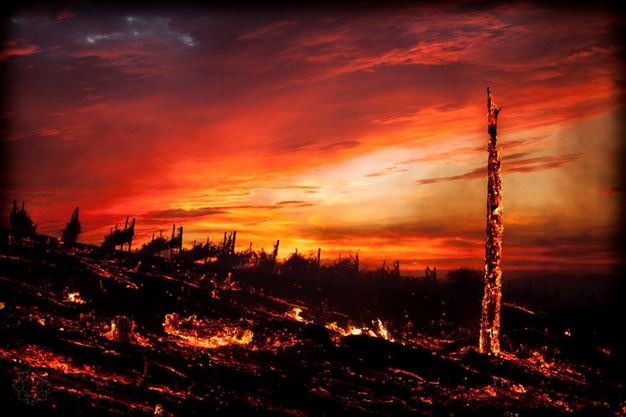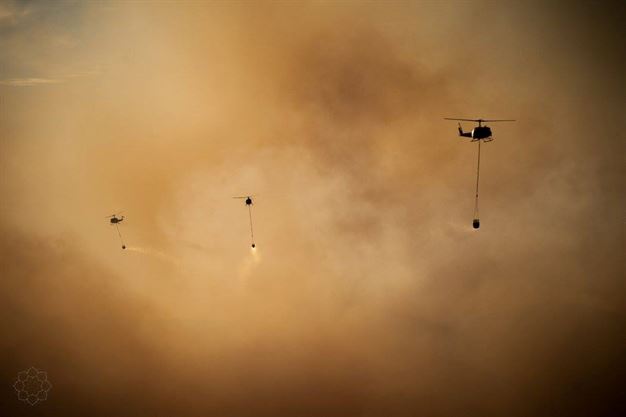 Will the Cape Town Fire Spread?
Right now, the areas that are affected by the fire are Hout Bay, Tokai and Fish Hoek. About 3 000 hectares of vegetation could be at risk, but according to SANParks, the damage and costs can only be determined once it has been controlled and extinguished. In their official statement, SANParks also said about fire fighting efforts thus far: "Multiple teams from Table Mountain National Park (TMNP), Working on Fire (WoF) and the Volunteer Wildfire Services (VWS) have dispatched more than 400 firefighters over the course of two days. In addition, five helicopters, including two water bombers, one spotter and a helicopter from the Department of Defence, have been up in the air since yesterday trying to contain the fire. Containment is proving to be a challenge right now as the fire is raging over a large area of TMNP, and the areas are at a high terrain making it difficult to access and simultaneously making fire-fighting on the ground more of a challenge."
Volunteer Wildfire Services are in major need of any help that they can get during this stressful time – and are accepting donations of food and refreshments for fire fighters as well as donations to this much-needed service. Donation points are situated at  Newlands Fire Base, Lakeside Fire Station or Fish Hoek Fire Station.
For more information contact one of the following hot-lines:
Cape Town City Fire: +27 (0)21 480 7700
Table Mountain National Park: 086 110 6417
Newlands Fire Base: +27 (0)21 689 7438
We would like to urge locals and visitors who are in the False Bay area to be careful, be thoughtful of the hard-working fire fighters and try to avoid getting too close to the fires. And while the cause of this latest set of fires is still unknown, we'd also like to stress the importance of being careful when smoking or barbecuing in mountain or forest areas. Do not ever throw cigarette butts out of car windows, make sure that any and all fires are totally put out before leaving any campsite or barbecue area and avoid litter and glass bottles that can lead to fires during the hot season.
Have you seen the Cape Town fires? Share your experience on our Facebook page or in the comments below!