While many scary reports continue to come in about the Cape Town fire, the stories of incredible efforts from fire fighters, local communities, home owners, authorities, vets and even local retail groups have been phenomenal. Sometimes, we forget how much good people do in situations that can easily bring out the best or the worst in those affected. Instead of despondency, the people of Cape Town have opted to aim for positivity and generosity, as we have seen from all of the heart-melting stories that have been coming in this week.
From photos doing the rounds on Twitter of rescued pets, wild animals such as tortoises and other creatures fleeing the flames who have been taken in, given vet attention, food and a safe harbour, to retail chains that have donated large amounts of food, cold drinks and water to the hard-working fire fighters, charities that have set up donation drives around the city, government support and so many other acts of kindness, we are proud to live in a city that is able to open its heart during tough times like these.
Amazing Support for Cape Town Fire Fighters
Of course, the overwhelming contenders for super hero status lately have without a doubt been the Cape Town fire fighters who have been working non-stop (often through the night) to contain the fires. Many offer their services on a voluntary basis, while paid fire fighters earn a pittance each month – despite the challenging and often dangerous role they play to keep our city safe.
Praise for these fire fighting heroes has been flooding social networks and news outlets in the past few days, which we hope will help to give these men and women the recognition that they deserve. Some of our favourite super hero fire worker images have included the following that have been taken from various sources around the web.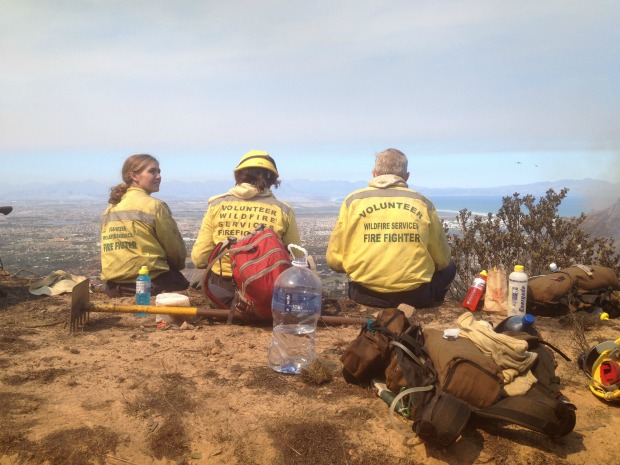 Volunteer fire fighters stop to recharge before heading back out to the flames [image via VWS.org.za]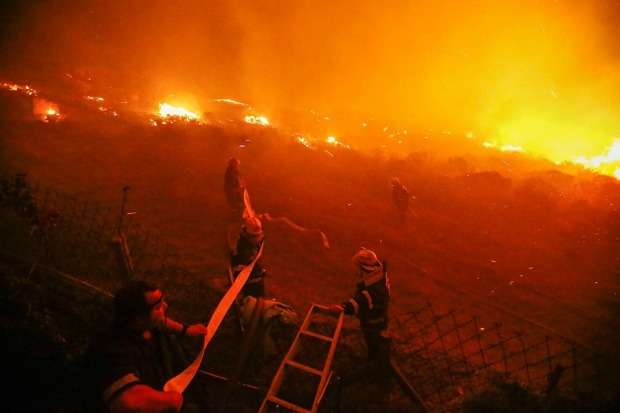 A team of firemen organise a fire hose chain  [image via America.Aljazeera.com]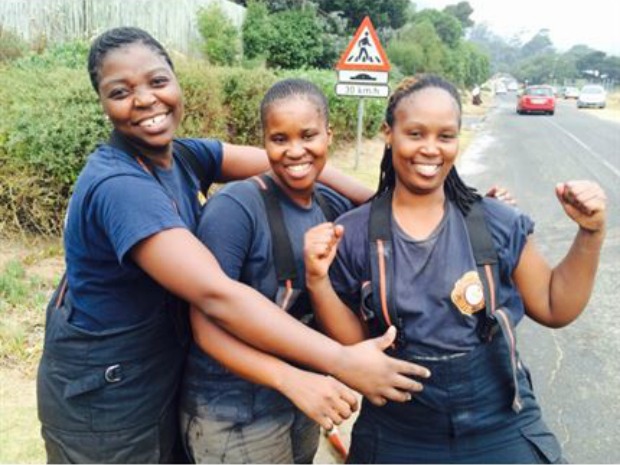 A team of firewomen after containing a section in Noordhoek [image by News24 user Martine Dorrington]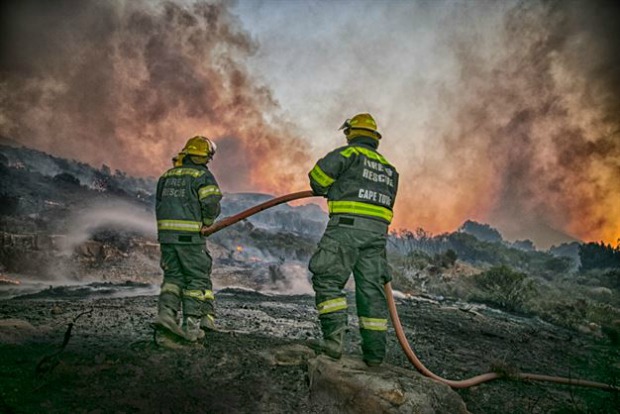 Fire workers contain the blazes amidst a landscape of ash and smoke [image by Gale McAll on News24]
Currently, the fire is said to be contained. According to JP Smith, mayoral committee member for safety and security, while the cooler weather in the past day has definitely helped, it will take longer to completely extinguish the remaining fires. "The weather conditions have brought welcome relief today and, according to the Joint Operations Centre, the fire has been contained. That is certainly good news for all concerned, but the job is not over just yet," he stated.
He also added, "I want to commend the fire crews and various agencies who have been working so tirelessly over the last few days. I also want to thank the public for their generosity in providing donations to the firefighters."
How to Help Fire Fighters in Cape Town
It is not to late to help the hard-working, exhausted fire fighters in Cape Town. Help is also needed for all of those who have been affected by the fire, and there will be a lot of help needed in the weeks to come as the damage of the fire is able to be assessed. Some of the ways that you can help include:
* Donate non-perishable food, water, energy drinks, eye-drops, lip balms, plasters, bandages, anti-septic creams, Halaal food and medical supplies. These items are all in short supply, and with many firemen (and firewomen) working round the clock to keep us safe, relief is needed desperately. Drop-off points for donated goods include Fish Hoek and Lakeside fire stations. Our favourite cab service is also running a special drive called #UberAssist to have goods collected from your location and delivered to fire stations. Check out the Facebook group 'Help Support Fire Fighters and Victims' for more information on what items are needed the most.
* Support groups such as the Voluntary Wildfire Services organisation, which does amazing work to assist full-time emergency firemen with fighting wildfires. Without the help of those who volunteer their time to fight fires like this one, the situation could easily get a lot worse. Visit www.vws.org.za to see how you can help these heroes.
* Save wildlife in need as well as pets that may need help during this traumatic time. Wild hares, tortoises, deer, reptiles, birds and many other creatures (including domestic cats and dogs that may flee their homes) need care as much as the humans do. The nearest SPCA that serves fire affected regions is located in Grassy Park – click here for a map. Many local vets are doing whatever they can to assist too. If you come across any injured, lost or endangered animals, contact a vet or the SPCA immediately or find a way to get the creature to safety if possible. The SPCA hotline is +27(0)21 700 4159/8.
…
One of the best things that you can also do is to try to keep away from affected areas. Fire workers have more than enough to worry about without having the extra stress of civilians who want to get a better look. As fire is by nature unpredictable, and the Cape is known for its wind, it is impossible to know whether or not flames may suddenly spread. Keep safe, keep pets, kids and other loved ones safe, and try not to get in the way of fire fighting efforts.
Hopefully, the Cape Town fire will soon be fully contained. Until then, we wish the men and women who are working hard to keep the blazes at bay all the luck, and courage they need.