On Sunday 8 March 2015, the annual Cape Argus Cycle Tour returns, bringing a new generation of riders to take on one of the toughest cycle routes in the world. Due to the Cape Town fire, there will be major Cycle Tour route changes taking place however, which we are bringing to you today to keep you updated before the race.
Those who are racing will be getting ready for the final stages of preparation – training, clean eating and resting up. Friends, family, visitors and others who are standing by to support the racers will be preparing in other ways. For many locals (and visitors), a big part of the event is getting up nice and early to watch the race set off. Many people like to gather at rest stops and other stations along the route as well. Due to the route changes this year, it is essential that you plan ahead so that you are not disappointed (or barred from entering closed areas).
Cape Town Cycle Tour Route Changes 2015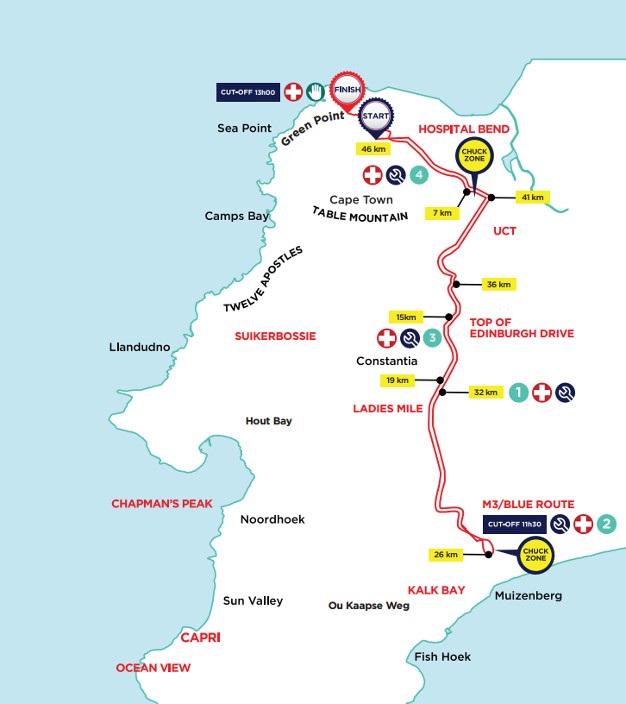 The changes in the route have one upside at least, and that is to make this one of the shortest tours in its history. Newcomers to the race will certainly take comfort in that – especially as so many previous races have been extremely tough. You can see a full sized map of the new route can be found here.
Some good viewing points throughout Cape Town include the following:
Hertzog Boulevard. In the City Centre, this area is the best to get a full dose of all the race day action and excitement. Those travelling by car can make use of parking in side roads and then walk to the starting point, while other options include taking the MyCiTi bus to the start point.
Nelson Mandela Drive. There are quite a few pedestrian bridges on this city road, which makes for a nice spot to watch cyclists as they come past.
Newlands Forest. Those in the southern suburbs will find this spot ideal. Park new Forrester's Arms and then walk up to the M3 to watch the cyclists as they continue past Hospital Bend.
Paradise Road. Accessible from Claremont Main Road, this is another good spot to watch cyclists as they start moving up Edinburgh Drive.
Muizenburg to Kalk Bay. Main Road is where the final race action gets underway, especially at the traffic circle in the middle of Fish Hoek.
Cape Cycle Tour Information & Tips
If you are planning to go and watch the cyclists at any of these viewing points, we urge you to be responsible and do your bit to ensure a safe event. Do not leave any litter behind, if you are smoking cigarettes, make absolutely sure that they are put out properly and disposed of properly. With a good chance of the fires being caused by careless smokers, we cannot over-state how important it is to be aware of our environment.
It is also best to cheer on cyclists with signs, noise and support rather than trying to touch any rider as they come past. The event is not always easy going, and the cyclists need their attention fully on what they are doing. Trying to do a surprise high five, patting a rider on the back or throwing water bottles at them is dangerous and not advised. Even if it looks cool on You-Tube!
Are you competing in the Cape Argus Cycle Tour this year, or know of anyone who is? We'd love to hear from you. Leave a comment below or hit us up on Facebook and share your top Argus moments!