As the Mother City continues to enjoy plenty of hot, sunny days over summer, the thought of a new outdoor ice rink in Cape Town is one that many of us are sure to welcome. After all, what could be better than taking to the ice skating rink while still enjoying fresh air and outdoor time? If you are looking for things to do with the kids this summer, while also finding new ways for them to cool down and have a bit of fun, The Blue Train Park in Mouille Point is where you can find this cool new skating rink (pardon the pun).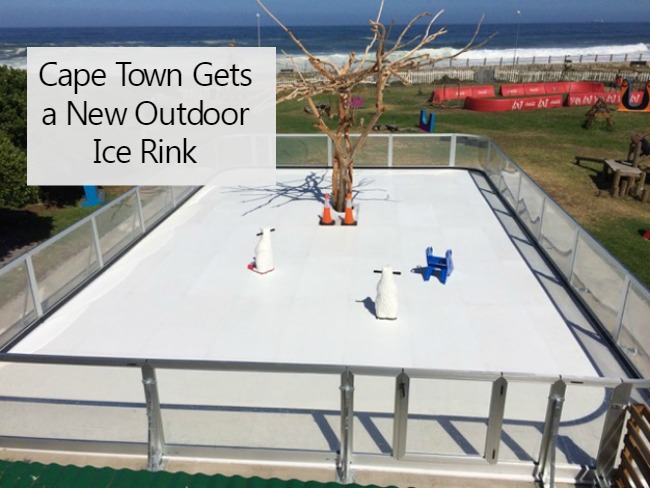 Designed especially for kids (ages 3 to 12), this rink is based at the lovely children's play park in Mouille Point, in the heart of the Atlantic Seaboard in Cape Town. Along with the rink, the park is also home to a number of great facilities, activities and attractions. All fees from activities and events held at the park go to the Sea Point Rotary Club, which provides much-needed help to charities within Cape Town. Highlights for kids and parents include parties, a mini blue train, adventure playground, refreshment kiosk and other safe utilities.
What should parents know about this park and its unique outdoor ice rink for kids? Let's take a look…
Visit the Cape Town Outdoor Ice Skating Rink
Details on venue, opening hours and costs are as follows:
Where: Mouille Point Promenade, Sea Point
When: Tuesday to Thursday: 09h30 – 18h00; Weekends: 09h00 – 18h00
How Much: R30 – R50 (ages 3 – 12)
For more information on the outdoor ice rink in Mouille Point, contact the Blue Train Park on 083 314 9200 or [email protected], or visit www.thebluetrainpark.com.
Where Else Can You Go Ice Skating in Cape Town?
By now, you may be thinking that as awesome as this kid's ice skating venue sounds, what about the older kids and adults? If that thought has crossed your mind, we have some additional tips on where to enjoy ice skating in the Cape. One of the biggest and most popular rinks is without a doubt the one at Grand West Casino. Details for this rink are as follows:
Where: Grand West Casino, Vanguard Drive, Goodwood
When: Monday to Friday: 10h00 – 24h00; Saturday: 09h00 – 24h00; Sunday: 12h00 – 24h00 (operating hours depend on specific session availability, group bookings and many other factors)
How Much: R35 – R50 upwards (all ages)
Contact the Grand West ice skating rink by phone on +27 21 535 2260, email them on [email protected] or visit them online at www.icerink.co.za for further information.
…
Don't you wish that you could head off to an icy cold rink right now to spend a few hours on the wonderful, cold, cold ice? I know I certainly do! Tell us how much you enjoy ice skating in Cape Town, and while you're at it, share your top tips for keeping cool during the summer heatwaves!