If you are wondering what conscious clubbing in Cape Town is all about, this mini guide will give you a bit of insight into a global phenomenon. You may have heard about those early morning parties that are held at various locations all over the world. In South Africa, these pre-work raves are held by Secret Sunrise, which offers a unique dance party that starts at 06h30. Each party-goer is given a set of headphones on arrival at a beach or rooftop location, and instead of a bar, healthy booze-free drinks and snacks are served.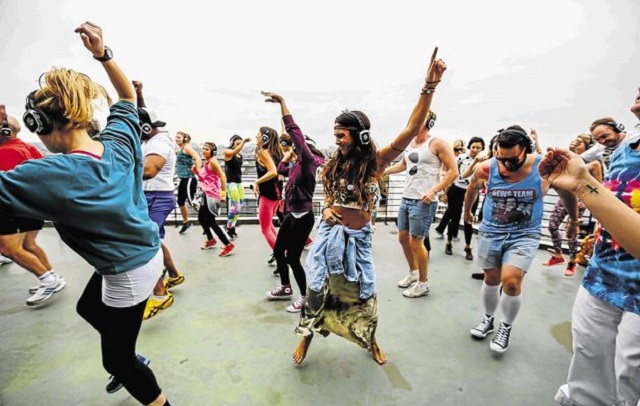 Around the world, the sober party trend is slowly but steadily growing. Conscious clubbing is gaining popularity among a diversity of ages, races and cultures. Some don't drink at all, others simply want to try letting loose without alcohol, and others still are looking for a social outing that will not result in late nights and hangovers.
What is Conscious Clubbing?
If you are not a big drinker (or not a drinker at all), this movement is definitely one you will want to watch. As health awareness continues to grow, many people are looking for social encounters that to not involve alcohol. Conscious clubbing in Cape Town and other parts of the world simply means clubbing or partying, without the booze.
Of course, you can head out anywhere in the city and have fun without a drop of alcohol. By joining up with other non-drinkers however, the experience becomes something very different. From pre-work raves that kick-start your day with a dose of high energy dancing and fun, to sober parties that are held in the early evening (allowing you to get home at a reasonable hour), there are a few booze-free events worth noting in and around the city.
Sober Raves in Cape Town
Some of the alcohol-free parties in Cape Town include the following:
Secret Sunrise
Various dates & locations
Secret Sunrise brings the concept of pre-work raves to South Africa, with parties held across the country at secret locations that include beaches, rooftops and other interesting venues. In Cape Town, parties have been held all over the city at locations ranging from the Cape Winelands, Woodstock and City Bowl. A recent edition included a pre-party yoga session, while a special Mandela Day event was also held. There are even corporate events for those wanting a unique early morning meeting boost! Tickets cost around R120 or so and are available online at Quicket.co.za (headphones are included in cost). Needless to say, venues are kept secret until the last minute. To stay updated on current events, look for Secret Sunrise on Facebook.
Glow Yoga Party
Friday 5 August 2016 @ Nia Studio, Observatory
The first of what will hopefully be other yoga parties will be held on Friday 5 August 2016. Hosted by Lekkayoga, this unique party looks like lots of fun, with glow sticks, a healthy menu, and, of course, lots of yoga. The event will take place in the dark, with UV lights adding a special glow. Be sure to wear light clothing that glows in the dark. Tickets cost around R140 and are available via Quicket.co.za. If you miss this one, don't worry – there should be another one coming up soon. For more info, email lekkeryoga@gmail.com.
Inner City Dance Project
Various dates & venues
There have been a few Inner City Dance Project editions held at popular nightclub The Assembly over the last few months. These events looked like a lot of fun, with various DJs on the decks, plus a selection of super food snacks and healthy drinks (and a bar, for those wanting a drink). Sadly however, despite a great deal of searching, I was not able to find out whether any future events would be planned. Judging by the success of the previous events, it seems promising however! You can look up Inner City Dance Project Cape Town on Facebook to learn more about previous editions.
____________________________________
It may not be a huge list… yet. If you are a non-drinker like me however, it is very exciting to know that Cape Town is slowly beginning to offer alternatives to the traditional party scene. What is great about sober raves is that they are also family friendly, held early and easy to fit into a busy schedule.
If you're looking for something different to do, conscious clubbing in Cape Town and surrounds may be just the right blend of healthy, sober fun and interaction!