Keen to enjoy some mind and body transforming yoga in Cape Town? Here is all the info you need to get started.
With an abundance of studios across the city, offering a huge range of styles to suit every mood, level and preference, the Mother City is an amazing place to get your yoga fix. Whether you love ashtanga or kundalini; bikram or vinyasa, you are sure to find just the right class to relax, unwind and revitalise.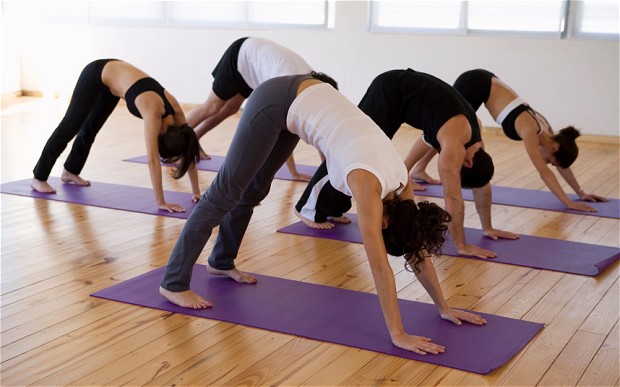 A few years ago, I attended a kundalini yoga class, which changed all of my (totally misinformed) assumptions about yoga being 'easy'. This form of yoga brought forward a whole new perspective for me, and did wonders at helping me learn how to manage my stress levels too.
After losing track of my physical well-being for a while (the way it can so easily happen when life gets busy), I recently rediscovered my love for kundalini yoga. Sadly, there are no studios in my area that offer this yoga, but I have some great videos that have enabled me to set up a home practice instead. Even a few sessions per week have done amazing things – most importantly, to my sense of balance, strength and calm.
If, like me, you are drawn to the wonders of yoga as a way to relax, grow and energise your system, the first step is finding out where you can do yoga in Cape Town. Classes are always a good way to practice if you can find a studio in your area, as you will have the guidance of instructors as well as the increased energy that comes from group practice.
In this yoga guide, I will provide some info on where to find classes in the Cape Town area, while also giving a few tips for those who are fairly new to the practice. To get started, let's see which places offer the best classes in the city…
Yoga Classes in Cape Town
Most of the larger gyms and fitness centres will offer classes such as yoga and pilates. While these may be run by qualified yoga instructors in Cape Town, they may not have the same level of experience and qualification as a dedicated instructor. Often, you will see the same instructor teach a power yoga class, circuit class and pilates class in the same week, which means that they may not have time to devote themselves fully to one school of practice. Obviously, that does not mean that every gym instructor is unqualified. It just means that you may have better results at a dedicated studio. On that note, here are some of the top yoga studios in Cape Town:
Yoga Zone – Strand Street, City Centre. Offering vinyasa and bikram classes for all levels, YogaZone is one of the first hot yoga studios in the city. The studio is open from Monday to Sunday, with a variety of classes on the schedule starting from early and running until early evening. There are free trial classes also offered for those wanting to give it a try – these are scheduled only on Thursday evenings however. Specials are also offered. For details, contact +27 (0)21 421 8136.
Yoga Life – Waterkant Street, De Waterkant. This studio offers vinyasa, bikram, power and sculpt classes, in heated and regular rooms. Beginners are welcomed with classes tailored to those still learning the basics, while intermediate and advanced students will benefit from more challenging classes. Free classes are also available for those wanting to try it out before signing up. For more information, contact +27 (0)21 418 2884.
Hot Dog Yoga – Main Road, Green Point. On the Atlantic Seaboard, this studio offers a diversity of classes, from vinyasa to hatha, ashtanga, kiddies yoga, power yoga and others. Classes run throughout the day from Monday to Sunday, from early 06h30 classes to late night classes running up until 20h45. All levels are welcome, with special pre-natal classes also offered for expecting mums. For more info on current rates and timetables, contact +27 (0)21 439 4888.
The Shala Yoga Studio – Wandel Street, Gardens. Another city-based studio, this is where you can can enjoy vinyasa and yin vinyasa yoga for all levels. Absolute beginner classes are also offered, in addition to regular beginners (for those who are in fairly decent shape but are new to yoga). The studio is open daily with assorted classes offered each day, depending on experience level and style. For details on costs and schedule, call +27 (0)76 909 3514.
Gururamdas Kundalini Yoga Studio – Park Road, Gardens. This is where I first discovered the wonders of kundalini yoga. What I loved most about it was that classes catered to all levels, with great instructors, a lovely calm environment and good prices. Flow classes are also offered along with kundalini and meditation. The studio is open daily. For details on prices and schedule, contact +27 (0)21 424 6610.
AIR Yoga – Albert Road, Tamboerskloof. Combining Jivamukti and Mysore yoga, this studio offers a range of classes to suit all preferences and levels. This includes ashtanga, restorative and even acra yoga. Classes are held daily throughout the week, with schedule laid out according to the style of yoga being taught. For more details on classes and costs, contact +27 (0)76 908 2898.
Yo Yoga – Cavendish Close, Claremont. In the southern suburbs, this studio offers bikram, ashtanga and vinyasa flow yoga, all performed in a hot yoga environment. The studio is open every day of the week, with classes scheduled throughout the year depending on which yoga style you choose. All are welcome, from beginners to advanced students. For pricing and other info, contact +27 (0)21 671 0888.
Please note that all info is correct at time of posting. Also note that this is just a fraction of the options available for those wanting to practice yoga in this part of the world. There are many, many smaller studio to be found, so make sure that you do a bit of homework by looking online for studios in your area. If you already know which type of yoga you want to do, you can also search for studios that specialise in that style.
Cape Town Yoga Tips & Advice
New to yoga? Read the following tips to get a better idea of what to expect from your yoga class in Cape Town…
1. There are many different styles of yoga. So many in fact, that we suggest you read up a bit on yoga to learn more about the specific benefits offered by each style. Whatever style you choose however, if you are new to yoga, start with a beginners class. Faster flow classes such as vinyasa may be a bit more challenging to start with if you have had no previous yoga experience, but other styles should all have a good place to start so that you can learn the basics.
2. Wear comfortable clothing and bring a towel. Even if you are not doing hot yoga, be prepared to work up a sweat. Yoga is not as easy as it seems, and can be quite a workout. If you have your own mat, bring it along. Most studios have mats that you can hire for free or for a small cost but you may feel more comfortable having your own.
3. Drink plenty of water before and after practice, but to not eat less than an hour before class. Unlike cardio workouts, you need a fairly empty stomach in yoga as you will be doing a lot of bending and moving. Stay hydrated by drinking water before and after class, and take a water bottle along with you too in case you need it.
4. Do not push yourself until you are ready for the challenge. Change happens gradually in yoga, not overnight. Push yourself only as far as you feel comfortable, then once you feel ready to push further, you can add more challenge. Instructors should never force you to move into a position that your body cannot manage – usually you will be encouraged to work at your own pace.
5. Dress appropriately for the class to stay comfortable. Generally speaking, you will not go wrong with leggings and a tee shirt or tank top. You may feel more comfortable in shorts, you may want to wear a sports bra or you may want to wear flowing, loose clothing. As long as your clothing does not get in the way or cause you any discomfort, the main thing is to wear clothing that you can easily move in (and sweat in).
…
That should give you enough insight into starting yoga for now… we hope that you find some inspiration from these tips and studio suggestions, so that you can start enjoying your own journey into yoga in Cape Town! We would also really love to hear from you if you have tried classes in the city. Share your tips in the comments and let us know why you love doing yoga in the Mother City!
Mysore Yoga