We all know the benefits of living an active, healthy lifestyle, but when it comes to outdoor fitness in Cape Town, there are many ways to take the 'work' out of your workout without feeling like getting fit is a chore.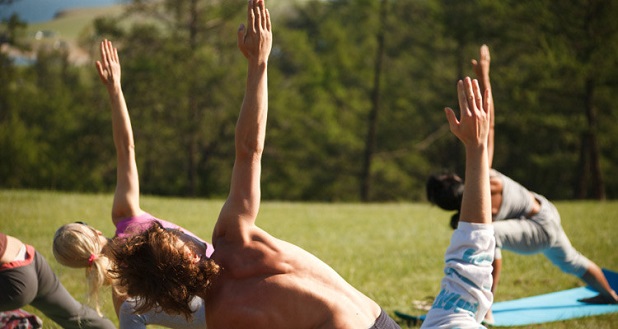 Outdoor fitness is certainly not a new concept. There are many people who hate the idea of gym (myself included!). My own personal experiences in fitness have ranged from amazing (a few years of muay thai training that I will never regret, ever) to forgettable (hours of slogging over machines in the gym) to life-changing (getting to love the joy of running). Of all these experiences, one of the main reasons I have always enjoyed running so much is that it gets me outside into the fresh air, where I can see the mountain, the sky, an occasional sunset and on promenade runs, the ocean.
If you're anything like me, and are always looking for ways to make exercise more enjoyable, be sure to try at least one of these great ideas below… trust me, you won't regret it (and your body will thank you too!).
Fun Ways to Get Fit Outdoors in Cape Town
Looking for an alternative to traditional, less-than-exciting workouts? Here are some enjoyable ways to get fit outdoors in Cape Town that are so much fun, you won't remember you are even trying to get fit:
1. Outdoor Gym 
Who said hitting the gym had to mean being cooped up indoors? The outdoor gym in Sea Point is a great place to enjoy a workout, with a range of machines and equipment found here, as well as some obstacle course type workouts. You can warm up with a run along the promenade, or play a game of soccer on the grass too if that's your thing.
Sea Point Promenade – Beach Road, Sea Point (free)
2. Surfing 
In Muizenberg on the False Bay coast, surfing lessons offer the best way to learn how to master the art of riding the waves. The water on this coast is warm, and all levels of surfer from beginners to advanced are welcomed. If you want to start learning how to surf, you should be a fairly good swimmer, be fairly fit and have patience as you learn how to stay up on the board. Check out this list of surf schools to find out which offer lessons.
Muizenberg Beach – Beach Road, Muizenberg (various costs for lessons and board hire)
3. Bootcamp
There are two main bootcamp operators in Cape Town – Adventure Boot Camp (for women) and Boot Camp SA (for men). Both share the same concept, which is a challenging workout that includes everything from obstacle courses to drill training, weights and various other workout disciplines to get you at your fittest. Classes are held every weekday over a time frame of a few weeks, with pricing determined by the number of classes you attend during that time. Bring water and a towel, and expect to be worked out like never before!
Various locations across the city (pricing varies from R500 or so upwards)
4. Outdoor Yoga
Pop-up yoga classes have become a regular thing in the city, and are often found on the promenade, Camps Bay and other beaches, city parks and many other outdoor destinations around town. Molo Yoga offers pop-up classes at a number of different outdoor locations for R40 per class, while spontaneous yoga sometimes happens on the promenade if you're lucky enough to catch a class.
Various locations across the city (pricing varies from R40 per class upward)
5. Hiking and Nature Walks
There are so many different hikes and walks to try that we put them all into a whole separate post! You can check out our full guide to hiking in Cape Town to see which routes offer what you are looking for, or for starters you can consider some of the more popular areas to enjoy some fresh air walking, such as Lion's Head, Newlands Forest Contour Path or Kirstenbosch Botanical Gardens.
Various locations across the city (free)
—
How do you like to keep fit? Share your fun ideas for outdoor fitness in Cape Town and let us know what gets you up and moving.