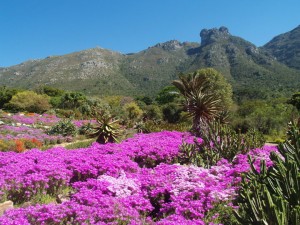 If you have recently arrived for a holiday in this part of the world, there is no doubt that spring in Cape Town has arrived at last. Over the past week, the city has been enjoying some of the most glorious days – warm, clear and fragrant with the scent of flowers.
Two of the biggest events that take place during this time have also begun to draw the crowds. These include the Whale Season and the Flower Season. But if you were to ask any local what makes spring their favourite time of year, the answer will be almost certainly unanimous… the start of the warmer season means that summer is not too far away!
While it is fairly obvious that the Mother City is in full spring mode, these signs will make it even clearer that the time of outdoor fun, gorgeous scenery, fresh breezes and sunshine has begun.
Our Favourite Things about Cape Town Spring
From the layers of clothing being removed by all and sundry, to the tiny budding leaves of our huge oak trees, and even the scent of jasmine in the air, Cape Town spring is simply spectacular. As the city has a Mediterranean climate, each season is clearly defined in terms of weather, scenery and overall atmosphere. Here are some of the highlights that indicate that spring has truly begun to sprung…
1. Less hoodies, more t-shirts. While visitors from the colder northern hemisphere may be forgiven for thinking that our spring is as hot as summer, a good indication of the warmer weather is the attire seen on the streets of the city. Skirts are getting shorter, floral dresses are getting their first outings in months, boots are replaced with sandals and hoodies are making ways for t-shirts. Even the evenings are often mild enough to forgo that bulky coat and warm scarf.
2. More flowers. It's not just the Cape Floral Route that is showing off its vibrant wild flowers. A visit to Kirstenbosch Botanical Gardens will reward you with an equally amazing display of flora. There are also many flower shows held here, from the Fuchsia Show to indigenous shows. A cruise along De Waal Drive showcases myriad day lilies, while the suburbs are filled with fragrant blossoms of all varieties.
3. Less vegging, more fun. To be honest, I have done my fair share of vegging out during the winter. After all, sometimes the need for warmth, movies and junk food is brought out through an inherent urge to hibernate. Now that the weather is warmer however, that urge has vanished entirely. Even if it is just walk outside to take in some sun, or a hike with friends, or even a Winelands trip, getting out and about is essential.
4. Fewer frowns, more smiles. South Africans can be a funny bunch. While we appreciate the need for rain (after all, we owe that rain to the lush scenery that surrounds us now in spring), warm, clear days means more braais (barbeques), less layers and longer days. It is hard to feel down when everything is blooming into life, and as the build-up to summer approaches, that undeniable festive atmosphere grow
5. More adorable baby animal pics. Last but not least, the spring season is also the time for rebirth in the animal kingdom too. Farms along the highways leading to Stellenbosch and the West Coast offer a glimpse of new-born lambs, wobbly-legged calves and even new foals. If you stop for lunch at a farm stall or wine estate, you can also capture plenty of pictures of tiny fuzzy ducklings too.
What are your favourite things about spring in Cape Town?