Cape Town is beautiful, bold and boisterous. It's also cool, quirky and one of a kind. Its unapologetic beauty, adventurous spirit and grand display of natural wonders will undoubtedly capture your heart. With so much to see and do, the Mother City is a place everyone should visit at least once in their lifetime.
To help you plan your trip, here are some insider Cape Town tips you should know: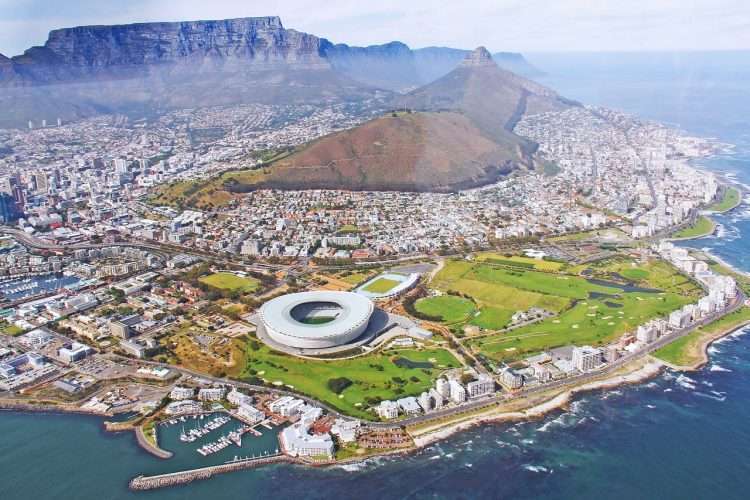 1. Cape Town's weather is unpredictable, so be prepared for anything
View this post on Instagram
Cape Town is celebrated for its beautiful year-round mild Mediterranean climate that provides its visitors with lovely sunny summer days and winter breaks from the chill. While Summer is all about being sun-kissed, salty-haired and beached-out, Winter isn't far behind with its lovely laid-back days perfect for adventuring and exploring. But just as fast as the sun comes out to play, the wind can blow you away. Just because your day starts out sunny, certainly doesn't mean it's going to stay that way. It's therefore important to always be prepared for anything when it comes to Cape Town's unpredictable weather patterns. Thus, be sure to pack something warm & sunblock when you go out exploring the Mother City.
2. Exploring and adventuring is the Cape Town way of life
View this post on Instagram
Cape Town isn't known as one of the most beautiful and exciting cities in the world for just anything. However, it's up to you to explore, discover and experience as much of it as possible. It's therefore important that you put exploring and adventuring at the top of your Cape Town to do list. From hiking, surfing, rock-scrambling and paragliding to kitesurfing, shark cage diving, seal snorkelling and sunset kayaking, the list of adventures are truly endless.
3. The Marine Big 5 are some of the Mother City's favourite locals
View this post on Instagram

Don't be surprised if spotting some of Cape Town's favourite ocean locals becomes your new favourite thing to do on your trip. In fact, we'd be surprised if it didn't. From Cape Fur Seals and African Penguins to dolphins and Southern Right Whales, seeing the beautiful marine life in all its glory is one spectacular sight. Apart from being able to spot the beloved members of the marine big 5 along the shoreline, Cape Town boasts a variety of destinations and ocean adventures that allows you to see its incredible marine life up-close-and-personal. From visiting the cool and charismatic African Penguins at Boulders Beach to seal snorkelling and ocean kayaking, there is no shortage of incredible adventures to choose from.
4. Cape Town's top attractions can become crowded, so be sure to plan your trip
View this post on Instagram
Cape Town has no shortage of incredible landmarks and world-renowned attractions to witness and explore. All of which are every bit as magnificent as they claim to be. While they all deserve a prime spot on your Cape Town bucket-list, they will undoubtedly be on everyone else's too. It's therefore essential to plan your trip to each landmark and attraction in order to ensure you have the very best experience possible. For iconic attractions like Table Mountain, it's important to get there nice and early in order to ensure you don't experience the large crowds and Table Mountain rush hour.
5. A Cape Town beach day can be enjoyed right throughout the year
View this post on Instagram
In Cape Town life truly is a beach and it's up to you to experience all the beach bliss, sun-kissed moments, beachy sunsets and beauty it has to offer. And the best thing is, it's not at all limited to Cape Town's summer season either. While Cape Town's summer is celebrated for its stunning weather and long days, the Mother City is known to bless its visitors with lovely sunny days in the dead of winter too. It's a perfect destination for beautiful beach walks, beachy sunset watching, and days spent soaking up the sunshine.
---
---
6. Going wine tasting is considered both a sought-after weekend adventure and a top weekday activity
View this post on Instagram
The fact that the Western Cape is home to the largest and most beautiful wine producing region in Africa means it's got an endless variety of world-renowned Wine Estates to choose from. Thereby making wine tasting in the Cape Winelands one of the most sought-after experiences for anyone travelling to Cape Town. Don't be surprised if the Mother City proclaims and celebrates her top Winelands status every chance she gets. Going weekday wine tasting or weekend winelands exploring has therefore become a beloved past-time for Cape Town locals, and something everyone should experience on their trip to the Mother City.
7. Cape Town has a season for everything
View this post on Instagram
In Cape Town, there is a season for everything and each one is loved and celebrated in its own unique way. In the Mother City the four-season rule certainly doesn't apply, and we're not only talking about the weather. From Cape Town's colourful flower season, whale season, wine festival season, windy season and summer concert season, the Mother City has a season suited to every occasion. When you first arrive you may not always know what season it is, when it's happening or why it's happening, but you'll be sure to enjoy the celebratory vibes and cool Cape Town season times anyway.
8. Cape Town boasts some of the best sunset spots in the world
View this post on Instagram
There is nothing quite like a captivating Cape Town sunset, and you'll be sure to fall head-over-heels in love with the city after your very first sunset watching experience. From beach-front spots, mountain tops and winelands escapes, the Mother City is home to some of the most beautiful sunset spots in the world. It's therefore no surprise that going sunset chasing has fast become a favourite local past time that should be experienced by everyone who visits Cape Town.
9. Cape Town's local foods are delicious
View this post on Instagram
While Cape Town boasts some real heavy hitters when it comes to its thriving culinary and renowned restaurant scene, the Mother City's local foods are every bit as delicious. From delicious local fish and chips and authentic Cape Malay cuisine to the original Cape Town Gatsby and Waterblommetjie bredie, every dish has something unique and sensational to offer. You're therefore encouraged to emerge yourself in the local Cape Town food culture every chance you get.
10. The Mother City is home to a variety of exciting markets
View this post on Instagram
Cape Town is at the very top of its market game and will only continue to thrive as time goes on. From fresh local produce, delicious street food, homemade treats, artisan goods, craft beers and everything in between, it's no surprise that Cape Town's local markets have fast become the ultimate weekly shopping hotspot as well as the coolest weekend hangout. Besides sensational things to eat and drink, Cape Town's markets are also known for their cool vibes, awesome beats and amazing music as both local and international acts often take to the stage. Going on a cool market adventure through Cape Town should therefore definitely be on your Mother City to-do list. The Bay Harbour Market, V&A Food Market, Oranjezicht City Farmer's Market and the Old Biscuit Mill's Neighbourgoods Market are just some of the incredible markets Cape Town has to offer.
---
---
11. Hidden gems and secret beaches are definitely worth a visit
View this post on Instagram
Besides the fact that Cape Town is home to some of the most iconic landmarks, natural wonders and attractions in the world, it also boasts some of the most magnificent hidden gems and secret beaches. Visiting some of the Mother City's lesser known attractions is therefore absolutely worth it in every way. While some of the off-the-beaten-path hidden gems may not always seem the most aesthetically pleasing at first glance, what's inside will surprise you in the very best ways. Discovering some of Cape Town's hidden gems, secret spots, quirky corner gems and cool hideaways has therefore undoubtedly become one of the best things to do for locals and travellers alike.
12. There is an incredible destination or thrilling adventure around every corner
View this post on Instagram
One of the best things about Cape Town is the fact that there is something new and exciting to discover around every twist and turn. The Mother City is home to a variety of incredible natural wonders and spectacular destinations. And by driving just a little bit outside of the city, you'll discover a whole new world you never thought existed before. From Ceres, Hermanus, the Koggelberg Nature Reserve and Langebaan to Franschhoek, Riebeek Kasteel, Stellenbosch and Betty's Bay, an exciting weekend trip or unforgettable adventure is just around the corner.
13. Exploring Cape Town's artistic side is every bit as exciting as it is beautiful
View this post on Instagram
Besides being one of the most beautiful cities in the world, Cape Town boasts an exciting and dynamic arts, culture and music scene that is worth every second of exploring. From the Zeitz MOCAA Museum of Contemporary Art Africa and a variety of world-renowned art galleries and museums to a thrilling street art and theatre scene and thriving music culture, exploring the Mother City's artistic side is a truly incredible experience.
14. In Cape Town, hiking is way more than an outdoor activity
View this post on Instagram

In Cape Town hiking truly is a cherished and celebrated past-time. Exploring some of the Mother City's most captivating hiking trails will forever be one of the most exciting things to do. Going on a sunrise, sunset, mid-day or moonlight hike is therefore not only a Cape Town bucket-list activity absolutely everyone should experience, but somewhat of a rite of passage too.With such an incredible variety of incredible hiking trail to choose from, you'll find yourself wanting to tick them all off your hiking to-do list. Table Mountain, Lions Head, the Pipe Track, Kasteelpoort, Silvermine Nature Reserve and Kloof Corner are just some of the amazing hiking trails the Mother City has to offer.
15. The Mother City encourages you to step outside of your comfort zone and try something new
View this post on Instagram
From shark cage diving, paragliding, wind surfing and sky diving to kloofing, Table Mountain abseiling, seal snorkelling and learning to surf, Cape Town encourages you to step outside of your comfort zone. But in the most thrilling and exhilarating way. The best things is, you'll love every second of doing it anyway. Boasting a variety of exciting activities, incredible adventures and sought-after experiences, there's something for every member of the family and adventure loving soul to enjoy.
Exploring one of the most magnificent cities in the world will undoubtedly be an unforgettable experience, but these15 Insider Cape Town tips will allow you to experience it all in the most authentic and exciting way.
---
Planning to visit Cape Town any time soon? Learn more about the Mother City, how to get around, things to do in Cape Town in 2019, and more from our blog. We can help you find the perfect place to stay. Get in touch if you'd like help finding accommodation or Cape Town tours to indulge in when you are around.