The Kirstenbosch Craft Market in Cape Town kicked off its summer market season in January 2016, with markets taking place on the last Sunday of the month. And, from the looks of things, this year's market is going to be even more rewarding, entertaining and interesting. Running for 25 years and counting, this is one of the longest-standing outdoor craft markets in Cape Town. It is also undoubtedly the most scenic market, too. Set against the spectacular backdrop of Kirstenbosch Botanical Gardens, near the old Stone Cottage, the market offers a perfect way to enjoy a few hours of leisurely browsing, shopping, eating and unwinding.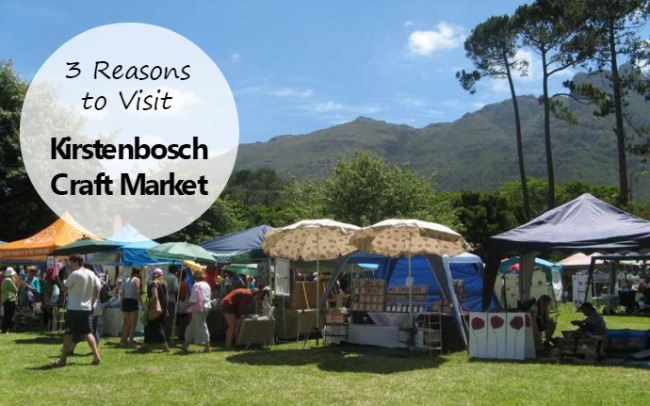 What makes this such an epic market, and why should you pay a visit to the craft market in Kirstenbosch? Let's take a look…
Top Reasons to Visit the Kirstenbosch Craft Market
First things first, here are a few details on the venue, upcoming market dates and operating hours of this market.
Venue: Stone Cottage, Kirstenbosch Botanical Gardens, Cnr Kirstenbosch & Rhodes Drives, Newlands
Dates: 31 January, 28 February, 27 March and 24 April (final Sunday of the month)
Times: 09h00 – 15h00
Costs: Free entry – be sure to bring cash for shopping and dining though!
Contact: [email protected]
What are some of the highlights that you can expect from the market? Here are some of our favourite things to see and do at this outdoor craft market in Cape Town.
1. Browse a variety of stalls. There are some 230 craft stalls to be found at this market, so be prepared to shop until you drop. Stalls range from clothing to food, drinks, homeware, jewellery, hand-crafted goods, pet products, furniture, plants, decor, kids' clothing, toys and plenty of other interesting items. It is a cash market, so be sure to come prepared with money for shopping as well as refreshments.
2. Enjoy entertainment for the whole family. Kids can check out the petting zoo, meet the resident market pig, and enjoy a pony ride. Bigger kids and grown-ups can shop, enjoy a bite to eat, meet up with friends (new and old), relax on the lawn, listen to live music, take a stroll around the market grounds, capture some photographs and simply enjoy a few hours of leisure time.
3. Savour delicious food and beverages. With everything from waffles to pizza, artisan hotdogs, falafel, pancakes, nachos, burgers, vegetarian cuisine, boerie rolls, spit braai, pitas and salad, steak rolls, exotic cuisine, farm cheese and honey, fresh fruit juices and smoothies, homemade lemonade and ginger beer,coffee, homemade jams and pickles, olives, nuts, ice cream and various other treats, this market is a foodie's paradise!
Speaking from my own personal experience, I have many fond memories of Kirstenbosch Garden Craft Market. The setting makes for a really relaxing day, and with the beautiful, warm weather we enjoy in Cape Town over the summer months, it is great to head out for a few hours and have a look at the many amazing stalls. It is also a fantastic way to find unique, hand crafted gifts for friends and family. If you enjoy your shopping under the shade of trees than stuck in a stuffy indoor mall, this market is sure to be a hit! For more weekend inspiration, be sure to also check out our list of free things to do in Cape Town this weekend.
…
Have you visited the Kirstenbosch Craft Market in Cape Town? We'd love to hear what you thought – share your experience below in the comments and let us know what you love most about the market!
P.S. Don't forget that Kirstenbosch Summer Concerts are still on until March or April!