During winter Cape Town transforms into a wonderland characterised by mild Mediterranean climate, beautiful scenery and lush surroundings. The winter season is known as one of the Mother City's best kept secrets, and it truly is something special to behold.
While each season has its own charm and alluring appeal, winter in Cape Town is when the city shows off an entirely different side of what it has to offer. With the beautiful greenery, crisp air, crackling sounds of a fireplace burning and a yearning desire for a lovely glass of red wine, Cape Town's winter treasure chest is filled with everything your heart desires.
Let's take a look at what winter is really like in Cape Town and why you'll love it just as much as we do:
What's Winter Really Like in Cape Town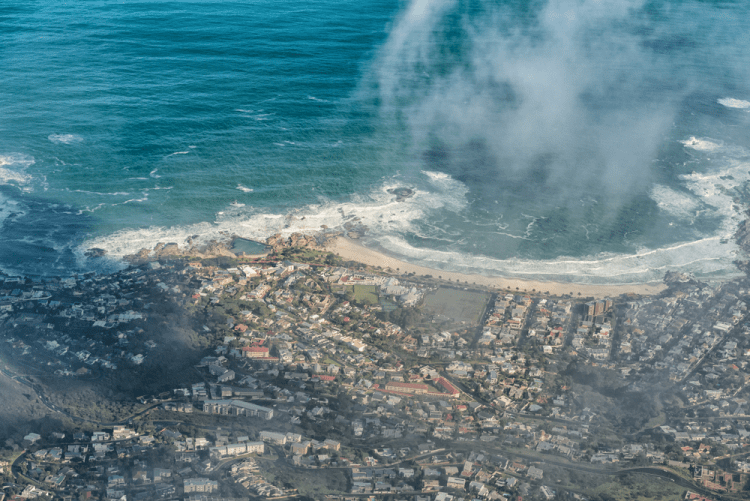 Pleasant weather & sudden sunny days
View this post on Instagram
The Mother City is known for her mild Mediterranean climate, and it's something to experience during Cape Town's winter months. This wonderful winter weather that dawns upon the city during the cooler months makes it the perfect time to go explore and experience everything the vibrant city has to offer.
While the Mother City has its fair share of rainy days, overcast skies and chilly evenings, you will also experience the sunny side of Cape Town. Yes, the Mother City is known for her sudden pops of beautiful warm sunshine-filled days in the dead of winter, and boy are they glorious! Cape Town is widely known for its 'lucky-packet' weather, and this will certainly be no different during winter in Cape Town.
Lush Scenery
View this post on Instagram
Winter season in Cape Town is also known as green season. It's the time of year when the Mother City bursts into a glorious green colour celebration and all its fauna and flora come out to play. Thereby making it the perfect time of year to go exploring, adventuring and discovering. With so many natural gems as your winter playground, how can you possibly resist?
From the world-renowned Table Mountain National Park, Cape Point, Kirstenbosch Botanical Gardens, the Cederberg mountain ranges and so much more, there is natural wonder for every adventure seeking soul. Not to mention the fact that every year from the beginning of August till the end of September is when Cape Town's flower season comes into full bloom. You will therefore also be able to enjoy the endless stretches of Cape wildflowers as they transform the Mother City into the ultimate flower paradise.
Wining & Dining
View this post on Instagram
There is nothing quite like wining and dining in the Mother City, but there's just something so special about doing it during winter in Cape Town. Besides the fact that many restaurants, establishments and eateries offer their guests some incredible winter specials and deals, they also take it upon themselves to present a winter feast that's certainly hard to resist.
With exceptional winter dining experiences, there is nothing quite as appealing as enjoying a sensational glass of red and a delicious meal next to a warm fireplace. Sounds pretty magical right? Well, that's just some of the wonderful winter wining and dining you can expect to enjoy in Cape Town.
---
---
Whale sightings & surfing season
View this post on Instagram
Whales, surfing and sunset beach sessions, Cape Town celebrates the ocean life during winter and its every bit is as incredible as it sounds. The peak calving season for whales is from July to September, and this means more spectacular whale sightings than ever before. A visit to the charming Western Cape coastal town of Hermanus, also known as the whale capital of the world, or a drive along the vibrant False Bay coastline will bring with it the most magnificent whale sightings.
Whale season in Cape Town is without a doubt a season not to be missed! Apart from witnessing the majestic giants of the deep blue, Cape Town also transforms into the ultimate surfing paradise during winter. The bigger waves, wind conditions and warmer ocean temperatures during the months of June – September makes Cape Town a must-visit surfing mecca for wave chasers around the world.
Epic indoor & outdoor Adventures
View this post on Instagram
The best combination of everything is what winter is really like in Cape Town. And that means you get to enjoy the very best of cosy indoor life and epic outdoor adventuring. From visiting a variety of Cape Town's renowned restaurants, art galleries, museums, theatres and performing art hotspots to hiking, paragliding, surfing, shark cage diving and outdoor exploring, nothing is off the table during Cape Town's winter season. You therefore get to experience the best of both worlds, and what a memorable experience it will be indeed.
---
---
Relaxed Ambiance & Winter Serenity
View this post on Instagram
Winter in Cape Town not only brings with its beautiful scenery, mild temperatures, magnificent marine life sightings and exceptional food and wine experiences, but smaller crowds and far less people too. You'll have the opportunity to explore all of Cape Town's most renowned and celebrated landmarks, attractions and natural wonders all without the crowds, queues and traffic. Whether you choose to visit one of the Mother City's iconic attractions like Table Mountain, Cape Point, the Twelve Apostles mountain range or Robben Island or simply enjoy a glass of red or savour a sunset beach stroll, it encourages you to embrace the more relaxed side of Cape Town life.
While some might have an idea of what the chillier side of Cape Town has to offer, this is just some of what winter is really like in Cape Town. It's indeed a beautiful, adventurous and wonderful time of year, perfect for an incredible getaway filled with all the beauty and serenity your heart desires.
---
Planning to visit Cape Town during winter? You can check out our guide to things to do in Cape Town before the end of Winter or the Ultimate things to do in Cape Town. You can also have a look the top winter adventures in Cape Town. If you're also looking for a perfect place to stay during winter, we can help. Get in touch if you'd like help finding accommodation. Otherwise, we hope that you enjoy our list of top winter adventures in Cape Town this winter.