Wondering where to go and what to do on Boxing Day in Cape Town 2015? Also known as the Day of Goodwill, this public holiday falls on the 26th of December each year. Essentially, it is a time for relaxation, fun, friends, family and food. In South Africa, which has its summers at the end of the year, it is a chance to fire up the braai (barbeque), hit the beach and enjoy the wonderful summer weather.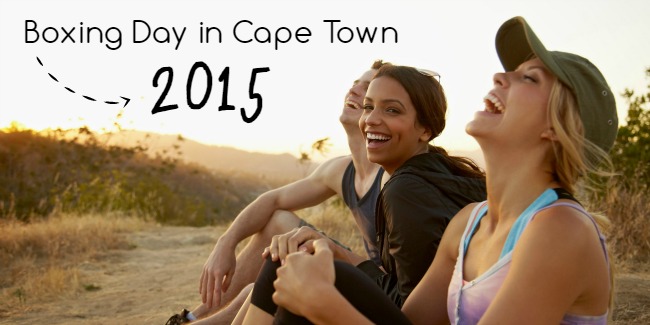 Whatever you plan to do this Boxing Day, the following ideas should help you find some inspiration on how to spend this day of rest.
Fun Ideas for 2015 Boxing Day in Cape Town
Without further ado, here are some ideas on how to spend Boxing Day in Cape Town this year…
Boxing Day Buffet @ The Brasserie. Situated within the Lagoon Beach Hotel in Milnerton, this restaurant gives you the chance to enjoy a full braai menu, along with salads and side dishes to make the mouth water. A full meal costs R150 per adult, and kids under 6 years of age eat for free.  Contact the restaurant on +27 (0)21 528 2000 or reservations@lagoonbeachhotel.co.za.
Have your own braai. Some tasty meats to consider for the braai include festive meats such as turkey, gammon or chicken smoked and slow cooked in the Weber (kettle braai) or seafood such as crayfish tails, dorado or snoek on an open fire. Don't forget to add some fresh salads and sides to mix things up.
Boxing Day Brunch @ Harveys. At the lovely Winchester Mansions' trendy bar and restaurant, Harveys, which lies in Sea Point, a delightful brunch will be taking place. This event features Gary Deacon, Willie Van Zyl and Maurice Gawronsky, comprising music, good food and entertainment. It costs R345 per person and doors open at 11h30. For details contact +27 (0)21 434 2351.
Love Brunch @ Shimmy. Taking place at Shimmy Beach Club, at the V&A Waterfront, this special Boxing Day brunch slash electronic dance party offers music, food and dancing in a unique beach venue. Tickets start at R300 and are available online via shimmy.nutickets.co.za/LoveBrunch.
Love Thing Brunch @ The Bungalow. In Clifton meanwhile, the Love Thing brunch offers an equally enticing blend of music, food and entertainment. Tickets for this electronic dance party cost R400 and can be purchased online via afterhours.nutickets.co.za/LoveThing.
Boxing Day Blues Bash. In Tulbagh, if you're up for a drive to get out of town, a blues brunch on the farm of Saronsberg Cellar brings together picnic style dining, drinks and blues in a relaxed environment. Tickets cost R150 at Computicket, but R130 at the farm until the day of the event. Email maggie.nagel@gmail.com for details.
England vs South Africa cricket test. While the match itself is taking place in Durban, you are sure to find plenty of spots to watch the action unfold as these two mega cricket giants go head to head on Boxing Day. The test kicks off at 10h00.
Beaches and more beaches. Of course, if all else fails, you can always head on down to one of many breath-taking beaches in Cape Town. From the cooler Atlantic Ocean to the warmer False Bay coast, finding a place to enjoy some fun in the sun is super easy!
 …
So there you have it – lots of ideas on how to spend the day after Christmas in Cape Town. What will YOU be doing this year? Share your thoughts below and let us know!