Recently, a huge pod of humpback whales in Cape Town were captured on film by Kieran Donnelly as they played in the waters off the coast of Clifton. This week, some amazing footage was captured by Thomas Pryor, who was paddling near a smaller pod closer to the shore. Whale watching in Cape Town can be enjoyed at various times of the year. Southern right whales come into the bays to breed and calve between August and November, while humpback whales can be seen in Cape Town in the summer months.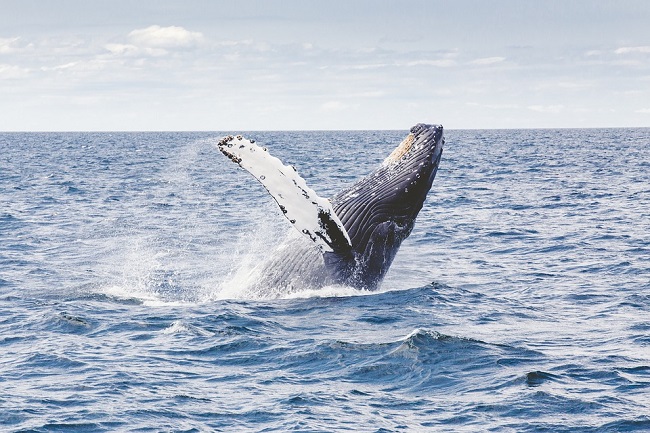 These videos are a fantastic way to experience just a little bit of the whale magic, from two different perspectives. The drone video gives you an idea of the magnitude of the whale gathering, while the close-up video allows you to see how beautiful these creatures are from a closer distance. We've included both videos here for you to enjoy!
Amazing Humpback Whales in Cape Town
In the video below, captured on the water by Thomas, you can see these gentle giants as they eat. Thomas was out for a paddle of the Atlantic Seaboard waters of Clifton, when he noticed a lot of activity a bit further out. He also noticed a small pod that was much closer. His video, taken on the water, shows the smaller pod feeding in the waters from a close distance.
Humpback whales are a species of baleen whale. They are one of the larger whale species, ranging in length between 12 and 16 metres. With an average weight of around 36000kg, these whales are rather massive! They get their name from the distinctive body shape they have, with long pectoral fins and a large knobbly head. They are found in oceans all across the world, migrating up to 25000km every year. They mostly feed in summer in cooler waters, migrating to warmer waters in the winter to breed and calve while living off fat reserves stored during their feeding time. They mostly eat krill and small fish. The area around the Crayfish Factory on the Atlantic Seaboard is an ideal food source, and the large amount of krill found here is what attracted so many whales to these waters recently.
The original video captured by drone by Kieran shows a huge number of whales feeding. You can also see seals getting in on the krill action while the mammoth humpbacks had their fill. The overhead drone view gives an amazing perspective not only of the sheer number of whales in the water at once, but also of their incredible size.
Are you interested in seeing whales in Cape Town during your holiday? There are a few ways to see whales. You can look out for humpback whales in Cape Town during summer, or, during whale season, you could try a whale watching tour to see Southern right whales. With two oceans and an abundance of natural diversity to explore, seeing whales in Cape Town is surprisingly easy! Contact us to learn more about our whale viewing tour, but also be sure to keep your eyes peeled to the waters this summer for a glimpse of the now-famous humpback whales.
Have you seen humpback whales in Cape Town? Share your comments below and let us know!