The 2014 FIFA Soccer World Cup kicked off last night in Brazil, and I have to say that I can't help being somewhat jealous… after all, it was only four years ago that Cape Town got to play host for the World Cup!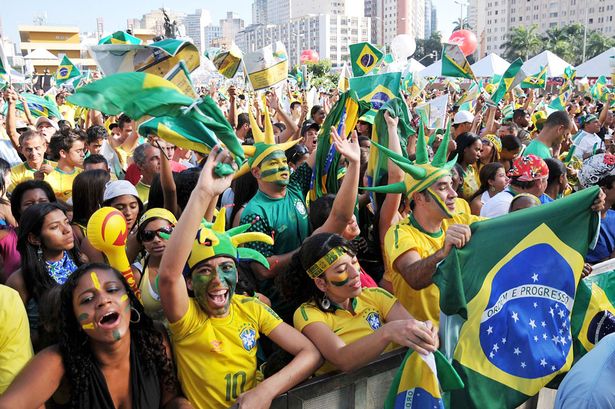 If the last one was anything to go by, the 2014 World Cup is sure to be full of victories, losses, wins and big moments. On the field, we will be rooting for our favourite teams and nations as they compete for the honour of being the number one team in the world. Will Paul the octopus predict another victory? Will Brazil feel as much of the love as South Africa did all those years ago?
Only time will tell. But for now, here are some ideas on where you can watch the games.
Best Places to Watch 2014 Soccer World Cup
Wondering where to catch a soccer game in Cape Town during the 2014 World Cup? Here are some suggestions…
&Union – Bree Street, City Bowl
This popular bar and restaurant has its own microbrewery, along with two inside televisions, a great menu and a great crowd. It is only open until about midnight however, so not all games will be screened at this spot. Be sure to try the prego rolls!
Arnold's – Kloof Street, City Bowl
A beloved hang out for locals and visitors alike, earlier games will be shown here. There are three inside TVs, plus a big screen outside in the smoking area. Menu highlights include snack baskets, cheap breakfast specials and chicken wings.
Barristers Grill – Kildare Road, Newlands
In the southern suburbs, this legendary haunt will be showing games from 18h00, 21h00 and 22h00. There are two big screens at the bar, and another one outside in the smoking section. Menu favourites – crumbed mushrooms, potato skins with creme fraiche and onion rings.
Cafe Caprice – Victoria Street, Camps Bay
Camps Bay's favourite hotspot will be screening the games on HD screens, with their in-house DJs playing between games. There are also cocktail specials running every day of the World Cup from 17h00 – look out for themed mojitos representing your favourite team!
Dias Tavern – Caledon Street, City Bowl
The place where actor Sean Penn was spotted not so long ago, Dias Tavern is famous for its history and it's traditional peri-peri menu treats. There are seven televisions, and the most important games will be shown with sound – games deemed less big may not have sound though.
Ferrymans Tavern – V&A Waterfront
With a large big screen upstairs and screens above the covered bar downstairs, Ferryman's will be screening the World Cup games and offering their winter specials (see the specials tab) as well as the usual menu of pregos, steaks and pub grub.
Fireman's Arms – Buitengracht Street, City Bowl
A favourite for sporting events, expect big screens, big tables and big crowds here. There are nine TVs plus two big screens, kitchen open until midnight, great pizzas, plenty of food and drink specials and bar snacks too.
Forrester's Arms – Newlands Avenue, Newlands
In the southern suburbs, Forries has a great vibe, with six inside televisions and five outdoor televisions. Food and drinks specials will be run throughout the World Cup – you can bring the kids along to this venue too.
Mitchell's Waterfront Brewery – Dock Road, V&A Waterfront
There are 10 TVs in the upstairs section of this Waterfront bar and microbrewery. There are also winter specials, a great shooter menu and a kitchen that closes just before midnight (well, 23h30). Drinks will be served until the early hours however.
Quay Four – Quay Road, V&A Waterfront
Also in the Waterfront, the huge deck at Quay Four will have up to ten screens. This spot also has amazing harbour views and loads of yummy things on the menu. Their seafood is especially good.
Rick's Café Américain – Park Road, City Bowl
In Gardens, just off Kloof Street, Rick's is a great, cosy place to watch the 18h00, 21h00 and 22h00 games. There are fireplaces, four screens, cocktail specials and a great menu full of treats.
Shimmy Beach Club – South Arm Road, V&A Waterfont
If you're in more of a fancy mood, book a spot at Shimmy to watch your favourite team compete. Various entry costs and food or drink special packages are offered, including a burger and Heineken draught special for R65.
Slug and Lettuce – Kloof Street, City Bowl and Main Road, Green Point
There are two branches of this traditional pub – both have two TVs, great menus, a cool vibe and a decent selection of beers and drinks. We particularly love their poppers, boerewors bites and fried halloumi.
—
So there you go, darlings. If you're looking for a cool spot to sit back and watch some soccer, try one of these excellent restaurants in Cape Town and enjoy the FIFA World Cup 2014 action in comfort!