There is no denying the fact that Cape Town boasts a thriving and exciting market scene that is absolutely worth every second of exploring. However, one of the Mother City's stand out markets without a doubt is the Bay Harbour Market in Hout Bay. A true celebration of the vibrancy, spirit and diversity of creativity and culture that make South Africa such a unique country. A visit to the Bay Harbour Market is everything you can imagine and more.
Widely known as the most vibrant market in Cape Town, the Bay Harbour Market has a certain magical charm and lively energy that's hard to resist. From delicious things to eat, cool beats and a variety of arts, crafts, décor and everything in between, the market has something for everyone to enjoy.
In order to ensure you get the full epic market experience, here is the ultimate guide to Bay Harbour Market in Cape Town and everything it has in store for you:
A Guide to Bay Harbour Market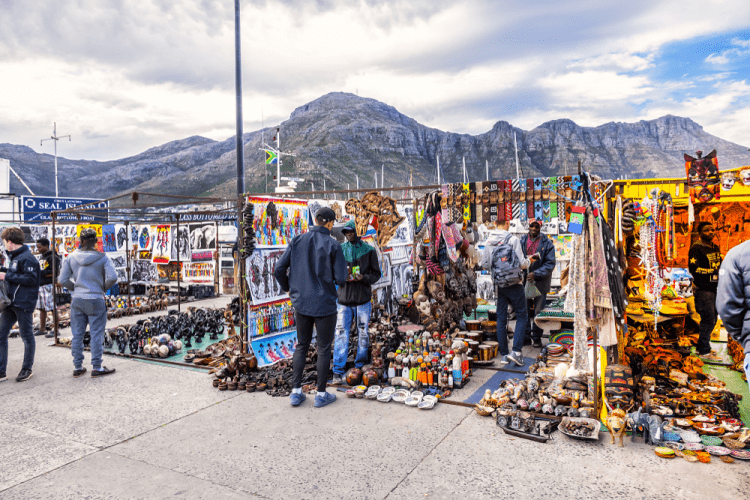 Food oh glorious food!
View this post on Instagram
The Bay Harbour Market has fast become one of the coolest culinary hubs in the Mother City. It has therefore not only positioned it self as one of the most vibrant and welcoming weekend hangouts, but one of the best spots to go for breakfast, lunch, dinner or anything in between. But not only is the Bay Harbour Market celebrated for all its delicious choices, but the abundant variety of options they have on offer too. It truly is any food lover's dream come true! With more than 26 culinary experts serving up bold flavours, delicious combinations and moreish culinary creations you'll feel like you've escaped straight to a food-loving-paradise never wanting to return. And don't be surprised if you find yourself going back for seconds and maybe even thirds. And the best thing is it caters to every taste, pallet and curious culinary enthusiast at heart. From Tunisian cuisine, seafood platters and oven-fired pizza to gourmet sandwiches, boss burgers, speciality soups and everything in between, there's something delicious for everyone to enjoy. And not to mention the range of incredible vegan options it has on offer, plus it caters to all the sweet tooth lovers out there too.
Arts, crafts & EVERYTHING in between
View this post on Instagram
Besides being a vibrant culinary hub, the Bay Harbour market has fast become the ultimate mecca for arts, crafts, design, jewellery, fashion and everything in between! As soon as you arrive at the Bay Harbour Market you'll be welcomed by the infectious hustle and bustle of the market life as spirited local traders put their best foot forward. The Bay Harbour Market is known to have some of the most innovative and creative traders in the entire city, so you know you're in for something special. A visit to the Bay Harbour Market will therefore almost feel like you've escaped to an eclectic wonderland of art, design and creativity without really leaving the city at all. From vintage clothing, spectacular fine art displays, wooden art-work, recyclable crafts, bead and metal creations, beautiful décor displays, hand-made jewellery, stunning leather goods, a variety of clothing and fashion options, a variety of health and wellness traders and a whole lot in between, there really is something of everything on offer. And the more you explore, the more you discover thereby truly making a visit to the Bay Harbour Market in Cape Town a true adventure.
---
---
Cool beats & an incredible entertainment line-up
View this post on Instagram
The sounds of a township guitarist, groovy sax and a jam-packed entertainment line-up of talented musicians that will keep you jiving and loving life are just some of what you can expect. This vibrant weekend market kicks off on Fridays from 5pm – 9pm with Friday Nite LIVE! Offering live music where some of the best local acts take the stage, a variety of delicious things to eat and drink and a good vibe lasting straight through the night. But the fun certainly doesn't end on Friday night. Open on Saturdays and Sundays from 09:30am – 4pm this lively Cape Town weekend market is dedicated to keeping the cool beats going and good vibes flowing all the way through to the end. Both days are therefore not only jam-packed with some of the best local traders and culinary experts the Mother City has to offer, but tons of epic entertainment and musical acts too. And as the Bay Harbour Market is all about diversity and welcoming everyone with open arms, you can expect to enjoy a variety of different live music acts on the Bay Harbour sound stage.
Cool vibes & good times is the way of life at Bay Harbour Market
View this post on Instagram
There's no vibe quite like that of Bay Harbour Market and you'll know exactly what we're talking about after your first visit there. Our ultimate guide to the Bay Harbour Market therefore wouldn't be complete without paying tribute to the infectious vibrant energy of this Cape Town market gem. The market is the perfect culmination of creative energy, unique culinary creations and the vibrancy of the Mother City all coming together in the ultimate celebration.
There's a certain magical vibe in the air, a welcoming and open-minded atmosphere that embraces every single person from all walks of life, it truly is something special. Regardless of your age, culture or what side of the Cape Town block you're from, you can't help but feel right at home as soon as you step foot inside the authentic fish factory that has become a vibrant hub of creation and celebration. The best thing is, the market is quite a family-friendly place perfect for a fun day out.
With tons of amazing activities to keep the kiddies entertained and the adults loving life, there is something for every member of the family to enjoy. The truth is you just can't resist the cool vibe and fun-loving-time this Cape Town market has going on. So, the only thing left to do is to march to the beat of the Bay Harbour Market drum, embrace to true South African spirit and love every single second of it along the way.
---
---
The Bay Harbour Market in Hout Bay's trading hours include Fridays from 5 – 9 pm and Saturdays and Sundays from 9:30am – 4pm. Weekend's in Cape Town is the best time to get out there and explore and experience everything the Mother City has to offer. And the Bay Harbour Market definitely has it all going on. With something for everyone to enjoy, it certainly is the perfect fun-filled family day out. And it promises to provide you with a truly unforgettable day spent in the Mother City.
---
Looking for more help finding Cape Town food markets? View our destination guides to find out more about popular areas in the Mother City. You can also contact us if you would like to learn more about accommodation on offer in the city. We will help you plan your stay, booking the best restaurants in Cape Town by neighbourhood along with tours, car hire and everything else you could ever need.