With an abundance of things to do in Noordhoek, not to mention plenty to see as well, it comes as no surprise that this area has become sought-after for its laid-back holiday appeal. Located in False Bay, off Ou Kaapse Weg, this village is home to beaches, farm stalls, cosy restaurants, horse riding paddocks, country-style shopping, markets, a wine estate and plenty of friendly locals.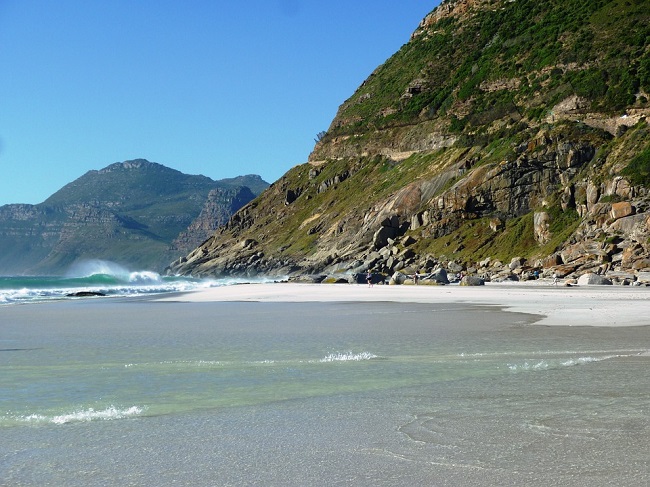 The name Noordhoek means northern corner in Afrikaans. From its vantage point that is very close to Cape Point, this village feels far away, while being less than an hour from the CBD. Whether you are looking for somewhere quiet and peaceful to enjoy your honeymoon or holiday, or you simply plan to visit this village during your trip to the Mother City, Noordhoek offers plenty for just about everyone to enjoy.
Best Things to Do in Noordhoek
Wondering what to see and do in this neck of the woods? Here are our top picks of things to do in Noordhoek…
Horse Riding
Sleepy Hollow Horse Riding offers a wide range of rides, including morning rides, afternoon rides, summer evening rides and winter evening rides. Found at Sleepy Hollow Lane, this centre caters to a variety of experience levels. Prices are available on request – contact the stables on +27 (0)21 789 2341 for more info. Beach rides are also offered, at Sleepy Hollow and other nearby stables such as Imhoff Farm (contact them on +27 (0)82 418 7877). Bookings are essential for all horse riding outings.
Beach Walks
If horses aren't your thing, you can also explore beautiful Noordhooek Beach by foot. This beach is spectacular, spanning as far as the eye can see, with a long stretch of sand that is perfect for long walks throughout the year. You can also go for a jog on this beach if you're looking for more of a workout. Witsands Beach is also found nearby in Misty Cliffs.
Wine Tasting
You may associate wine tasting in Cape Town with Constantia wine estates such as Groot Constantia, or the Cape Winelands towns of Stellenbosch, Franschhoek and Paarl. But tucked away on the False Bay coastline lies Cape Point Vineyards, which offers a quintessential wine farm with plenty to see, do and taste. Situated within Chapman's Peak Estate, the vineyards are open Monday to Saturday from 10h00 to 17h00, and Sundays from 10h00 to 16h00. They close on Christmas Day and Good Friday. For more info and bookings, contact them on +27 (0)21 789 0094.
Shopping
Noordhoek is home to a decent sized mall, called Long Beach Mall. This is where you will find the usual array of shops, facilities and food stores. Sun Valley Mall is also in the area, on the corner of Ou Kaapse Weg and Noordhoek Road, with a variety of shops and facilities on offer. If you're looking for a more casual shopping experience, there is also the Noordhoek Community Market that is held at Cape Point Vineyards every Thursday from 16h30 to 20h30 during the summer months. Noordhoek Farm Village meanwhile has a few interesting stores to explore. This farm style centre is found on the corner of Chapman's Peak Road and Village Lane.
Dining
Within the Noordhoek Farm Village, there are a number of restaurants, bars and coffee shops. These include Cafe Roux – a great place to unwind in the relaxed atmosphere of this bustling community hotspot. Other restaurants include the iconic Red Herring and its bustling upstairs bar, found on the corner of Beach and Pine Roads, along with in-house restaurants and cafes found within Long Beach and Sun Valley Malls. Imhof Farm is also home to selected dining spots.
Scenic Drives
With Chapman's Peak Drive at its doorstep, it goes without saying that even a drive into Noordhoek will be spectacular. This little village is the ideal place to enjoy plenty of gorgeous views. Take a drive along Chapman's Peak when the drive is open, or head along the tree-lined beach roads. There is also Ou Kaapse Weg to explore as well. Hiring a car is great way to take in the sights.
Hiking and Nature
One of the most rewarding things to do in Noordhoek for any nature lover is a hike at nearby Silvermine Nature Reserve. Other hikes in the area and surrounds include the Chapmans Peak Trail. Even if you're not in a hiking mood, you can still enjoy some fresh air and nature at Silvermine, which is accessed via Ou Kaapse Weg.
_____________________________________________
Looking for a Cape Town tour that includes Noordhoek in its list of places to see? Try our memorable Best of the Cape Tour that covers all of the city's best-loved attractions, from Noordhoek to Camps Bay and many others. Book this tour right now to get started, or add this list of things to do in Noordhoek to your bucket list!