Is there anything better than enjoying the warm deliciousness of a cup of hot chocolate on a chilly winter's day in Cape Town? Besides being one of the most beautiful cities in the world, the Mother City is bold, boisterous and exciting. And this certainly applies to her cool café scene too. And in true Cape Town style, the Mother City sure knows how to serve up a sensational cup of hot chocolate goodness.
Cape Town Spots To Get Your Hot Chocolate for Frosty Days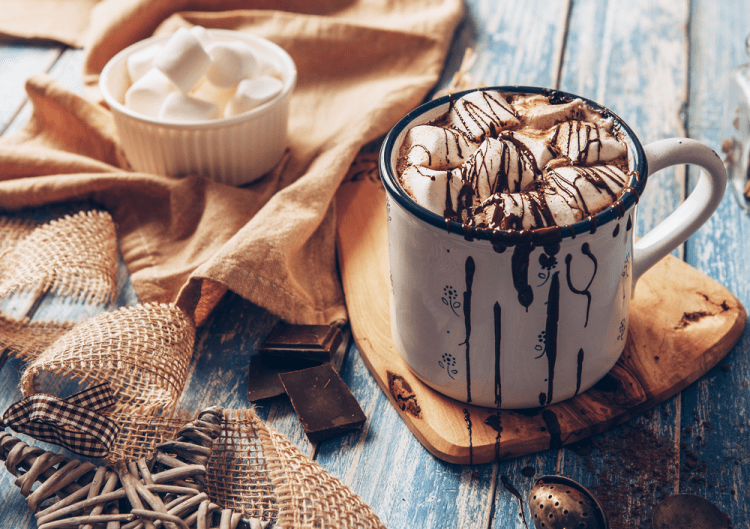 From over-the-top hot chocolate delights to health-conscious cups of hot chocs, here are the top Cape Town spots to get your hot chocolate for frosty days.
Honest Chocolate
View this post on Instagram
Widely known for their sensational servings of all things chocolate, Honest Chocolate is undoubtedly one of the top Cape Town spots to get your hot chocolate fix this winter. Certainly one of the coolest too! This small artisanal Bean to Bar chocolate company has therefore fast become one of the most sought-after chocolate hotspots for locals and travellers alike.
Honest Chocolate prides themselves on using only the highest quality organically sourced ingredients to produce their pure chocolate products. Thereby producing indulgent chocolate delights that have a deliciously distinct feel and taste. You can therefore expect their hot chocolate to knock your winter socks right off!
Café Alfredo
View this post on Instagram
Based in the vibrant V&A Waterfront, Café Alfredo is widely known and loved for their sensational Italian-style pizzas and pastas. But besides exceptional Italian dishes and a hefty dose of warm hospitality, Café Alfredo sure knows how to make winter in Cape Town extra special with their incredible selection of coffees and indulgent hot chocolate.
All served with an authentic Italian flare and a beautiful V&A Waterfront view, enjoying a warm cup of hot chocolate at this incredible Waterfront spot will provide you with all the warm, wonderful winter feels. However, if you're looking to immerse yourself in the full Café Alfredo experience, be sure to pair your warm cup of hot chocolate goodness with one of their traditional Italian-style pastas or pizzas. It truly is one spectacular combination that will have you falling head over heels in love with this V&A Waterfront café gem. And undoubtedly have you going back for more again and again!
Loading Bay
View this post on Instagram
Besides being one of the coolest cafés on the Cape Town block, this trendy De Waterkant hotspot is known to serve up a knock-out cup of hot chocolate. But as with everything else, the Loading Bay sure puts their own unique twist on this winter classic. But what exactly makes the Loading Bay's hot chocolate so special?
Imagine a warm cup containing organic dark chocolate made with coconut oil, melted and topped with warming cinnamon, sea salt and a hint of chilli. All served alongside a jug of steamed milk that can be topped up and added to your heart's content. Sounds pretty sensational right? Besides serving up uniquely delicious cups of hot chocolate, the Loading Bay also boasts a range of other warm beverages, cold brews, freshly pressed juices and café treats. As well as a few unexpected surprises that has made it one of the coolest cafes in the Mother City.
Bootleggers Coffee Company
View this post on Instagram
Another top Cape Town spot to get your hot chocolate for chillier winter days is Bootleggers Coffee Company. Known as a fan-favourite coffee spot for caffeine lovers from all walks of life, Bootleggers Coffee Company sure knows how to serve up a top-notch cup of coffee. Certainly a delicious cup of hot chocolate too! But besides a traditional cup of warm hot chocs, Bootleggers has recently introduced a new contender to the hot chocolate scene by adding a cool coconut hot chocolate to their menu.
This entirely vegan hot chocolate delight is made with coconut milk and raw cacao and is said to hit the winter sweet spot just right. If you're looking to try something unique and equally delicious, the Bootleggers coconut hot chocolate promises to add a bit of extra hot chocolate magic to your winter in Cape Town.
Moro Gelato
View this post on Instagram
While Moro Gelato has certainly established itself as leading gelato specialists in Cape Town, serving up some of the best gelato in the Mother City, there is far more to this authentic Italian Long Street hotspot than one might think. Their sensational hot chocolate definitely deserves all the same praise the gelato is getting.
Described by many as drinking pure liquid chocolate goodness, Moro Gelato's extra thick hot chocolate is sure to steal your hot-chocolate-loving-heart. Topped with a delicate cloud of home-made whipped cream, this warm cup of hot chocolate greatness will undoubtedly make your winter day in Cape Town extra warm and wonderful.
My Sugar
View this post on Instagram
Offering two different hot chocolates made from real Belgian chocolate undoubtedly makes My Sugar another top Cape Town spot to get your hot chocolate this winter. Situated in the cool Mother City neighbourhood of Sea Point, My Sugar doesn't do anything in half measure. Boasting two top-notch hot chocolate contenders, namely the OTT and the super thick hot chocolate shot, you'll have trouble deciding which to try first.
Topped with whipped cream, brownies and homemade marshmallows, the OTT has fast become a favourite amongst lovers of all things sweet. However, the super thick hot chocolate shot served European style, short and thick, is certainly not to be underestimated. But regardless of which cup of hot chocolate you choose, it's sure to put a big smile on your face all the same.
El Burro
View this post on Instagram
If you're in the mood for a delicious hot chocolate with a little bit of extra Mexican flair, El Burro should undoubtedly be your next stop. Served thick and gently spiced with cinnamon, El Burro's hot chocolate is sure to hit the winter sweet spot. And if served with a side of their fan-favourite and down-right delicious Churros, you'll be in your sweet-tooth-loving happy place. You won't want to leave ever again!
Deer Park Café
View this post on Instagram
Few can resist the powerful allure of a Nutella hot chocolate during Cape Town's winter months, and the Deer Park Café's decadent Nutella hot chocolate will certainly not disappoint. This top Cape Town hot chocolate spot and beloved café offers visitors the opportunity to enjoy a wide variety of warm beverages, indulgent sweet treats and a range of breakfast and lunch options. It also pairs it with a spectacular city view too! Situated on the upper slopes of Vredehoek overlooking the city, this city bowl eatery and café gem is definitely worth a visit.
A visit to any of these top Cape Town hot chocolate spots promises to add an extra dose of winter magic to your chilly Mother City days. Because nothing quite soothes the soul and warms you to the core like a delicious cup of decadent hot chocolate. And whether you choose to enjoy it on a frosty Cape Town morning, chilly mid-day break or relaxing winter evening outing, it won't disappoint. What are you waiting for? It's time to escape to your Cape Town hot chocolate happy place!
---
For more ideas on things to do in Cape Town, you can also have a look at our ultimate guide. Alternatively, get in touch if you'd like assistance planning the perfect holiday in Cape Town. We are always here to help our guests, whether it is booking at the best restaurants in Cape Town or arranging tours.de