With a wide range of impressive attractions and fun activities as well as diverse accommodation, it is no surprise that Cape Town attracts thousands of visitors every year. Moreover, you cannot but fall in love with the stunning scenery and vibrant atmosphere the city offers. You'll be amazed by the numerous things to do and see, it's an endless list. Visitors are impressed by the uniqueness and character of the neighbourhoods in the city, which are littered with luxury places to stay during their holidays. From Camps Bay to Constantia Winelands, the metropolis features a wide range of luxury villas with sweeping sea and mountain views, modern comforts and stylish decor. In no particular order, here are top 20 luxury villas in Cape Town to inspire your next getaway:
---
1/ Villa Sublime, Camps Bay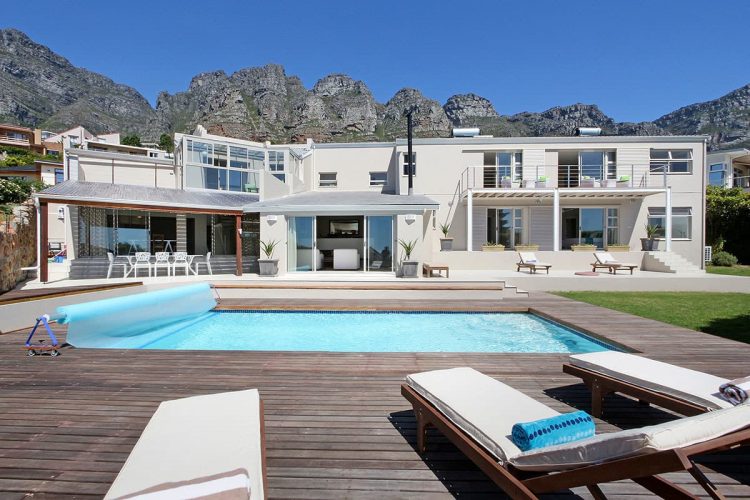 Villa Sublime is certainly one of the most luxurious villas in Camps Bay, Cape Town. Featuring eight bedrooms and bathrooms with a swimming pool and a garden, it is a perfect holiday retreat offering modern comforts and pure relaxation. It's a place where you can sit back, relax and soak up the sun while enjoying the stunning views of the Twelve Apostles Mountains and the Atlantic Ocean.

---
2/ Beta Villa, Bakoven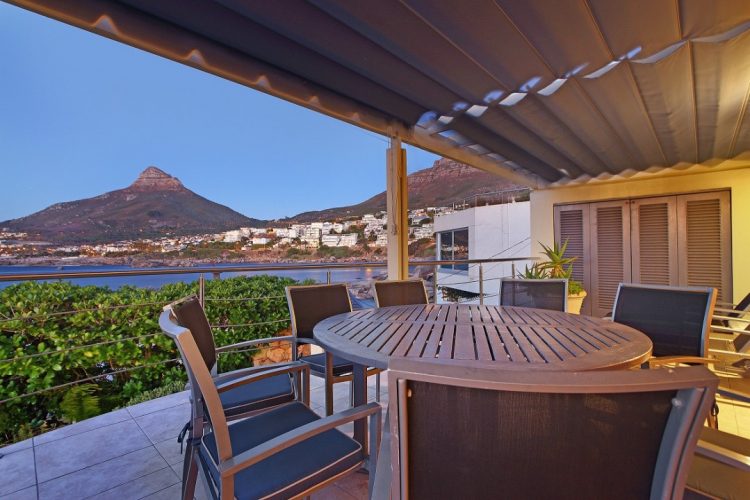 Experience Cape Town by staying at the stunning luxury Beta Villa on Bakoven's beachfront. Featuring four bedrooms with en-suite bathrooms, it's perfect for a get together with family and friends throughout the year. Its proximity to the beach is an absolute dream for couples and friends.

---
3/ Sunset Palms, Bantry Bay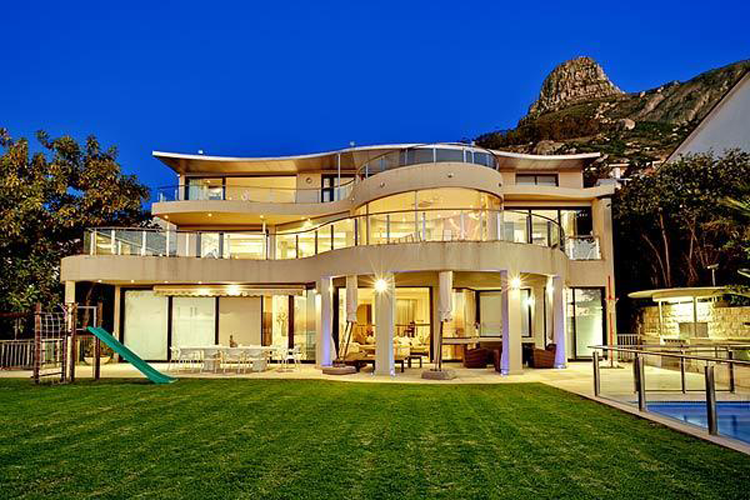 The villa offers a spacious living area, five luxury bedrooms with en-suite bathrooms, double garage direct access, a bar and a cellar and of course, a fully equipped kitchen. It offers the best of both worlds – the privacy of a private villa and the modern convenience of a hotel. It has a patio with a heated infinity pool and a garden where you can spend some time relaxing while enjoying the breathtaking view of the sea and Bantry Bay.

---
4/ Emanzini, Llandudno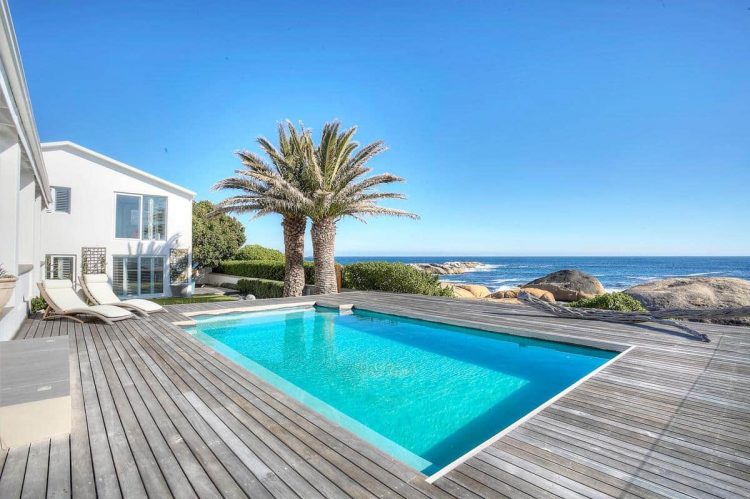 This is a luxury four-bedroom villa for couples, friends and large groups perfectly located in right on sunset rocks. It offers complete privacy and incredible views out over the glittering ocean. It features a wide range of modern facilities such as TV room, swimming pool, lawn and garden, pool deck and spacious living area. For a refined and unique experience in Cape Town, Emanzini is the best place to stay.

---
5/ Villa Dhalia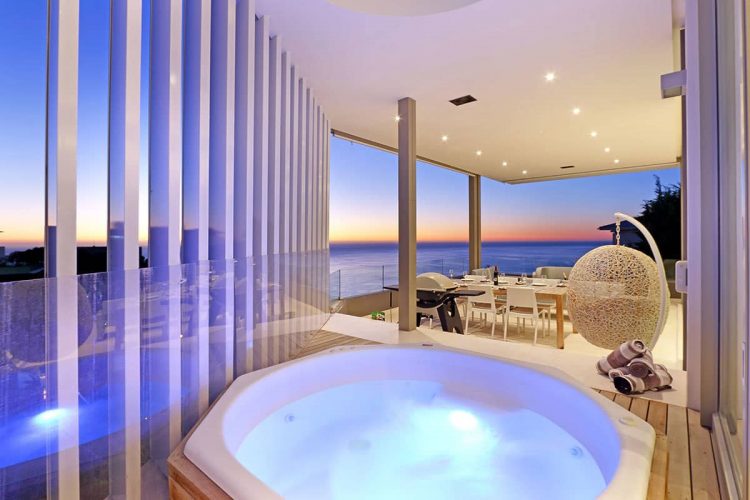 An elegant and serene four-bedroom villa with a Jacuzzi, pool and outside patio in Bantry Bay. It features luxury finishings, play area, living area and open balcony with breathtaking sea views. The villa is a relaxing haven with minimalist elegance, designed with designer lighting and stylish accessories, creating a soothing and comfortable ambiance all through.

---
6/ 5 Star Constantia, Constantia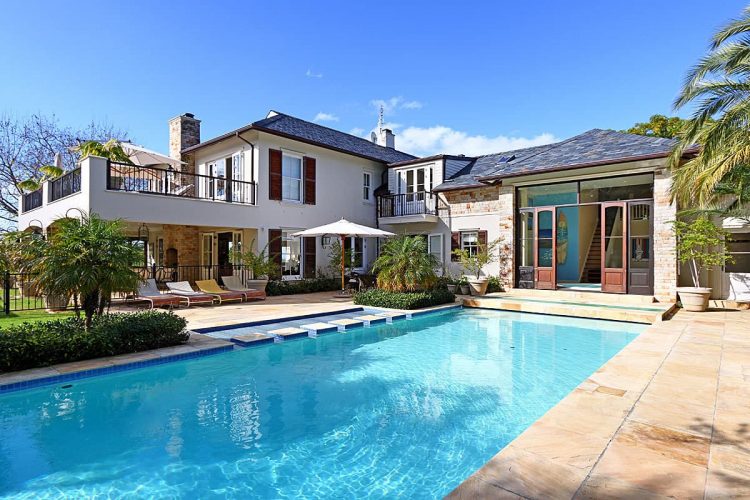 5-Star Constantia is a paradise for family holidays, romantic getaways and group vacations. It offers a luxury experience with its six ensuite bedrooms equipped with modern amenities. From its large outdoor area to swimming pool and indoor Jacuzzi, this luxury villa ticks all the boxes for a memorable holiday in Cape Town. It is located within a short distance to the slopes of Table Mountain and near a five-star boutique hotel in Constantia.

---
7/ Clifton Supreme, Clifton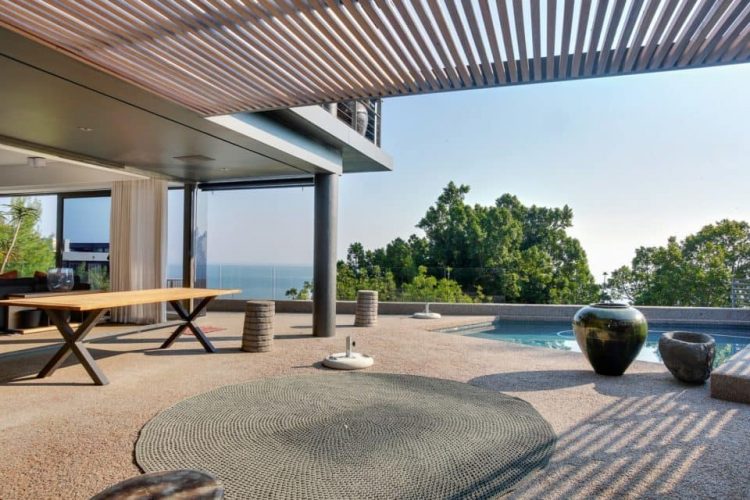 Clifton Supreme is a modern and elegant villa, a perfect choice for a romantic getaway. It features four luxurious bedrooms with walk-in closets and stunning views as well as ensuite bathrooms. It has a superb swimming pool with excellent views of the ocean, and it is located within a walking distance from the scenic beaches of Clifton.

---
8/ 21 Nettleton, Clifton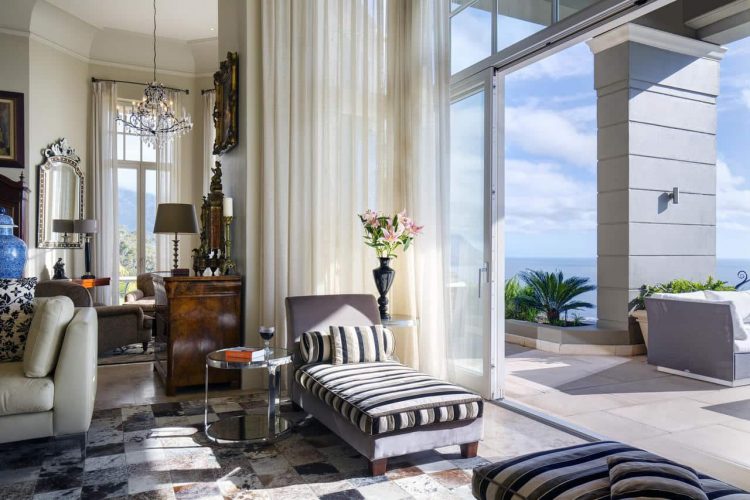 A luxury modern villa with panoramic sea and mountain views, Nettleton features five bedrooms – three exclusive suites and a luxury penthouse, six bathrooms and can sleep 10 people. The villa comes complete with stylish decor, swimming pool, private decks and beautiful gardens in a unique and serene atmosphere. Although, it is located about ten minutes away from Table Mountain V& A Waterfront and the CBD; it offers total privacy and pure relaxation.

---
9/ Modern Luxury, Camps Bay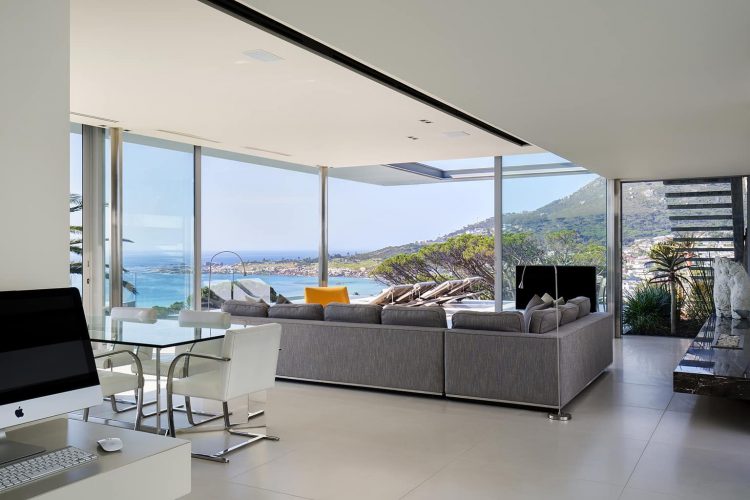 Featuring six bedrooms, a large swimming pool and a variety of luxury touches, Modern Luxury is an elegant 5-star villa located in Camps Bay. It offers modern design, state-of-the-art features, air-conditioning and underfloor heating as well as two swimming pools, a garden, and a deck. For a memorable holiday amidst the beautiful splendour of the surrounding ocean and mountain, the luxury villa is a perfect choice for a romantic or family holiday.

---
10/ Kaldene, Clifton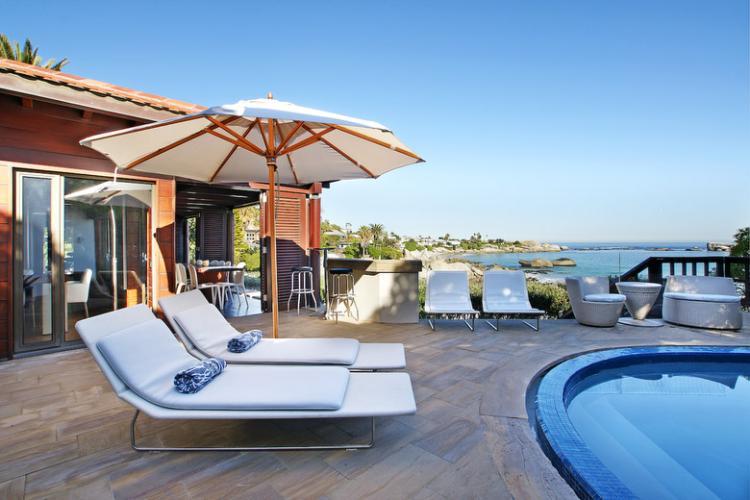 Privacy and Luxury go hand-in-hand at Kaldene Villa on Clifton Beach in Cape Town. This is an amazing place to enjoy an exclusive getaway with modern comforts and luxury touches. Featuring panoramic views of the sea, sleek furnishings and beautiful features, it's hard not to fall in love with this villa. The five-bedroom villa has a fully-equipped kitchen, heated swimming pool and a large patio with direct access to the beach.

---
11/ Vineyard Farm House, Constantia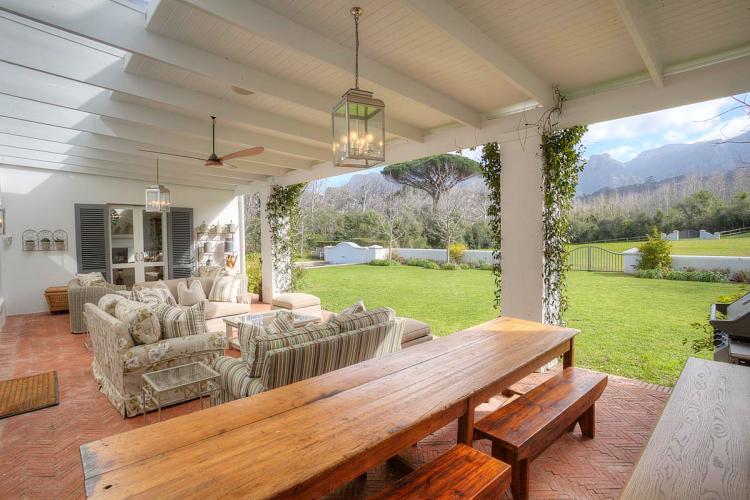 A luxury farmhouse located on a 30-acre wine farm in Constantia Winelands featuring breathtaking cape setting with panoramic mountain views. It is located just a few minutes from the city centre and some minutes from Camps Bay and Clifton Beaches. With a sophisticated Cape Dutch style, this five-bedroom villa has a unique atmosphere of serenity and peace, with its outdoor and indoor living areas, swimming pool and loungy patio.

---
12/ Constantia Outlook, Constantia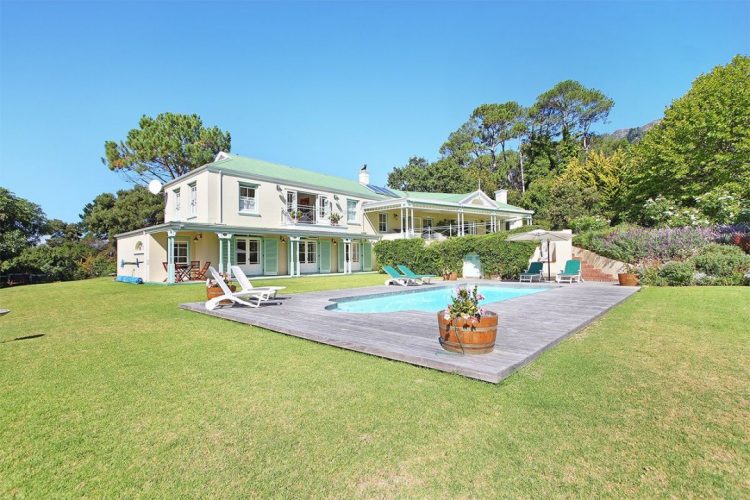 Constantia Outlook is a serene, luxurious 6-bedroom holiday villa situated in the upmarket residential area of Constantia in Cape Town. It is located on the mountainside at the top of Constantia Valley and it features a swimming pool, spacious surrounding, large Koi fish pond, Weber charcoal BBQ and a beautiful garden with well-manicured lawn. It's a perfect holiday retreat – a great place to relax and rejuvenate in style.

---
13/ Beach Retreat – Main House, Camps Bay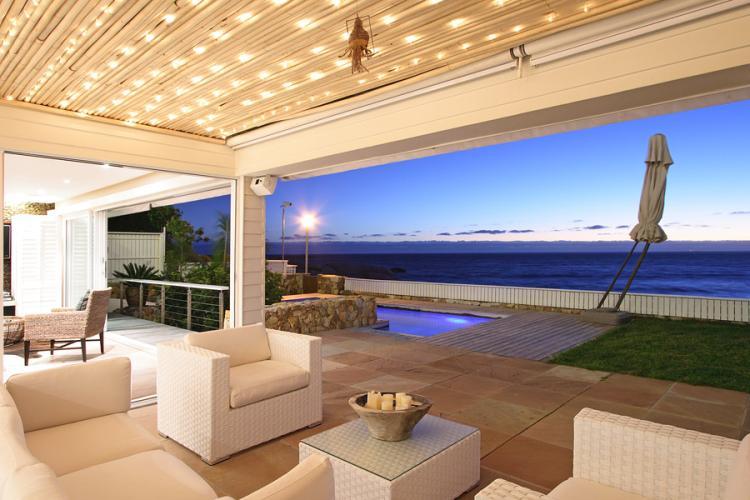 A modern and stunning holiday retreat which ticks all the boxes for a memorable beach escape. With breathtaking views of the sea, Beach Retreat features four bedrooms, patio, swimming pool and sun loungers with direct access to Glen Beach. It ensures a secluded and private feel while providing all the modern comfort of a luxury hotel. Whether you can visiting Cape Town with your family, friends or loved one, this is a perfect place to stay.

---
14/ Vredehoek Villa, City Bowl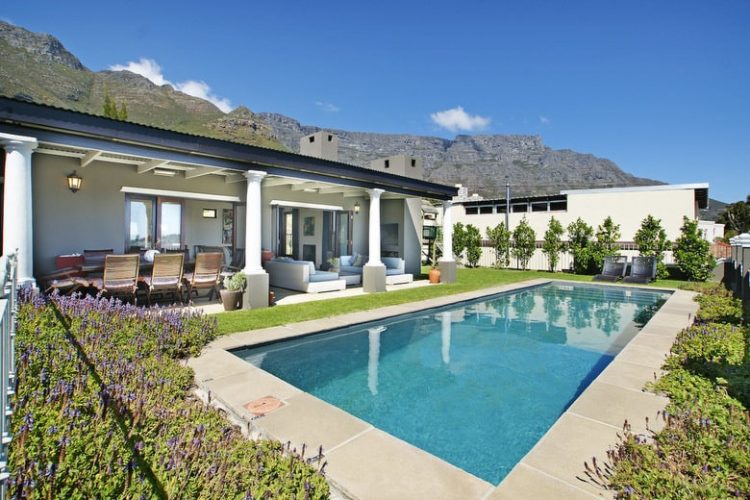 Vredehoek Villa is nestled on the slopes of Table Mountain, offering modern comforts with panoramic views of the city and the mountain. It features four bedrooms, a swimming pool, a beautiful garden and a lounge. It's an ideal place to relax and unwind – with your friends, loved one or family. It is located about 15 minutes from Clifton and Camps Bay beaches and about 30 minutes from Constantia wine farms.

---
15/ Modern Vistas, Camps Bay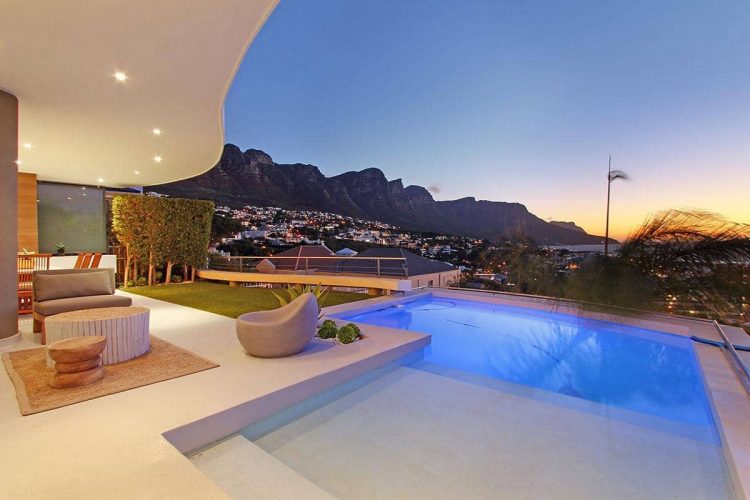 Modern vista is a luxury five-star villa situated in Camps Bay offering breathtaking ocean and mountain views. It features all ensuite three bedrooms, a large swimming pool and terrace, a large balcony as well as contemporary open-plan living areas. It can sleep 6 people in the lap of luxury; thus, it is an ideal place for a relaxing holiday with family and friends.

---
16/ African Shore, Camps Bay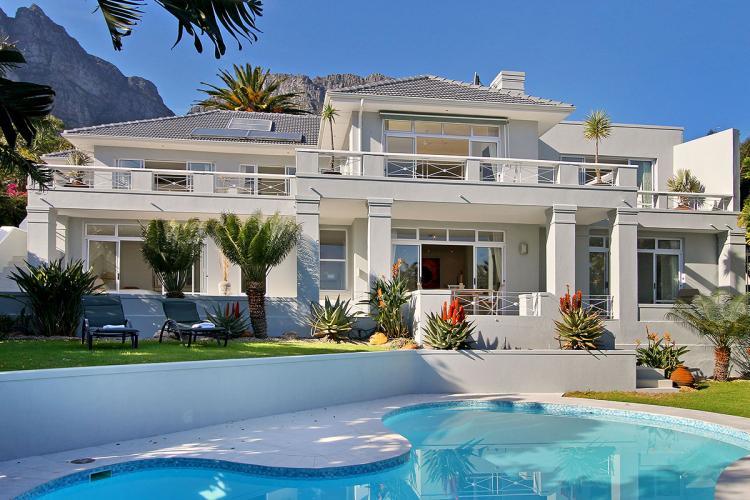 African Shores is five-bedroom storey villa for a luxurious stay in Camps Bay with panoramic views of the Lions Head and the Atlantic Ocean.The villa spreads out over two levels, offering comfort, spacious living space with access to an outside terrace. It features a large private garden, a swimming pool and sun loungers as well as a live-in housekeeper. It's a perfect choice for a leisure stay in Cape Town.

---
17/ Clear Waters, Camps Bay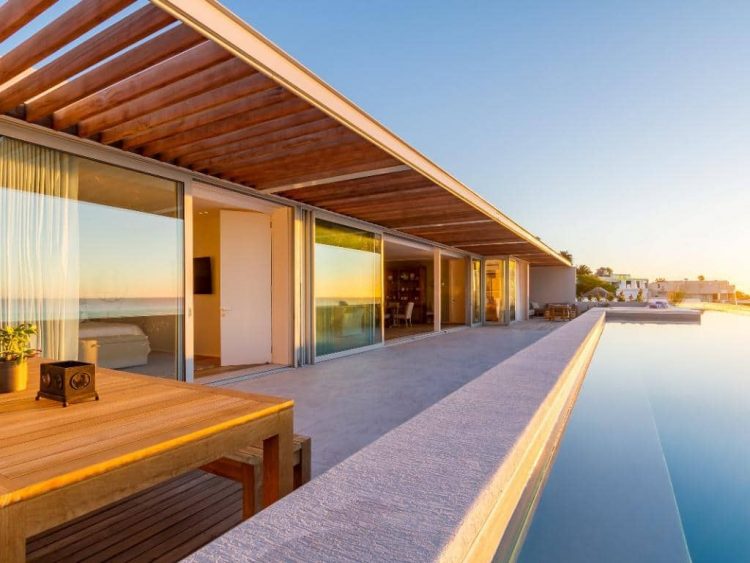 An elegant private three-bedroom villa in Camps Bay, Clear Waters offers a variety of luxurious touches, a sea-facing swimming pool and deck, fully-equipped kitchen and a comfortable living room with modern amenities. The luxury villa is suitable for a couple or small group of friends. It is located close to the beach and a host of cafes, beach bars, and restaurants are within a short distance away.

---
18/ Serene Perspectives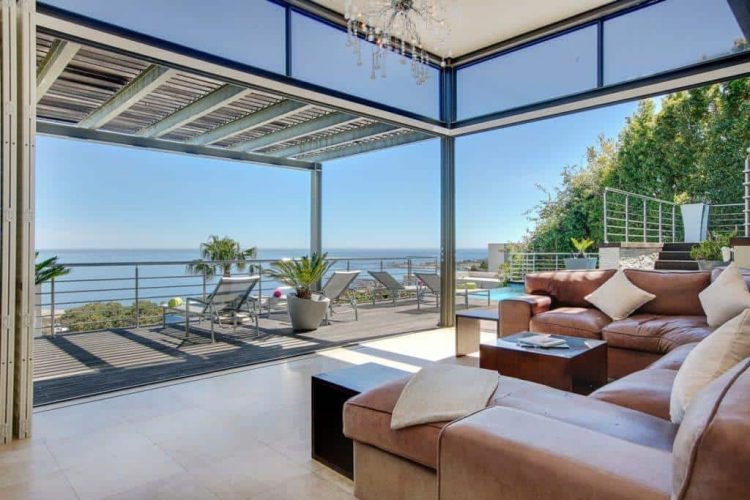 A luxury five-star villa in Camps Bay with seven bedrooms, five bathrooms, and two swimming pools. It features modern amenities that any discerning guest needs from a luxurious accommodation in a city such as Cape Town. It has two Jacuzzi, contemporary living and dining areas, outdoor relaxation areas and sun loungers with stunning views of the sea and mountain. Serene Perspectives villa is located close to the beach and its balconies overlook the Atlantic Ocean.

---
19/ Quartz Villa, Bantry Bay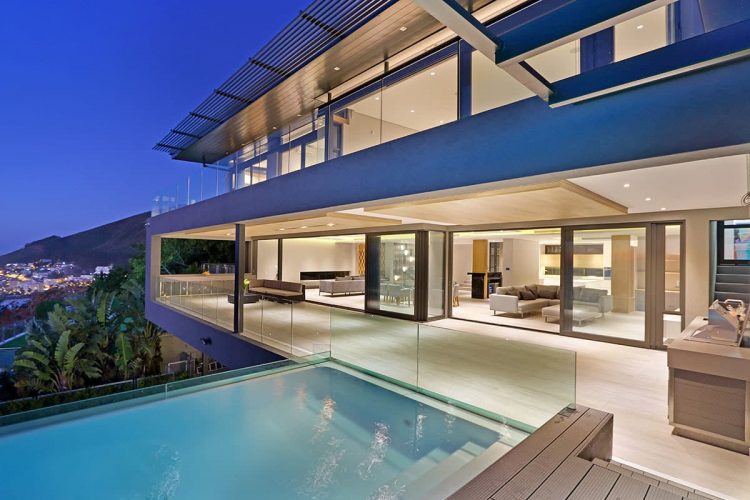 An impressive villa situated in Bantry Bay, Quartz Villa is gorgeous, welcoming and cosy. This charming property can accommodate up to ten guests in the five luxury all ensuite bedrooms, which are characterised by elegant furnishings and soft nuances. It features luxury and modern touches, iPad operated with a well-equipped gym, cinema, outdoor Jacuzzi, rim flow pool, open patio and BBQ. It features panoramic views of the city and mountain.

---
20/ Peduase Villa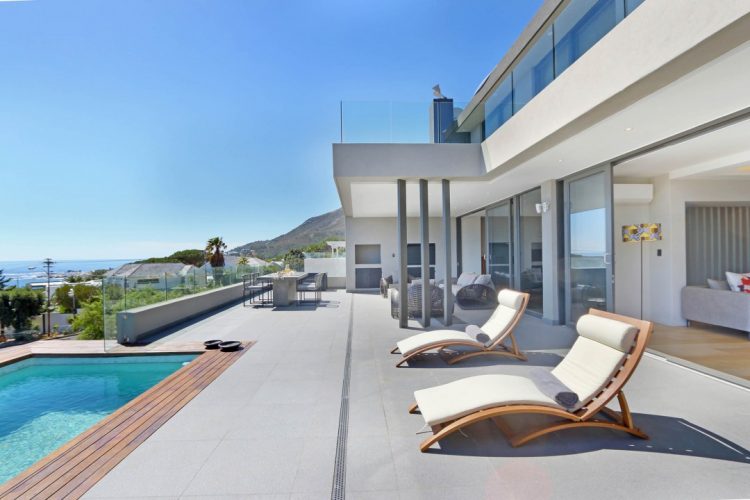 Ideally located in Camps Bay, Peduase Villa is a contemporary minimalistic property with sweeping sea views, featuring contemporary six bedrooms, which can sleep up to 12 people. The villa is perfect for a large family or a group of friends. It boasts a wide range of modern facilities such as outdoor couches, table seating for 6, separate TV lounge, a medium-sized pool with lounge sunbeds and a garage for three cars.The villa is located a few kilometres from the beach, restaurants and cafes.

---
Looking for help finding luxury Cape Town villas and apartments you can actually afford? Browse our selection of accommodation by area, or get in touch today for help with finding the perfect places to stay in Cape Town.