Searching for luxury hotels in Cape Town? With a wide variety of 4 and 5-star hotels to choose from across the city, finding the very best of the best is easier than you may think. In fact, with so much choice, it can be hard to know which hotel is best suited to your needs. Depending on where you prefer to be based, whether you are seeking a traditional hotel or something more flexible, and what you look for in a hotel, you may find that a larger hotel suits your needs or you may decide to try a boutique hotel that has fewer rooms but more attention to detail. You may even find that a less traditional option such as an aparthotel gives you the best level of luxury. Whatever your needs may be, you are sure to find your ideal choice in our list of luxury hotels in Cape Town.
To help you get started, we have hand-picked our most sought-after hotels that provide such a memorable stay that you are sure to want to never leave. From leading hotels that have garnered international reputations for their high level of excellence, to modern aparthotels that combine the best of both worlds – modern convenience and hotel-grade luxury – this list is suited to leisure travellers, business travellers, honeymooners, small groups, couples, singles and every other traveller who travels in style. Keep reading to find out which luxury hotels in Cape Town made our list!
In Search of the Finest Luxury Hotels in Cape Town
Which luxury hotels in Cape Town should you add to your list of places to consider? With the following list of luxury hotels in Cape Town, you will certainly be spoiled for choice. Ready to see which hotels made the cut? Here are our top picks for luxury hotels in Cape Town.
1/ One & Only Cape Town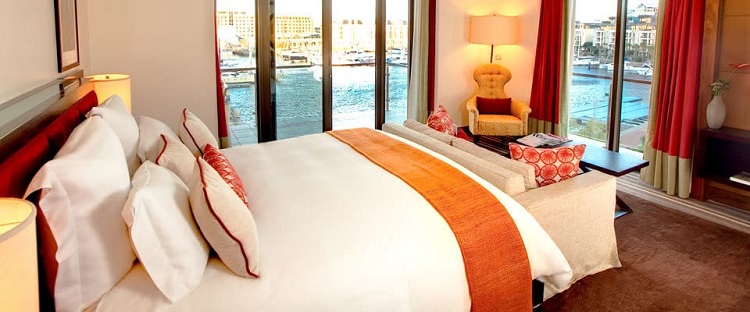 One and Only Cape Town is a modern 5-star hotel within the Waterfront that offers exceptional luxury and sophistication. A total of 131 spacious guest rooms and suites are designed with an African flair, with butler services, en-suite bathrooms, in-room luxuries, superior bedding and plenty of other touches to further make you feel at home. A variety of fine dining options are provided within the hotel along with a spa and many other facilities.
2/ The Twelve Apostles Hotel and Spa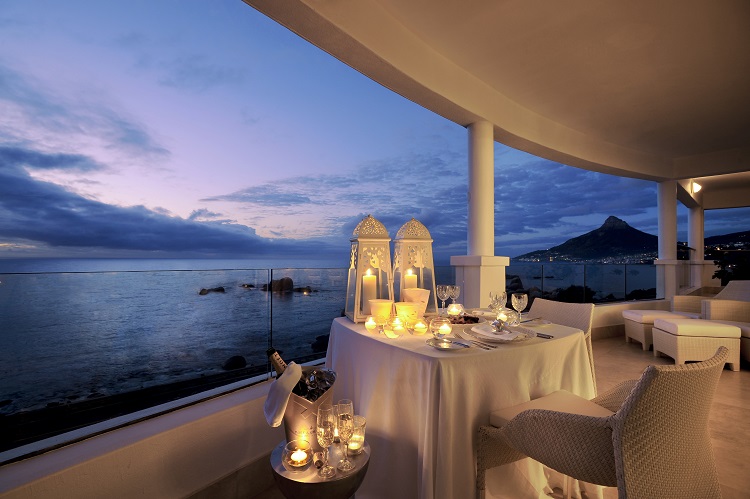 The Twelve Apostles Hotel and Spa is a luxury 5-star boutique hotel in Camps Bay, overlooking the Atlantic Ocean. Boasting a diversity of rooms and suites, each designed to provide guests with the very finest level of quality, this hotel also offers memorable dining destinations, jaw-dropping views, world-class service and a world-class spa that ensures even more of an unforgettable experience.
3/ Taj Hotel Cape Town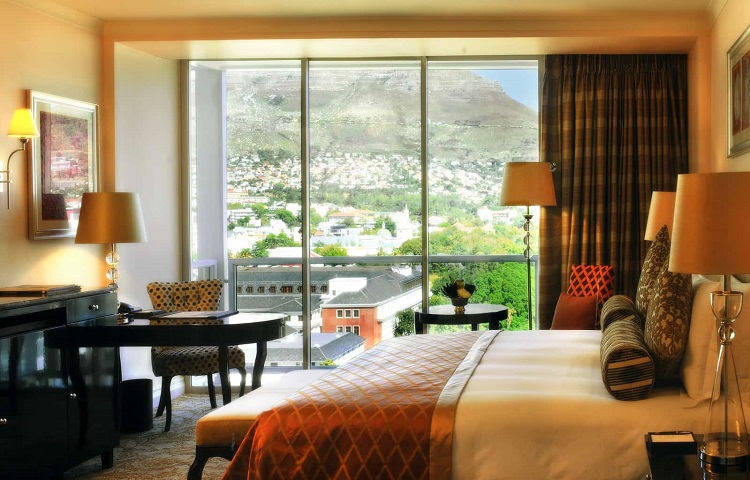 Taj Hotel Cape Town is a renowned 5-star hotel located in the City Centre, offering a combination of refined Indian hospitality and authentic Cape Town warmth. Set across two historic buildings, much of the original architecture and features have been maintained within the buildings that date back to the late 1800s. With a diversity of rooms and suites set across its 17 stories, The Taj offers a premium accommodation choice for business and leisure.
4/ Queen Victoria Hotel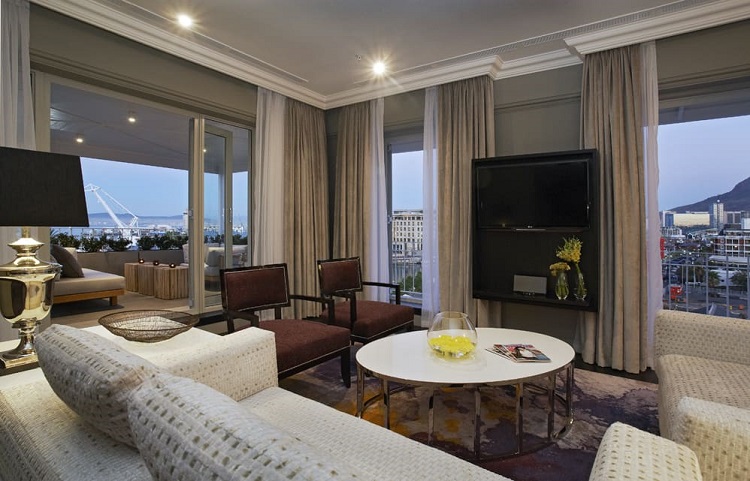 Queen Victoria Hotel is a beautiful 5-star hotel in the V&A Waterfront. Boasting 3 suites and 32 luxury rooms, each individually designed to ensure optimal comfort, highlights for guests at this hotel include a hand-crafted guest experience, panoramic views of the mountain and harbour, modern facilities including flatscreen televisions, WiFi, downlighters and pure Egyptian cotton bedding.
5/ 52 De Wet Boutique Hotel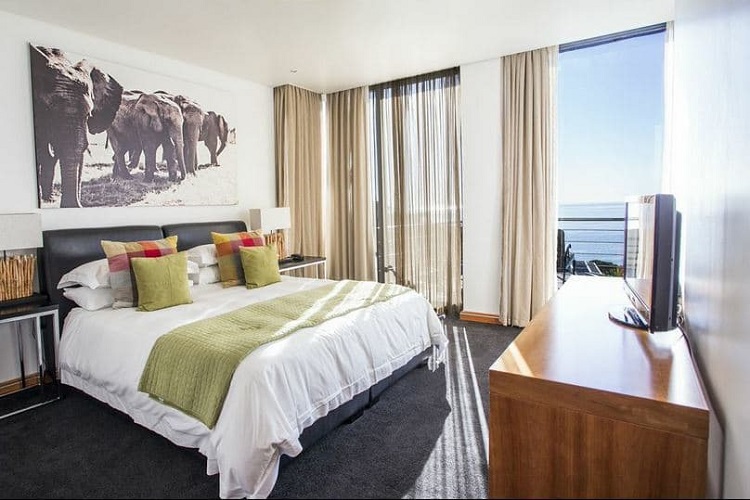 52 De Wet Boutique Hotel is a privately owned 5-star boutique hotel in Bantry Bay. Highlights include spacious lounge and dining areas that open out to a rim flow swimming pool and terrace, along with 8 bedrooms, 9 bathrooms, ample space to relax and unwind, dedicated concierge services and a commitment to luxury that ensures that your every need is met from the moment you arrive.
For those wanting to enjoy all the pampering of a hotel with the convenience of self-catered accommodation, aparthotels offer the ideal alternative to traditional luxury hotels in Cape Town. Some of our most sought-after aparthotels include:
6/ The Verge Aparthotel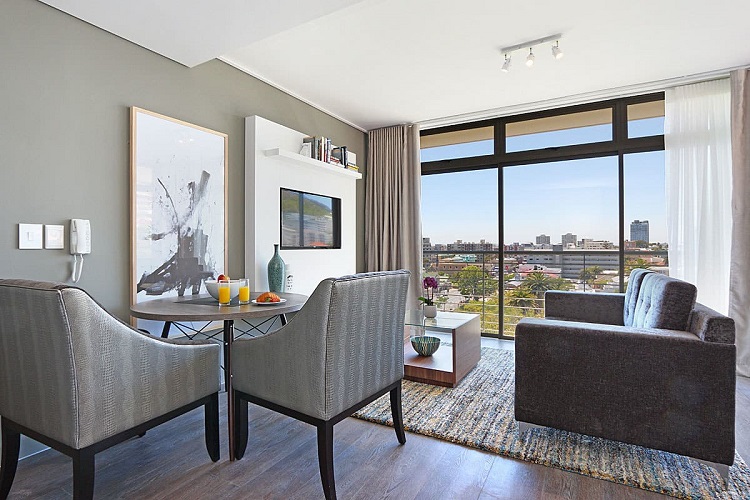 Centrally located in Sea Point on the Atlantic Seaboard, The Verge Aparthotel gives you all the convenience of a 4-star hotel, combined with the comforts of home. Offering 21 beautifully furnished suites, plus a wide range of facilities ranging from 24-hour security to guest concierge services, free WiFi, free secure parking and more, The Verge offers the ideal base for leisure, business and romantic travellers.
7/ The Bijoux Aparthotel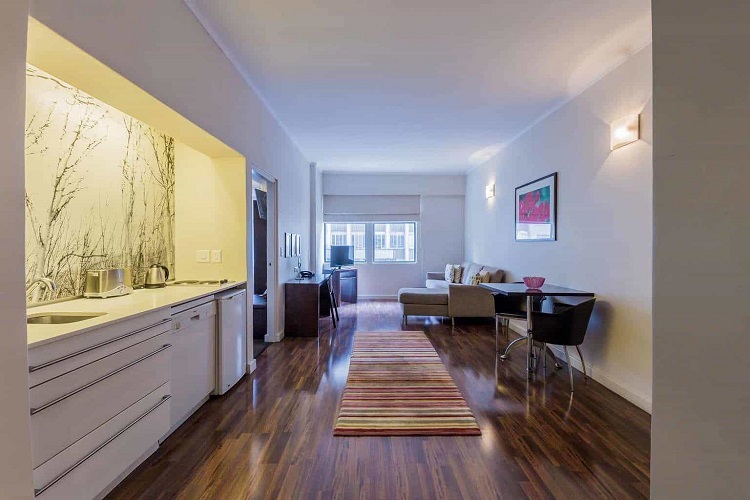 This contemporary apartment is based in the heart of the CBD. Boasting 22 beautifully appointed studio and 1 bedroom en-suite units, The Bijoux Aparthotel is the ideal choice for those seeking the flexibility of a self-catered apartment with the luxury of a fully serviced hotel. Highlights include modern open-plan living and dining areas, a rooftop swimming pool and deck, communal gym, secure parking and plenty more besides.
8/ Triangle Luxury Suites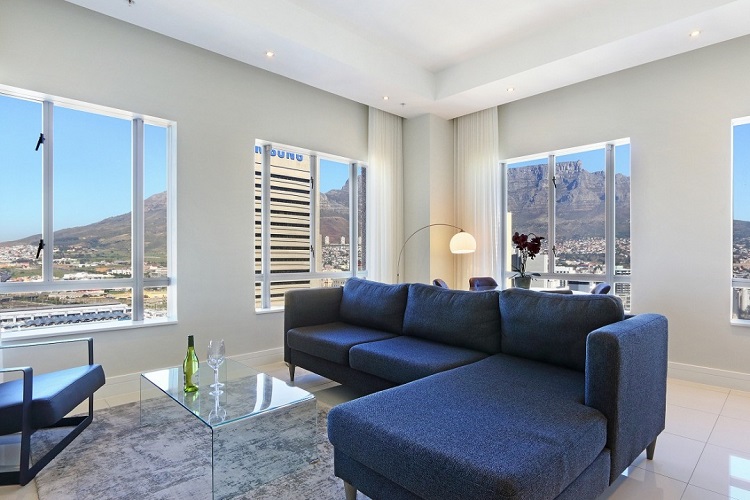 Centrally located in the heart of Cape Town CBD, Triangle Luxury Suites offers beautifully furnished 1 and 2 bedroom 5-star apartments within a hotel complex. The views from these modern suites span across mountain, ocean and city. Coffee shops, restaurants and local attractions are literally at your doorstep, while the V&A Waterfront and beaches of Camps Bay are a short drive away.
9/ Chelsea Luxury Suites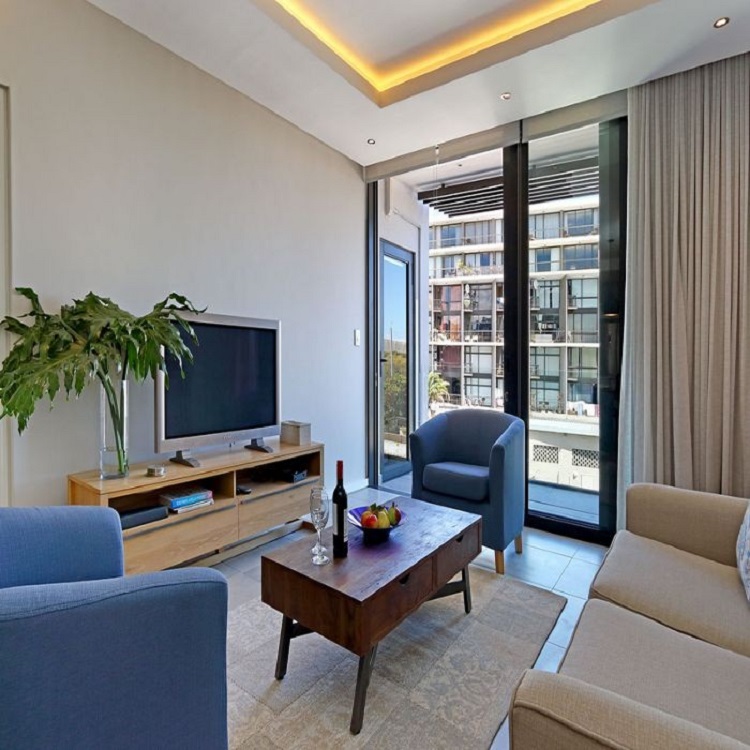 Thanks to a central location in Green Point, Chelsea Luxury Suites has become a sought-after choice for both leisure and business travellers wanting to be close to the City Centre and Waterfront. This 4-star apartment block offers a choice of 1 and 2 bedroom suites. Highlights include 24-hour security, balconies overlooking the city, inviting living and dining spaces, fully equipped kitchens and concierge services that further add to the luxury.
10/ Harbouredge Suites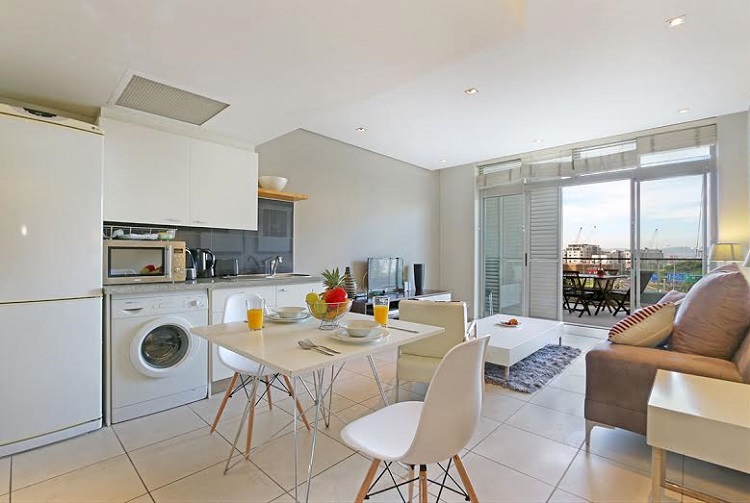 Situated in De Waterkant, Harbouredge Suites is ideally positioned between the City Centre and the Waterfront. This 4-star aparthotel offers 8 modern apartments, including studio and 2 bedroom units. Fitted with every luxury you could ever need, highlights include air-con, fully equipped kitchens and spacious living and dining spaces, beautifully furnished bedrooms, en-suite bathrooms and balconies offering spectacular views. Harbouredge is ideal for business and leisure travel.
---
Still not 100% sure you've found your dream hotel? Not fully convinced hotels are the right choice for your upcoming trip? We've got you covered. Here at ComeToCapeTown.com, we offer an extensive range of luxury accommodation to suit every preference. From outstanding villas to trendy apartments, exceptional aparthotels and hotels, along with our Curated Collection, we have something for everyone. Get in touch with our team today for assistance in finding the perfect luxury hotels in Cape Town and let us help you plan your trip to Cape Town.