Aptly named Cape Town in Your Pocket, a new Cape Town travel app has been launched by Cape Town Tourism, and it looks pretty awesome!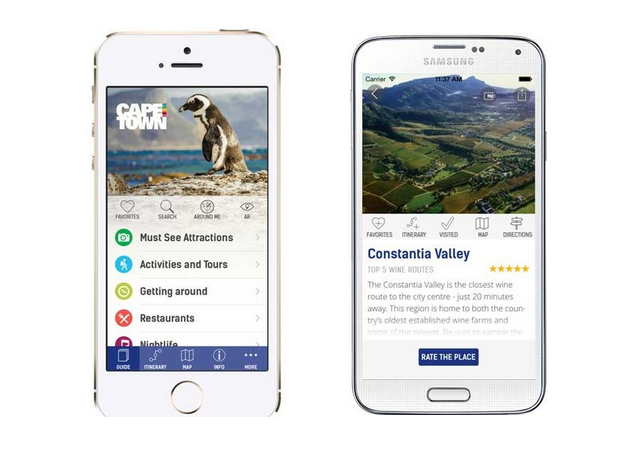 The Official App to Cape Town is available for free download on Android and iOS. Perfect for new visitors to South Africa's Mother City, it is effectively a virtual guide in your pocket, featuring loads of local tips, major landmarks, useful visitor information, restaurant and accommodation tips, transport suggestions, adventure ideas, shops, spas, service providers and all sorts of other handy info that will help make your stay more rewarding. Visitors can also create and save itineraries, download maps, share content from the app and add places to check out at a later date. Best of all, you do not need internet to use it.
A Local Guide to Cape Town
Velma Corcoran, Marketing Executive for Cape Town Tourism, said about the new app, "We added a local layer to our app by including hints and tips from Cape Town residents because we are seeing that visitors want to experience a city not as a tourist but as a local."
Check out the launch video below to see what this app is all about.
What is great about the app is that it is designed to be used with or without a tour guide. You can of course book a guided tour of the Cape to discover more about the city's many attractions, sights and places of interest, but with the help of this app, you can also get a good idea of what to see and do in and around the city.
Keen to Try Guided Cape Town Tours?
Because we are all about giving you the best of both worlds, we recommend that you download the app AND try a guided tour of Cape Town (or two!). Why do you need both, you may be wondering? Here are a few reasons for starters…
1. Tours are a great way to get a deeper understanding of the city's iconic landmarks. Ya know, as opposed to reading a quick summary and zipping through in record time.
2. Tours allow you to explore in comfort, without having to drive yourself. Those air-conditioned tour buses are particularly luxurious when it is cold/wet/warm outside.
3. Tours help you to find the most interesting attractions to see. It can be overwhelming to try and choose which of the gazillion sights to take in on any given day, after all.
Download the Official Cape Town App on Apple or Android, then head on over to our super awesome Cape Town tours page to find out more about the amazing tours that we have on offer!
Over to you… would you use a travel app like this, and if you have tried this particular app, what did you think? We'd love to hear your thoughts!